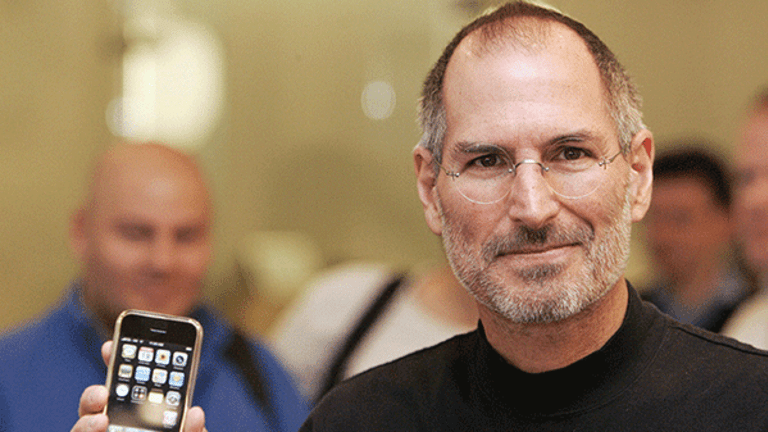 Former Apple Exec: 'It's Sad to See Apple Slipping to the Position of Follower'
But former Apple creative director Hugh Dubberly says he wouldn't count the tech giant out.
But former Apple creative director Hugh Dubberly says he wouldn't count the tech giant out.
Apple (AAPL) - Get Report  changed the world in 2007 when former CEO Steve Jobs introduced the iPhone in a now-famous keynote in his signature black turtleneck.
While the device created the smartphone category, some analysts are wondering how much longer the company can boast about the device. It's been 10 years and the company is still reliant on the iPhone for over half of its revenue. 
For a number of critics, the company lost its innovative gene when Jobs died in October 2011 and handed the reigns to his Tim Cook, his second-in-command. The only revolutionary product it has introduced since his death is the Apple Watch in April 2015, but it certainly wasn't the first smartwatch to hit the market, and it hasn't become a mainstream success like the iPhone. 
"Steve is gone and so the creative direction is gone," former Apple creative director Hugh Dubberly told TheStreet.
Dubberly worked at Apple from 1985 to 1994 as a manager of one of the three design groups at Apple. Dubberly is best known for being the creative director for the Mac OS symbol and for making a series of vision videos about what products people might use in the future, known as the "Knowledge Navigator" video project. A large chunk of his career at Apple was when John Sculley replaced Jobs as CEO from 1983 to 1993. Dubberly now works at his firm Dubberly Design Office, which advises tech, media and health companies. 
Watch:Can You Afford Classic Apple Products?
"It's sad to see Apple slipping to the position of follower, which used to be Samsung's (SSNLF) position," he said. Apple's upcoming iPhone 8, due out this fall, is expected to feature a lot of what Samsung already has on its Galaxy S8 smartphone, released in April, such as an edge-to-edge OLED screen. In addition, the company just unveiled its Amazon (AMZN) - Get Report Echo competitor known as the HomePod this June, nearly three years after Amazon and about a year after Alphabet's (GOOGL) - Get Report Google unit introduced Google Home. "It's a 'Me Three!' product," Dubberly said in good humor. "One would have thought Apple would be the one to lead in that area." 
But Apple wasn't always slow bringing products to market, Dubberly noted. "Steve Jobs is a difficult person to replace," he said. "I think Apple essentially never replaced him."
Apple and Alphabet are holdings in Jim Cramer's Action Alerts PLUS Charitable Trust Portfolio. Want to be alerted before Cramer buys or sells AAPL or GOOGL? Learn more now.
Jobs pushed his employees to their limits when it came to turning out game-changing products. When the Mac computer software team asked for an extended deadline, Jobs refused and said they better just make it as good as they can by the deadline. The software was due on a Monday at 6 a.m. at the absolute latest. The team worked all weekend on the software and finished right at 6 a.m. that Monday.
Apple CEO Tim Cook has been criticized for lacking Job's vision.
Dubberly is far from the only critic of Apple's lack of innovation. Walter Isaacson, the official biographer of Steve Jobs said "Apple is no longer the most innovative of companies" during an interview on CNBC in May. This past December, Oppenheimer senior analyst Andrew Uerkwitz said Apple "lacks the courage to lead the next generation of innovation," including AI and cloud-based services. 
While Apple hasn't released another "iPhone" game changer since 2007, it's still an impressive company because it's managed to keep making computers from one generation to the next, Dubberly noted. If you look at International Business Machine Corp's  (IBM) - Get Report website, you will be hard pressed to find a personal computer, he added. "That it's still standing and making personal computers is remarkable," he said. 
Dubberly also noted that the environment in which Apple competes has changed since Jobs died with the rise of big data, AI, and cloud computing, and it never became an Internet company like Amazon, Google or Facebook (FB) - Get Report .  Apple is operating in a new era and it already seems to have lost its lead in the emerging AI-big-data-massive-computation world, he said. However, the company's recently introduced ARKit and its HealthKit both look exciting, he added. "All is not lost," he said. "I wouldn't count it out." 
Something to watch for is whether Apple or Samsung brings the 3D camera to smartphones first because it will revolutionize photography and jump start virtual reality (VR) products, he said. 
When asked to name an executive that has impressed him lately, Dubberly immediately named Amazon CEO Jeff Bezos because he prepared for the new era of cloud computing, AI, and big data very early with Amazon Web Services, the Amazon Echo powered by voice assistant Alexa and its use of big data to drive profits. "Bezos seems to see further into the next generation than anybody else," he claimed. "He recognizes that it's a new era and what's possible for it to do." 
More of What's Trending on TheStreet:
This Is Why President Trump Can Now Blame Apple for Atlantic's Reporting