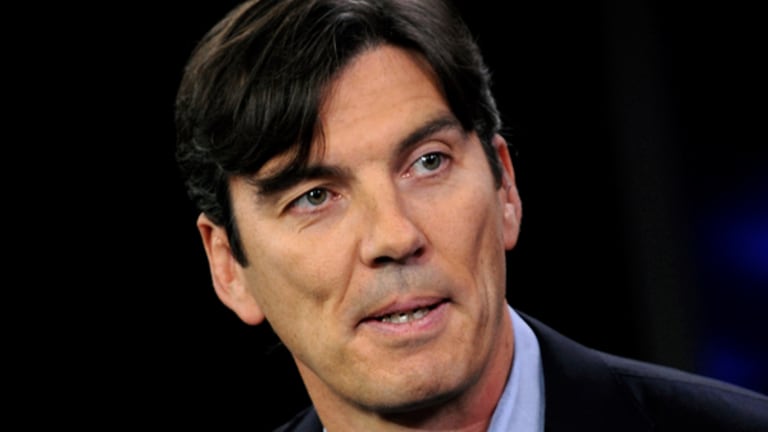 Forget Patch, AOL is Now an Advertising Company
Tim Armstrong is hellbent to get people to forget about Patch and dial-up, so he's spending big to develop advertising platforms to remake the industry and his company.
NEW YORK (TheStreet) -- AOL (AOL)  CEO Tim Armstrong has had his ups and downs since taking over the tricky position as head of the Internet publisher best known in recent months for an abrupt very public takedown of a photo-happy employee and the laborious shutdown of its ill-conceived locally-focused publishing operation, Patch. But Armstrong may finally
At a San Francisco event on Wednesday, New York-based AOL made official what has been talked about in the advertising industry since the summer: the company has created a platform that aims to give brand advertisers, agencies as well as TV and online publishers a place to buy and sell video space in real time.
The industry calls it "programmatic" buying, allowing computers to do what agencies and their layers of partners have done for decades: make placement decisions by hand. The focus is not only to make advertising decisions more quickly but to use the reams of consumer information, otherwise known as Big Data, to make decision more intelligently.
"AOL is building off the Adap.tv platform which was clear from the very start that it was a technology platform built to transform the way the industry works," said Kristi Argyilan, president of MAGNA North America, which has signed-on as a lead partner. "They have an incredibly powerful starting point."
AOL was surging 6.2% to $44.86, poised for its largest gain since Jan. 16.
The key to AOL's expanding role in advertising was the August acquisition of Adap.tv, a cash and stock deal valued at about $405 million. The deal was conspicuous not only because it was Armstrong's largest since taking over AOL in 2009 but because it clearly marked a decision that AOL was going all-in on advertising. 
A month earlier, Armstrong hired Bob Lord, the former CEO of digital marketing trailblazer Razorfish and the Publicis Group to oversee AOL Networks and integrate the company's new advertising platforms into its own content publishers, AOL.com, Huffington Post and TechCrunch. The newly-christened ONE platform rolls Adap.tv together with AOL's other advertising entities, Advertising.com and Ad-Tec. 
"It's not just about making it more efficient, it's about making it more effective," Amir Ashkenazi, the co-founder of Adap.tv, said in a phone interview in New York. "Every advertisers knows what they need, their goals, they just don't have the tools to do it."
For AOL, the ONE platform is not only a chance to own a piece of the ever-expanding online advertising market, but to grow its own advertising revenue at its various web sites and portal. Unloading Patch has eliminated a sore spot for investors and allowed AOL's advertising-focused executives to concentrate on the company's publishing properties that are profitable.
"It's actually a major asset for us to be inside a large brand publisher like AOL because of the authentic exposure to problems that we see both from the publisher side and then from our advertising businesses," said Seth Demsey, AOL Network's technology chief. "AOL is my early adopter partner, and we know that trickles into the brand and agency side as well."
IPG Mediabrands, owner of Magna Global, has already signed-up to use AOL's ONE platform, in part because it is an open network that can be tied to other similar technologies. Argyilan said the platform should allow agenices to better use the enormous amount of information that are collecting about consumers and their buying habits.
"What's most marked is the openness of our media partners to approach the market in a different way than they would have in year's past," Argyilan said. "The data is also much simpler and easier for all of us to access where we're actually able to acquire data in a form that can be used to make decisions instead of using it to drown."
--Leon Lazaroff is TheStreet's deputy managing editor.
>Contact by Email.