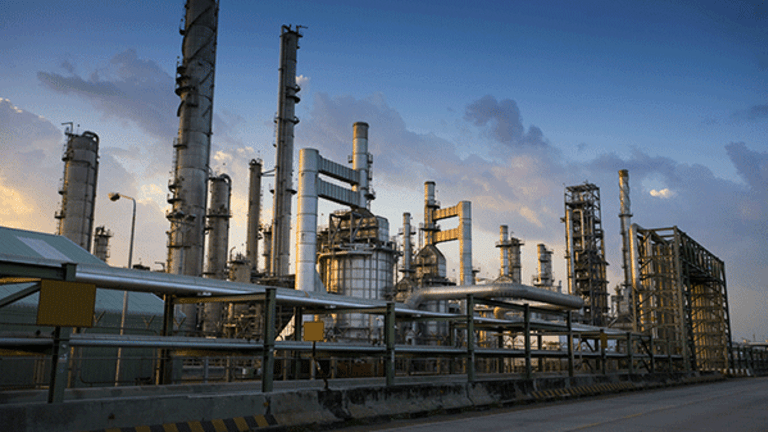 Forget Exxon Mobil -- Here's the Best Play on Oil Right Now
You can cash in on the new Permian bonanza with this smaller and more profitable company.
When it comes to investing, big isn't always better. Big companies with thousands of employees and operations all over the planet take a lot to adapt to economic and market changes.
Take Exxon Mobil (XOM) - Get Exxon Mobil Corporation Report as a prime example. With some 75,000 employees and bits and pieces on nearly every corner of the globe, lithe it isn't. And when it comes to the oil and gas market, complete with plenty of gushers and dry holes along with the recent yo-yoing of market prices, big doesn't cut it over smart.
Exxon Mobil announced this week that it's doubling its holdings in an area called the Permian Basin in West Texas and New Mexico. The Permian Basin has long been one of the richest oil fields, handing many investors their own J.R. Ewing-style fortunes, but interest in the area had faded. The development of fracking technology has changed that.
There is a better way to make investment profits in the Permian Basin, however. Below, we highlight a smaller energy stock with a whole lot less risk and a whole lot more return. First, let's look at Exxon Mobil's latest moves.
Exxon Mobil once was there in the Permian Basin, but over time, the fields featured fewer gushers and more grind-it-out producers. Consequently, the company dumped its investments onto a collection of smaller local producers and related companies.
Then came the light-bulb moment for more and more of the little guys about a technology from the 1940s called fracking. Fracking pumps water and chemicals to break up underground rock formations and release the oil and gas trapped inside. Newer technologies are making fracking increasingly efficient, even in older fields.  
Fracking renewed oil company interest in the Permian, and Exxon has been adding lots of acreage to its holdings in the area in the past few years.
Now, even fracking can only work so profitably, and with the crude oil market's yo-yo plunges, not all fracking operations pan out and make money for investors. Exxon Mobil noticed that when crude oil prices were way lower, that a deal would make sense. 
Being so huge, it took Exxon Mobil months to work on the bid watching the crude oil rally tick up and up. But finally, a deal was cut. So, if you're a shareholder, know that you didn't buy at bottom dollar, but at least you're getting back into a market that's among the most profitable in the U.S. fracking sector.
But there's a more profitable play on this opportunity.
Holly Energy Partners (HEP) - Get Holly Energy Partners, L.P. Report is a pipeline company with pipes and gathering terminals primarily in the southwestern U.S., with a specific concentration in and around the Permian Basin right where Exxon Mobil is getting back into the market in a big way. Holly has been there way before the big mega companies lost interest. And while not confirmed, Exxon Mobil likely will become a customer.
Pipeline companies are like toll takers. They get paid whether oil is soaring or falling in market price. And sure, not all have the best locations, and with the recent bear market in crude, some of Holly Energy's lesser peers saw customers slow or stop pumping their crude through some pipes. That's the risk in pipelines. 
But the Permian is different. This is a lower-cost oil source that even through the dark days of the recent oil market was still working out for plenty of companies. And Exxon Mobil isn't alone as the past six months have seen lots of other companies coming in to do deals. The region has been driving increased oil rig counts in the U.S., too. One notable Permian player is Devon Energy (DVN) - Get Devon Energy Corporation Report , but its stock already has been bid up to a high valuation.
The upshot: A lot of new companies and a lot more oil shall be flowing through the pipes of Holly.
Exxon Mobil's shareholders aren't hurting as the stock has gained 11% over the past year, but that pales in comparison with Holly Energy Partners' gain of 45%. Holly's also much more attractive from an income standpoint, as it has a 6.8% dividend yield. Exxon's yield is 3.5%.
Holly Energy Partners is a pass-through in the form of a Limited Partnership, with shares (also called units) that trade publicly. Holly Energy also has tax advantages of being a partnership in that it pays no corporate taxes and the dividends paid to shareholders are partially shielded from taxes thanks to passing through not just the share of the profits with the dividend, but also deductions such as depreciation and other costs.
Holly's operating margin is a fat 50% for the trailing 12 months, while the company's return on assets is 6.9%, according to Morningstar data. Exxon Mobil has an operating margin of 4.6% and a return on assets of 2.6%.
Holly Energy Partners should be a smarter buy than Exxon Mobil.
---
As we've just explained, Holly Energy Partners is a shrewd investment bet now. If you're looking for other growth opportunities, we've found a genius trader who turned $50,000 into $5 million by using his proprietary trading method. For a limited time, he's guaranteeing you $67,548 per year in profitable trades if you follow his simple step-by-step process. Click here now for details.
This article is commentary by an independent contributor. At the time of publication, the author held no positions in the stocks mentioned.