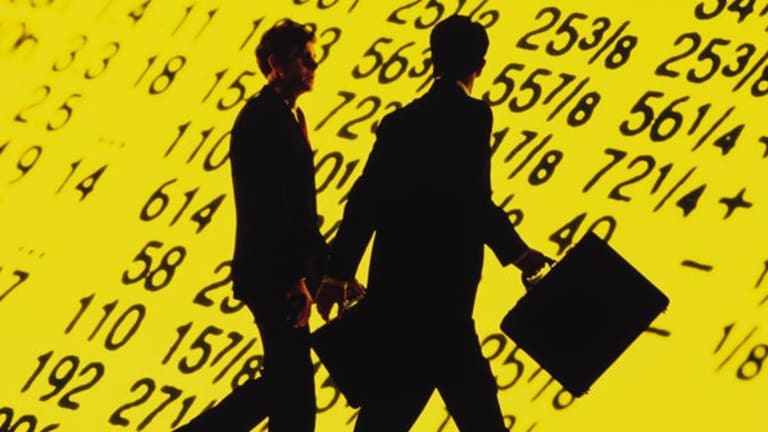 Forget Europe, Invest Here
A lot of attention has been focused on Europe this week, given a ceasefire agreement in Ukraine that turned out to be premature.
This article originally appeared on RealMoney.com onSept. 4, 2014 at 7:22 a.m. To read more content like this AND see inside Jim Cramer's multi-million dollar portfolio for FREE... Click Here NOW.
A lot of attention has been focused on Europe this week, given a ceasefire agreement in Ukraine that turned out to be premature. Today we have the big European Central Bank meeting, which some investors and pundits are hoping will result in an announcement that Europe will be commencing a quantitative-easing program of its own. Other economic indicators from the eurozone are hardly encouraging, and they are in focus before today's ECB meeting.
The attention to Europe right now is unfortunate, as domestic economic indicators are hinting at an improving economy in the U.S. That should potentially allow the Federal Reserve to finally end over five years of various quantitative-easing programs, hopefully without too much of an impact to domestic equities this time around.
The Institute for Supply Management (ISM) manufacturing index came in stronger than expected this week, as did construction spending. Auto sales looked like they zoomed past the 17 million annual mark in August for the first time since the summer of 2006. Job growth has also recently posted its best six-month stretch in over a decade. This trend should continue this week and show up in the ADP jobs report today and the Labor Department employment report tomorrow.
STOCKS TO BUY: TheStreet Quant Ratings and Dave Peltier's Stocks Under $10 has identified a handful of stocks that can potentially TRIPLE in the next 12 months. See them FREE today...Click Here NOW.
If we get some sort of quantitative easing from Europe, I will be allocating some additional part of my portfolio to European equities. However, I agree with Antonia Oprita's take that the market is likely to be disappointed and not get QE -- at least during this meeting.
Given what appears to be an accelerating economy in the U.S., I believe investors should add to their portfolios exposure to companies that actually build things for the domestic market. I continue to like the commercial residential-construction plays that have lagged the overall market over the past year. This would include construction firms likeTutor Perini (TPC) , as well as some of the smaller homebuilders that should see some big increases in revenue over the next 12 months.
American-based manufacturers still look good here. I still hold rail and tank car makerTrinity Industries (TRN) despite its stellar market performance in 2014. Both order backlogs and earnings estimates continue to creep up. The company continues to be well-positioned to benefit by the exploding volume of domestic oil carried via rail, as well as from new safety standards coming for older tank cars, which will either lead to retrofitting work or new orders. The stock is not as cheap as it had been six months ago but it is not expensive, either, at 12x this year's expected earnings.
Ford (F) continues to be my favorite of the Big Three domestic auto manufacturers. It does not have the ignition switch/recall debacle overhang of General Motors (GM) , nor is it weighed down by Fiat as Chrysler is. Ford also has its busiest new product launch schedule in its long history over the next 12 months, and is going gangbusters in China through joint ventures. The stock is cheap at 9x 2015's consensus earnings, and it yields almost 3% as well.
I wish I could recommend retail more right now. However, wage growth is still tepid, and lower- and middle-end consumers remain challenged. I also think utilities have to be heavily underweighted now. Valuations are stretched, and if interest rates on U.S. Treasuries do climb on the back of an improving domestic economy, the sector will be negatively impacted in a significant way.
Europe warrants attention from investors given the recent turmoil in Ukraine and an uncertain economic situation in the eurozone. However, domestic equities should remain the focus of the majority of one's portfolio.
Today only: Get FREE access to all of TheStreet's subscription services. That's an annual value of $5,000! Click Here NOW for immediate FREE access.
At the time of publication, Bret Jensen was long F, TPC, TRN.