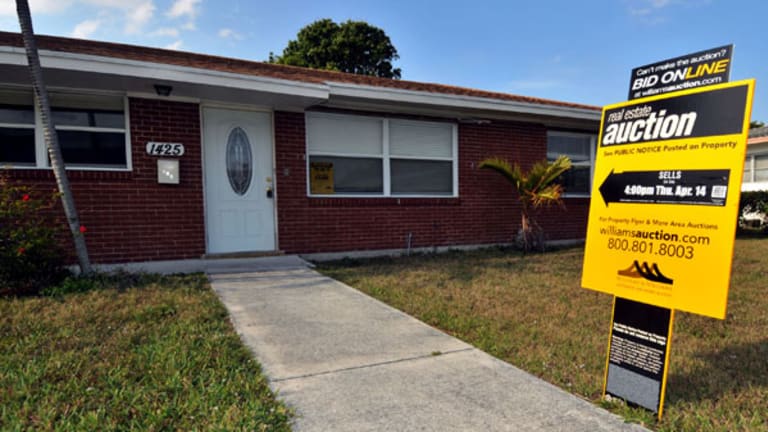 Foreclosure Activity at 6-Year Low: RealtyTrac
National foreclosure activity is declining, but so-called 'judicial states' continue to see a spike in activity.
NEW YORK (
) -- National foreclosure activity in April fell to its lowest level in more than six years, according to the latest report from
RealtyTrac
.
Foreclosure filings -- which include notice of defaults, scheduled auctions and bank repossessions -- fell to 144,790 properties in April, down 5% from the previous month and 23% from April 2012. One in every 905 units had a foreclosure filing during the month.
are declining as the housing market improves resulting in lower foreclosure activity. Banks are also pursuing alternatives to foreclosure such as short sales and mortgage modifications that have proved to be a less costly and more effective way of "curing" distressed mortgages.
Also see: Mortgage Performance Sees Dramatic Improvement: TransUnion >>
Still, foreclosure activity continued to spike in so-called "judicial states" such as Florida and New Jersey, where banks need to win court approval before proceeding to foreclose upon a borrower.
Such states have tougher borrower protection laws that have slowed down the foreclosure process, but not halted it. A growing backlog of foreclosures has resulted from exceedingly long processing timelines as banks continue to work their way through a mountain of problem loans that has overwhelmed the courts..
But the "pig is moving through the python" when it comes to deferred foreclosures in these states, says Daren Blomquist, vice president at RealtyTrac.
"Foreclosure starts have been increasing for several months in many of the judicial states, and now that increased volume is showing up in the second stage of the process: the public foreclosure auction. Scheduled foreclosure auctions in judicial states jumped to a 30-month high in April, evidence that lenders are serious about moving forward with completing the foreclosure process -- either through repossession or sale to a third party investor at public auction," he said in a statement.
Foreclosures are also bouncing higher in other states which have enacted new foreclosure laws to protect borrowers in the wake of the robo-signing scandal. The tougher standards initially resulted in a decline in foreclosure filings, but they are now beginning to resume their upward trend.
Scheduled judicial foreclosure auctions increased 22% from March to April and were up 31% from a year ago to the highest level since October 2010 -- a 30-month high.
Scheduled non-judicial foreclosure auctions (NTS) in April were down 7% from March and down 43% from April 2012 to the lowest level since December 2005 -- an 88-month low.
Lenders repossessed 34,997 U.S. properties in April, down 20% from March and down 32% from April 2012 to the lowest level since July 2007 -- a 69-month low.
While the spike in foreclosure activity in some states suggest that we are still dealing with the pain of the housing crisis, foreclosures are no longer considered a threat to the housing market.
In fact, given the shortage of housing inventory in some states, foreclosures might provide some supply to meet the growing demand for homes.
Also see: When Foreclosures Are Good for the Housing Market. >>
-- Written by Shanthi Bharatwaj in New York.
>Contact by
.
Disclosure: TheStreet's editorial policy prohibits staff editors and reporters from holding positions in any individual stocks.