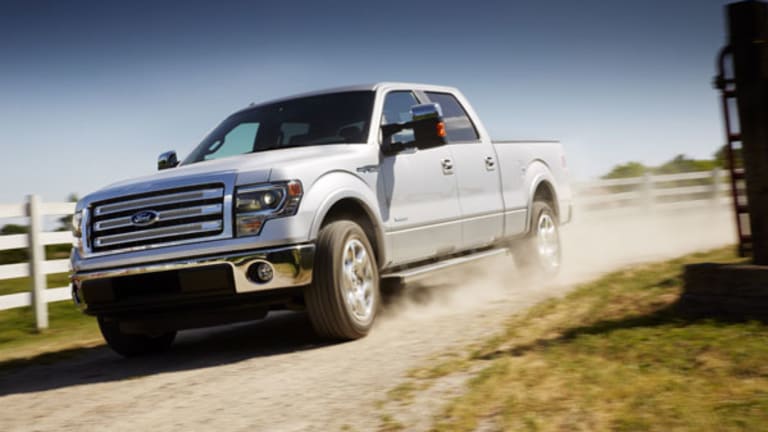 Ford June Sales Rise 13%, With GM Up 6%, as Pickup Sales Surge.
Ford, GM and Chrysler all reported double-digit gains in pickup truck sales in June.
DETROIT (
) -- Once again in June, automakers are reporting strong sales led by double-digit increases in pickup truck sales, a sign of the reviving economy and the strength of the home construction market.
Ford
(F) - Get Free Report
said sales rose 13% to 235,643 units, its best total in June since 2006. F-Series sales rose 24% to 68,009, F-Series' best June since 2005. GM sales rose 6% to 264,843 while pickup truck sales rose 29%.
Chrysler
said sales rose 8% to 156,686 units, its best June total since 2007. Ram truck sales rose 23% to 30,935, tops among Chrysler brands
"In June, we continued to see strong demand across the entire lineup," said Ken Czubay, Ford vice president, U.S. marketing, sales and service, in a prepared statement. "We're particularly encouraged by strong retail share gains, especially in coastal markets."
Ford said truck sales rose 20%, while car sales rose 12% and utility sales rose 8%. Small-car sales rose 39%. Escape sales rose just 1% but the June total of 28,694 units marked Escape's best month ever.
At GM, total sales of the Chevrolet Silverado and GMC Sierra increased 29% and 33% to 43,259 and 16,568 respectively. As the 2014 pickup trucks began to arrive, dealers delivered more than 6,000 all-new 2014 crew cab models, and the "days to turn" is 10 days. The Chevrolet Cruze set set an all-time monthly sales record of 32,871 units.
Seven Chrysler Group vehicles set sales records in June. Sales of the Dodge Durango full-size SUV rose 39%, to 4,590, tops among Chrysler vehicles.
"Last month Chrysler Group set seven individual vehicle line sales records and achieved our 39th-consecutive month of year-over-year sales growth," said Reid Bigland, head of U.S. sales, in a prepared statement. "The fundamentals for continued industry gains in new vehicle sales remain intact."
Jeep Grand Cherokee had its best June in eight years, with sales up 33% to 16,626, but overall Jeep sales were flat at 44,609. Chrysler brand sales rose 1% to 27,249. Sales of the Chrysler 200 mid-size sedan rose 14% to 12,360, but sales of the larger Chrysler 300 fell 39% to 4,280. Sales of the new Dodge Dart compact totaled 6,437.
Volkswagen
said its U.S. June sales rose 3.2% to 36,957.
-- Written by Ted Reed in Charlotte, N.C.
>To contact the writer of this article, click here: