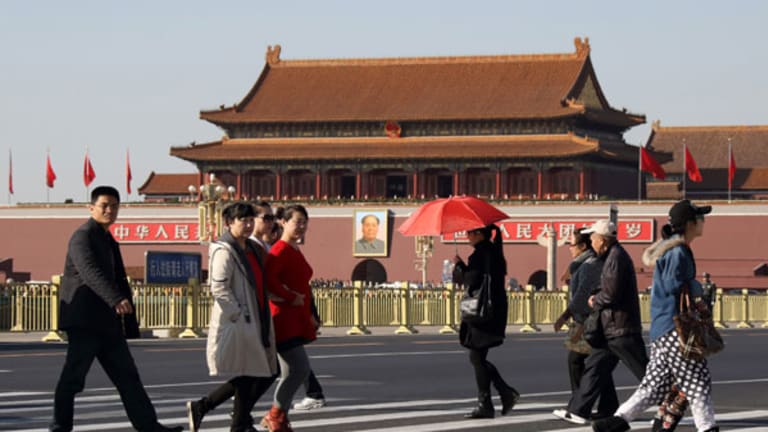 Ford's Growth in China Takes Off, Using Mulally's OneFord Blueprint
Ford hopes for 5% market share in China this quarter, twice its 2011 share.
Ford hopes for 5% market share in China this quarter, twice its 2011 share.
DETROIT (
) --
Ford
(F) - Get Report
is growing dramatically in China, rapidly building its capacity, dealership network and market share and outselling longer-established Japanese automakers.
Ford hopes for a 5% market share in China in the current quarter, double its share at the end of 2011, said Dave Schoch, president of Ford Asia Pacific, in a briefing for reporters on Wednesday. Ford's third-quarter share was an estimated 4.7%, up from 3.2% at the start of 2012. "I'm pleased with the progress we're making," Schoch said. "I'd like to be growing faster."
Ford's blueprint for growth in China and Asia is no secret. "The Asia Pacific plan is modeled after the OneFord plan," he said. "We could not have done all this in the last three or four years without the benefit and strength of the OneFord plan."
Schoch joked that the auto reporters gathered in Detroit and on the phone probably had OneFord pocket cards widely distributed by celebrity CEO Alan Mulally. The card lays out the key tenets Mulally has used to revive Ford, including simplifying the company and its range of vehicles. By mid-decade, five core platforms -- down from nine previously -- will account for 97% of Ford brand volume in the Asia Pacific region, Schoch noted.
Ford's Asia expansion includes investing nearly $5 billion in new plants in China, and growing the overall number of Asia Pacific plants from 14 last year to 24 by 2015. Asia capacity will grew from 1.8 million units in 2012 to 2.9 million units in 2015, with more construction possible.
"We're looking beyond 2015," Schoch said. "We're in a growth industry." The dealer network is also expanding, expected to double from 400 auto dealers and 200 truck dealers today.
Ford already has selected about a dozen Lincoln dealers, as it prepares to sell the brand in China starting late in 2014. Lincolns initially will be exported from North America. Schoch noted that a gray market already exists for Lincolns in China, saying he has seen an unauthorized Lincoln dealership in Shanghai. Additionally, "I can find F-Series trucks," he said, even though Ford doesn't sell them in China.
Reuters
reported Tuesday that Ford is poised to overtake
Toyota
(TM) - Get Report
and
Honda
(HMC) - Get Report
in China as Japanese automakers continue to be impacted by conflict between the two countries. Ford is likely to sell more than 900,000 vehicles this year, while Toyota and Honda are targeting 900,000 and 750,000 respectively,
Reuters
reported.
Meanwhile, market leaders
GM
(GM) - Get Report
and
Volkswagen
expect to sell more than 3 million, while
Nissan
(NSANY)
is shooting for 1.25 million,
Reuters
said. Ford entered Chinese markets in the 1990s, later than its competitors, and only recently did Mulally target growth in the region.
Ford is growing market share in China just as it is growing market share in the U.S., where its year-to-date market share is 16%, up from 15.5% in 2012, according to motorintelligence.com. But Ford projects much more rapid growth in Asia. It said Asia Pacific auto sales should rise to 46% of the world total in 2020, up from 41% of the total in 2012, while Europe and North America are both expected to lose ground.
Ford's sales in China totaled 647,849 units in the first three quarters, up 51% from the same period a year earlier, Ford said Wednesday. September sales rose 61% to 96,111 units. Schoch said China auto sales are being fueled by demand for luxury vehicles and SUVs. September sales of the Ford Kuga, known as the Escape in the U.S., totaled 10,365 units.
Ford posted a pretax profit of $183 million in Asia in the first half of 2013, a swing from a year-earlier loss of $161 million. Schoch said he expects the region to be profitable in 2013 and to be "a major contributor" to Ford profit by mid-decade.
-- Written by Ted Reed in Charlotte, N.C.
>To contact the writer of this article, click here:
Ted Reed