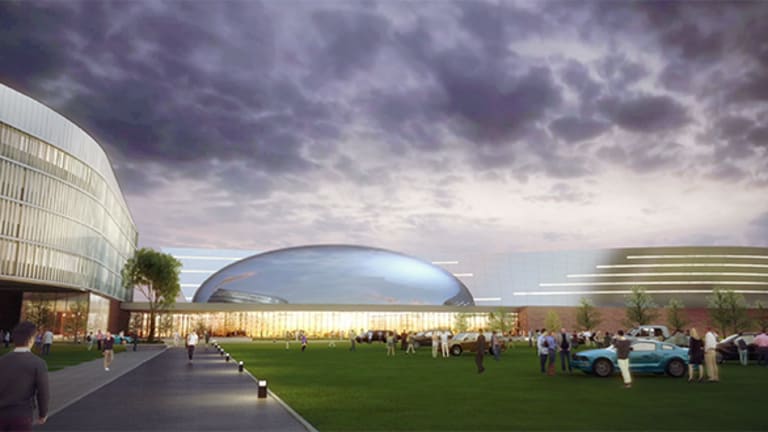 Ford's (F) - Get Ford Motor Company Report city of the future is replete with funky-looking modes of transportation, none of them resembling a classic Mustang. 
The automaker unveiled plans to marry drones and autonomous vehicles for such things as delivering online orders and medical supplies at Mobile World Congress on Monday. Coined "Autolivery" (pictured below), the high-tech service would feature a bespoke self-driving vehicle for the larger part of a package's journey. Then, an unmanned aerial vehicle (UAV) would carry the order to a shopper's doorstep.
Jim Cramer sat down Wednesday with four market experts to talk about how to play the Trump tax plan. Click here to check out their recommendations.
UPS (UPS) - Get United Parcel Service, Inc. Class B Reportrecently took the wraps off a similar service, using a drone that launches from the roof of a UPS van to deliver a package. 
Ford also showed off two of its "City of Tomorrow" projects that were initially revealed last year: a hoverboardlike transport machine called CarrE, and a folding electric tricycle known as the Tri-City (pictured below).
To be sure, Ford's vision for the city of the future is quite mind-blowing. 
In a blog post earlier this year, Ford CEO Mark Fields said he sees "significant concentrations of autonomous vehicles, most of which will be electrified" and "mass transit will advance for the largest cities, with new technologies like high-speed public transit" in the city of the future. Fields outlined several specifics:
Drones that could be quickly deployed to survey and map the hardest-hit areas following earthquakes, tsunamis or other major disasters.
Advanced transportation systems such as smart street lights and parking meters that could integrate data.
Large-scale implementation of advanced technologies for traffic management coupled with autonomous vehicles . Fields believes this would help to  eliminate traffic jams, reduce emissions and bring traffic accidents to nearly zero.
Not a fan of investing in automakers? Try these Trump tech stocks.
Ford hasn't been shy about investing money to breathe life into this futuristic world. The company recently invested $1 billion in a joint venture with artificial intelligence firm Argo AI, the goal being to completely outfit Ford vehicles with self-driving technology. Late last year, Ford purchased Chariot, a San Francisco-based commuter ride-sharing shuttle startup. Chariot's routes are crowd-sourced based on rider demand. In the future, Ford says, the routes will operate using algorithms to map the most efficient routes to best serve real-time mobility needs of people. 
 Editor's Pick: Originally published February 28.