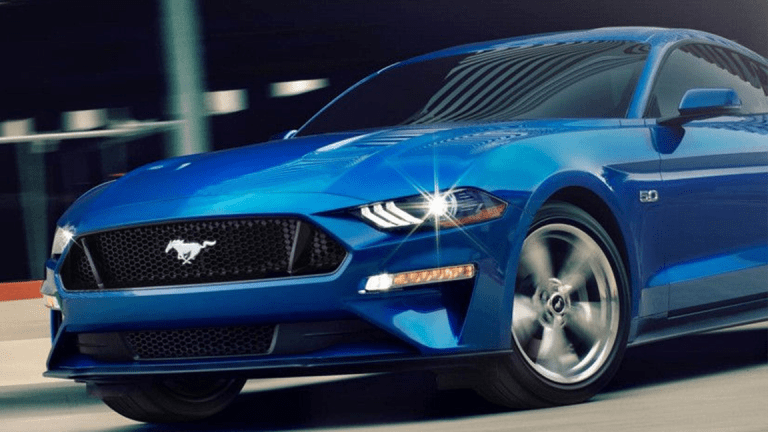 Ford to Unveil Electric Mustang Sunday
The car showing will be live-streamed from Los Angeles, showing off the vehicle expected to get 300 miles per full charge.
America's iconic muscle car -- the Ford (F) Mustang -- is going from gas guzzler to gas-free, as the new all-electric Mustang Mach-E is slated to debut Sunday night in Los Angeles.
The car showing will be live-streamed on YouTube, Facebook, and Twitter, according to the company, which released few details about the showing or the car, except that actor Idris Elba will help introduce the vehicle.
Set to become available in about a year, the new Mustang will have a "targeted EPA-estimated range of at least 300 miles," said Ford. The vehicle will also be able to travel about 47 miles with just 10 minutes of charging with a special 150kW "fast" charger, said the company, 
It is expected the car will fit four to five adults, according to Motor Authority, which speculates the Mach-E will be a four-door crossover with "fast roofline."
An electric Mustang would be a dramatic departure from the classic car's earlier models that got relatively poor gas mileage. Even the 2019 Ford Shelby GT350 Mustang gets only about 16 MPG in combined city and highway driving using premium gasoline, according to fueleconomy.gov, which said the car would cost drivers an additional $8,250 in gas over five years vs. the average new car. Other new Mustangs offer somewhat better gas mileage, but in general rated more poorly than efficient vehicles.
The event is slated to begin streaming at 9 p.m. ET; customers can reserve a spot for the Mach-E for a $500 refundable reservation deposit.
TheStreet.com's Katherine Ross is expected to interview Ford's Joe Hinrichs, president of automotive, on Monday, focusing on sustainability and the legacy of the Mustang.