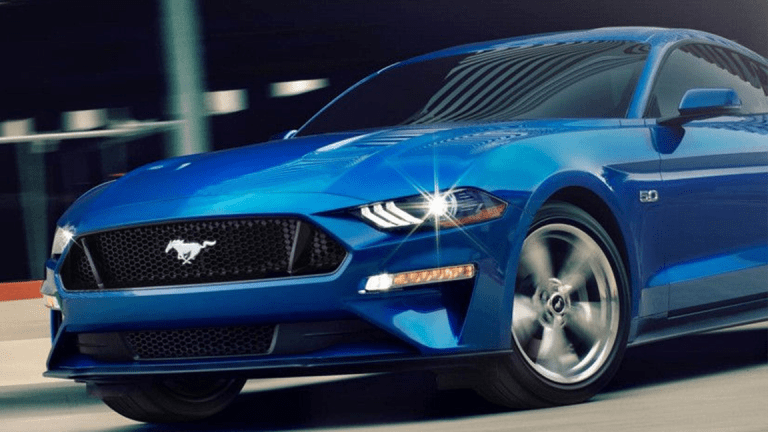 Is Ford an $8 Stock?
Ford had a very weak second quarter and served up a profit warning for the full year. Here's a quick look at the company's valuation.
Ford's (F) business has a few flat tires in need of repair. 
Ford said Wednesday after the closing bell it recorded 27 cents a share of adjusted earnings on $38.9 billion in revenue. Wall Street expected the company to post earnings of 31 cents a share on $39.14 billion in revenue.
Moreover, the company revised its full-year earnings guidance down to $1.30 to $1.50 a share from its previous target of $1.45 to $1.70 a share. Ford also took the wraps off a new $11 billion multi-year restructuring plan and postponed its September analyst day. 
Shares dropped 6% to $9.90 in Thursday trading. 
But according to one Wall Street analyst, Ford's stock may have further downside -- a lot of further down. 
"Our downside scenario assumes 2019 EBITDAP (excluding equity income) is ~$7.5 billion or ~32% below our base case, driven by softer market conditions and a more competitive environment," says RBC Capital Markets auto analyst Joseph Spak. "For valuation purposes, we use a ~2.5x EV/ EBITDAP multiple -- this yields a downside scenario of $8."
Spak rates Ford shares at sector perform with a revised price target of $11.50. Says Spak, "Ford guided 2018 earnings/FCF down as Europe/China deteriorated. 2020 8% margin target was maintained but certainly seems tougher to achieve now. Restructuring road-map revealed which could consume significant cash leaving little wiggle room if environment deteriorates."
Hardly a ringing endorsement, perhaps putting the $8 price target in play given challenges in the U.S. passenger car market and rising global trade tensions. 
Read up on Tesla's (TSLA) future via TheStreet.