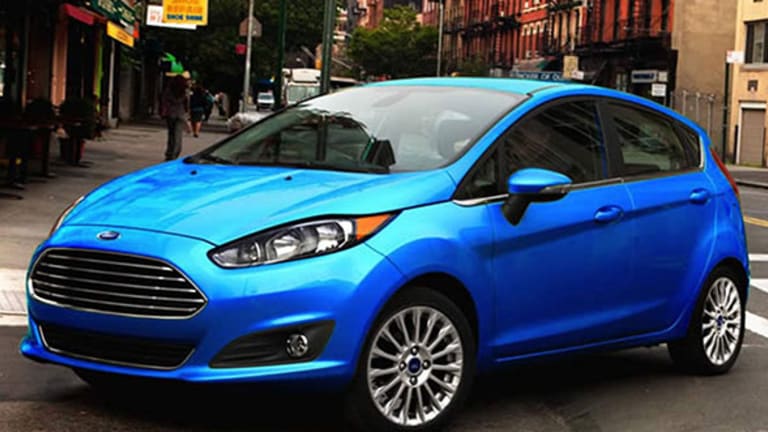 Ford Shifting Focus Away From Focus Is a No-Brainer
The second-largest U.S. automaker lost the passenger car battle to Japanese automakers long ago. Maybe it's time to finally throw in the towel and shift gears.
In the first eight months since taking the helm of the second largest U.S. automobile manufacturer, Ford Motor Co. (F) - Get Report CEO Jim Hackett has spoken publicly just a handful of times. And on those occasions, the discussion has been fairly high level, with the CEO waxing poetic on the future of electric vehicles and the smart city, but remaining relatively vague on Ford's plans to cut costs and rebuild its brand today.
"WhatwewantisthedepictionoftheCityofTomorrowthatdemonstratesthebenefitsofintroducingthesesmartvehiclesinasmartworldforciviclife," Hackett said Jan. 9 at the Consumer Electronics Show in New York. "It'snotaboutthecitygettingsmarter;it'sabouthumanshavingabetterday.Millionsmorecanthenmoveintothesecities andweknow,you'llseeinsomeofthemodeling,itcanbelesscongested. Thesystemdesignchallengewehavetodayistotakethepassionthatweknowyouhaveforvehiclesandwehavewe'regivingthemtoyouandfeatherintheever-evolving technologyandinterpretthattechnologyunderlyinginahuman-centeredway.Wewantto betheleadersinthat.ThisisnotjustachallengeatFord."
As for challenges today at Ford, though, there are arguably many, according to analysts. To the point of improving the Ford brand, and subsequently its bottom line, few of the CEO's comments at CES, or his previous public events, have really hit home on how the auto behemoth intends to get it done, and the market seems to be begging for more granular detail from the new chief executive.
"Transparency is still lagging, in our view," Morgan Stanley auto analyst Adam Jonas wrote in a Jan. 17 note on Ford. "Our discussions with Ford's management team suggest a recognition that the investment narrative has substantial room for improvement along multiple lines including the core business and the new mobility opportunity. The message we are left with is akin to 'we're working on some big projects and the numbers are significant... but please be patient while we put the pieces together.' "
Patience is not a virtue the market often has in abundance, however. As a result, the little guidance the company does put out, such as the goal for passenger cars to make up less than one-third of its sales mix globally in the next few years as the company increases its SUV lineup by 10 percentage points, comes across as newsworthy, judging by reports following Ford's announcement of softer-than-expected earnings at a Jan. 16 Deutsche Bank investor conference. When in reality, Ford further pulling back on cars is not surprising, nor does it change the company's recent strategy all that much when looking at the data.
Consider that passenger cars already made up just 22% of Ford's U.S. auto sales in 2017, according to car research firm Edmunds. To be sure, much of Ford and its major competitors' passenger car sales come from abroad, especially in Europe and emerging markets like India, where smaller vehicles reign supreme.
More of What's Trending on TheStreet:
Across the industry, passenger car sales made up just 36% of sales in the U.S. in 2017. That mark was above 50% as recently as 2012, according to Jessica Caldwell, executive director at car research firm Edmunds.
But for the broader market, Edmunds has been calling for that trend to continue long before Ford revised its guidance. In the firm's 2018 preview, Edmunds said passenger car sales will dip to 34.5% of the market in 2018, a 15.5% decline in 6 years, while green cars should climb to 4.4% from 3.2% in 2017, SUVs will represent 43.5% of the market, trucks will take up about 16.8% and vans will hold a 5.3% share.
Moreover, countries like England, France, and the world's largest auto market, China, have signaled upcoming bans on fossil fuel-burning vehicles in the years ahead, meaning a much larger portion of passenger cars produced by Ford and other automakers will have to be represented by green vehicles.
No wonder why Ford announced Jan. 17 it intends to spend $11 billion by 2022 on green vehicle technology and develop 40 electric vehicles worldwide, including 16 full-battery electric vehicles by 2022 and an electric SUV with at least a 300-mile range by 2020.
But why is the automaker making such a marked step away from traditional passenger vehicles like the Focus?
One reason could be that it is already too far behind to make up lost ground in its largest and most stable market, the U.S., where Japanese automakers have taken firm control over the passenger car scene.
Of total passenger car sales in 2017, Ford represented 9.1% of the market, selling 555,838 vehicles. That compares poorly to market leader Toyota's (TM) - Get Report 14.8% share, representing 905,925 vehicles, and runner up Honda's (HMC) - Get Report 12.3% share, or 752,558 vehicles. Also ahead of Ford in total car sales are Nissan (NSANY) and GM's (GM) - Get Report Chevrolet brand.
When comparing one of Ford's most recognizable passenger cars, the Focus, to two of the most popular cars on the market, the Honda Civic and the Toyota Corolla, the statistics show a discouraging gap as well.
The Ford Focus represents 2.6% of the U.S. total car sales market, or 158,385 cars, while the dominant Civic makes up 6.1%, with 377,286 vehicles sold, and the Corolla comes in at 5.3%, with 327,805 cars sold. And Ford doesn't even have an all-electric car yet, with its first not expected to arrive until 2020.
Clearly for Ford, the focus on the Focus dwindled long ago. But what would Ford's founder Henry Ford say if he were here today?
According to Hackett, he might be all for saying goodbye to cars.
"ImeanHenryFordgota lotright," Hackett said at CES. "Hewasrightaboutthefreedomofmovement.That'swhythecompanyhas lastedsolong.But ifhewerehere,he'dwantto avoidmakingthemistakesoftheindustrialagewhenthefreedomofmovementcameattheexpenseofcommunity foraconnectiontoeachother."