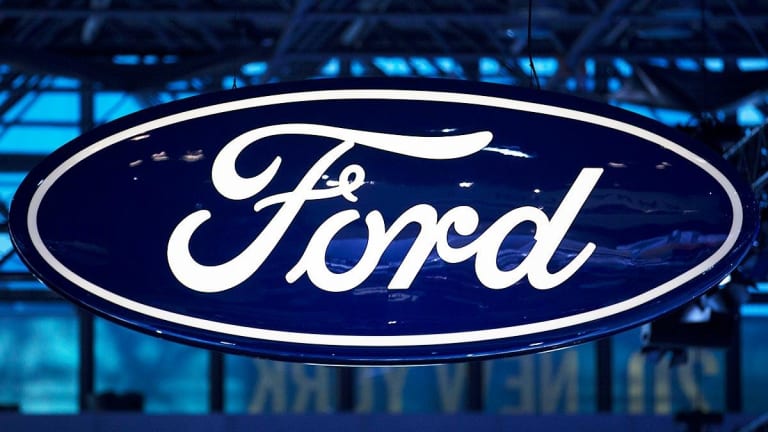 Ford Motor Co. (F) - Get Ford Motor Company Report shares slumped Tuesday after analysts at Moody's Investors Service cut its credit rating to junk status, citing "considerable operating and market challenges" amid the carmaker's multi-billion restructuring plans.
Moody's lowered its headline rating on Ford to Ba1, one notch below investment grade status, marking the first time Ford's debt has been considered "junk" since it reclaimed a triple-B rating in 2012. Moody's said Ford's ongoing global restructuring plans will cost around $7 billion in cash -- and $11 billion in overall charges -- that will lead to negative free-cash flow over the next two years amid weakening global auto markets. Ford still holds investment grade ratings from Standard & Poor's and Fitch. 
"The company does have a sound balance sheet and liquidity position from which to operate," Moody's said. "Ford now faces the challenge of addressing these operational problems as demand in major markets is softening, and as the auto industry is contending with an unprecedented pace of change relating to vehicle electrification, autonomous driving, ride sharing, and increasingly burdensome emission regulations."
"In addition to the restructuring initiatives, the Global Redesign plan will also include efforts to revitalize the China operations where Ford has already made notable progress in lowering costs," the ratings company added. "However, efforts to regain lost share, rebuild market presence, and restore meaningful profitability will be much more difficult to achieve because the Chinese auto market is becoming increasingly competitive, and near-term growth rates are likely to be much less robust than in the past."
Ford shares were marked 4.8% lower at the start of trading following the Moody's downgrade to indicate change hands at $9.10 each. That slide would trim the stock's year-to-date gain to around 19%.
Ford shares have been under pressure since it posted weaker-than-expected second-quarter earnings of 28 cents a share on revenue of $38.9 billion and disappointed investors with a full-year profit outlook of between $1.20 and $1.35 a share.
Ford confirmed its trans-Atlantic alliance with Volkswagen AG (VLKAY) at the Detroit Auto Show earlier this year that will focus first on commercial vehicles but could later extend to electric and self-driving cars as markets in the world's two biggest economies continue to slow. 
However, Ford is also slashing jobs and pulling back from key markets as the carmaker enters the final phase of its global restructuring plans.
"Ford is a family company and saying goodbye to colleagues is difficult and emotional," CEO Jim Hackett said in a company-wide email earlier this spring. "We have moved away from past practices in some regions where team members who were separated had to leave immediately with their belongings, instead giving people the choice to stay for a few days to wrap up and say goodbye."
Ford is planning to close plants in France and Wales, having already reduced production at facilities in Spain and German and shuttered a plant in Russia, in order to reach the 12,000 jobs cut target, nearly a quarter of its workforce, although the company said many will come from voluntary separation agreements.
Ford also announced in May that its 1.5-litre petrol engine plant in Bridgend, Wales, would shutdown in February of next year, a move that would likely mean the loss of around 1,500 jobs and cost the company $400 million in separation and termination payments. A further $250 million in non-cash charges, mostly linked to pension expenses.