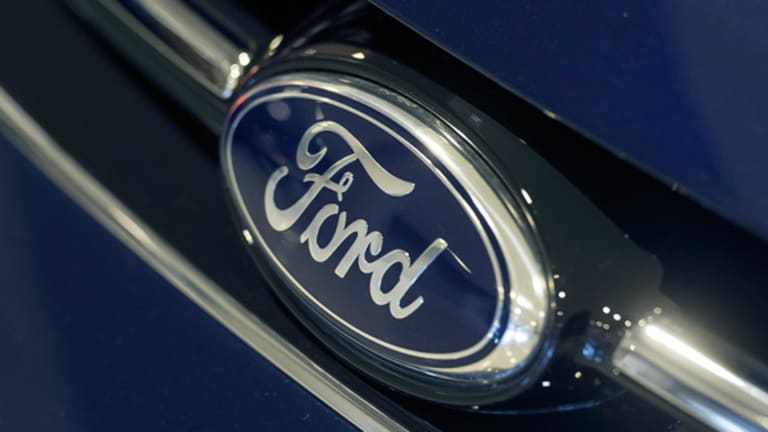 Ford Shares Rise in 2014 but Analyst Sees South America Headwinds
So far it has been a relatively good year for Ford shareholders.
DETROIT (TheStreet) -- So far it has been a relatively good year for Ford (F) - Get Ford Motor Company Report shareholders. While the S&P 500 is down 3% and GM (GM) - Get General Motors Company Report shares are down 11%, Ford shares are up about 1.5%.
Ford will report fourth-quarter earnings on Tuesday. Investors will be watching closely to see if this global company, which has expansive growth plans in China, sees signs of a slowdown in China or in emerging markets.
JPMorgan analyst Ryan Brinkman estimated in a report issued Monday that Ford's fourth-quarter South American production declined by 8% to 107,000 units, while Asia Pacific production increased 23% to 371,000 units, "slightly softer than company guidance of 26% (increase) to 380,000 units."
Analysts surveyed by Thomson Reuters expect earnings of 28 cents a share, down from 31 cents in the same quarter a year earlier.
Ford shares took a dive on Dec. 18, when the company warned that 2014 pretax profit will decline from 2013 levels as Ford absorbed the costs of introducing new products, particularly its new aluminum intensive F-150 pickup trucks. Ford shares closed at $16.70 on Dec. 17. By the close of trading on Dec. 18, they had fallen 6% to close at $15.65.
Ford shares were trading on Monday at $15.62, down  21 cents.
Since the Dec. 18 announcement, the news has been mostly good. Ford has hiked its dividend. Investors have finally come to believe what the company has been saying since 2012: Alan Mulally will remain as CEO at least through 2014. And the reception to the new pickup truck has been generally positive, although execution risks obviously remain.
It helps, of course, that Mulally, an engineer who presided over the design of the Boeing (BA) - Get Boeing Company Report 787, which was introduced as a major component in the airplane industry, will preside over execution as well as design of the F-150.
In his report, Brinkman said GM is his top idea overall, but he rated both Ford and GM as overweight. Brinkman estimated Ford will earn 30 cents in the fourth quarter.
Brinkman said fourth-quarter European production "tracked materially better than expected, and better than guidance," while fourth-quarter production in both South America and Asia-Pacific tracked modestly softer than expected.
In South America, "owing to challenges in the region,"  Brinkman has reduced his 2014 production estimate to 525,000 vehicles, up 11% from a year earlier. Previously he had estimated an 18% gain. In Asia-Pacific, he now estimates 6% growth rather than the 16% he had estimated previously.
But North America remains strong. Brinkman said "Ford's aggressively restructured North American operations are now lean and highly profitable, with the One Ford strategy seemingly having helped solve the long-beguiling puzzle of how to turn a profit on small cars in the United States."
UBS analyst Colin Langan also expects that Ford will earn 30 cents a share, slightly ahead of consensus.
"Ford is slightly better positioned following its most recent guidance update and better global production growth," Langan wrote on Jan. 20. Langan said he is bullish on both Ford and GM, but he prefers GM "given the positive (second half) 2014 earnings momentum driven by the new full-size pickup."
Written by Ted Reed in Charlotte, N.C.
To contact this writer, click here.