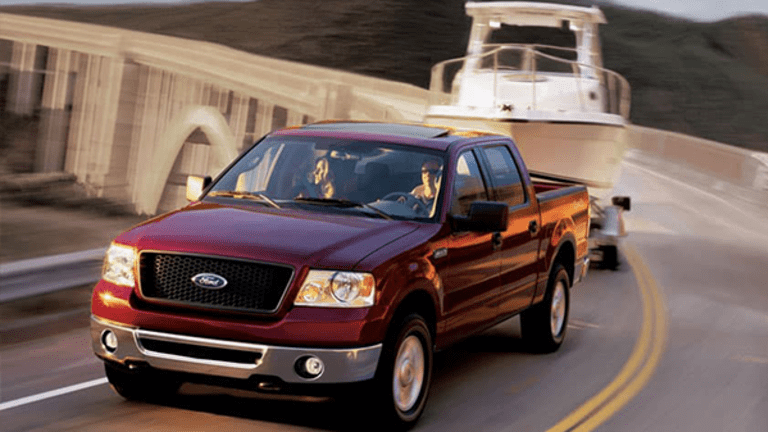 Ford's F-150 Has Had an Amazing 100 Years
Ford celebrates a milestone.
Happy birthday to the Ford (F) - Get Ford Motor Company Report pickup truck. 
Ford celebrated the 100-year anniversary of Henry Ford's Model T Truck (known as the Model TT) on July 27. Here are some fun facts about the original model:
Factory price: $600
Units sold in 1917: 209
Truck was originally marketed to farmers. 
And as they say, the rest is history. The Ford F-Series has since turned into America's most popular truck. That was good news for Ford in the second quarter -- strong sales of trucks offset weaker sales of mid-size cars.
TheStreet's Time With a New Ford Truck
If you name a new truck after a dinosaur that was known to aggressively prey on other animals, said truck better be that type of beast on the road.
Suffice it to say, Ford's new Raptor pickup truck is that beast. Not only were we able to blow the doors off a few sports cars on the highway during our test drives, but we easily ate up potholes, speed-bumps and the dirt on a trail we briefly hit. There is no denying if we were to put the Raptor to more serious tests, such as going 100 mph over sand or 75 mph through a rocky stream, it would perform quite well. The Raptor wants to eat things up, that much we came away with after spending a few days behind the wheel.
That voracious appetite is derived from what's under the Raptor's hood. A 3.5 litre twin turbo V-6 engine makes an insane (for a mid-size pickup truck) 450 horsepower and 510 lb-ft of torque. The setup launches the Raptor from 0 to 60 mph in 5.1 seconds, which is nothing to scoff at seeing as the truck weighs a hefty 5,700 pounds. Even with the twin turbo, however, we felt as if the Raptor was a touch under-powered. This beast felt like it wanted to go faster off the line but couldn't because of its weight. Perhaps 500 horsepower would do the trick.
Ford Has a 23-Year-Old Whiz Kid Helping to Shape Its Future
Ford Let Us Drive Its New Super Pickup Truck and We Couldn't Believe the Rip Your Face Off Power
As for everything else, the Raptor earns high marks. It's appearance nicely fits its name, with murdered out badges, bumpers and front grille. Kudos to Ford for not slapping a tiny blue oval logo on the front-end -- it wouldn't have felt right on the mean-looking truck. Despite the massive tires, and the fact the Raptor is a pickup truck, we found the ride to be extremely quiet -- quieter than most SUVs, in fact.
The Raptor's interior is standard Ford pickup truck. Everything from cup-holders and center console to gear shifter is supersized for those 6 foot 5 men buying the truck. We would have appreciated some Raptor badges in the interior, but all in all it was super roomy with soft leather seats and various tech bells and whistles. Yes, there are heated seats, outlets to quickly plug in a laptop and three drive modes to turn up -- or down -- the truck's performance.
For only $63,000 as tested, the Raptor just makes sense even if it also eats up gas (we averaged 14 mpg).
More of What's Trending on TheStreet: