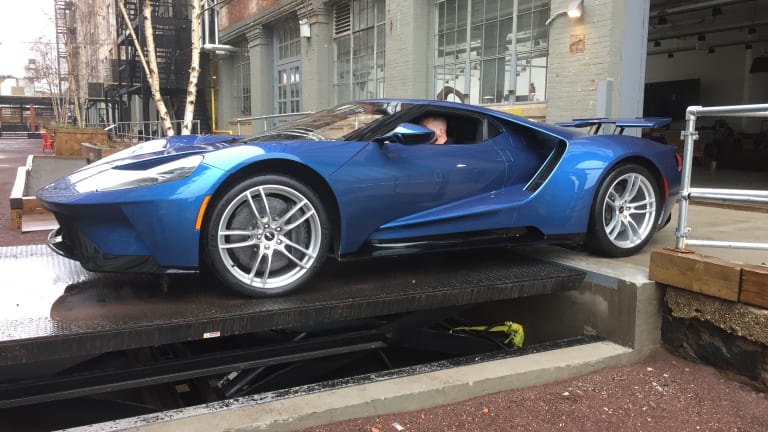 There is one quick way to sum up what the 2017 Ford (F) - Get Ford Motor Company Report GT is all about.
"Insane," Jamal Hameedi Chief Engineer, Global Ford Performance Vehicles told TheStreet when asked how he would describe the $400,000 supercar. To be sure, Hameedi isn't kidding around as we could attest to checking out the GT at an event in New York City.  
The automaker revealed recently that the 2017 version of the supercar, which began to ship to customers in December, comes equipped with five drive modes. A simple turn of a dial quickly changes aerodynamic, engine, stability control and shift characteristics of the GT, as well as its ride height. 
Out of the five modes, which include "normal", "wet", "sport" and "track", it's the "V-Max" that will likely be the most popular among thrill-seeking GT owners.  
Engineering-speak for "maximum velocity," says Ford, V-Max mode is designed to make the 647 horsepower Ford GT go as fast as possible. That ultimate end game: a top speed of 216 mph. Like the car's track mode, selecting V-Max requires the transmission be set in park. Ride height is the same as in track mode, but all aerodynamic elements are stowed to minimize drag. Stability controls remain active to help ensure the car moves forward in a straight line.
Other insane performance enhancing features include a large active rear wing, air tunnels on the lower half of the car and a carbon fiber body that keeps the weight down to about 3,000 pounds. The exterior of the GT is no slouch either, boasting scissor doors inherant to most supercars and aggressive rear styling.  
The first two people lucky enough to call the GT their own? Ford executive chairman Bill Ford Jr. and CEO Mark Fields. 
The Ford GT rolls off a truck, into the rain, and then into a garage for our shoot.
The Ford GT is prepped for its big photo shoot.
Ford's GT has some seriously aggressive styling. 
Take note of the GT's scissor doors and massive rear wing. 
Inside, the Ford GT has racing seat belts and yes, even a small info-tainment screen. 
Editor's Pick: Originally published March 29.
Watch more Auto features on TheStreet:
Take a Rare Look Inside Bentley's Amazing 2017 Flying Spur
3 Out of Body Experiences that Happen When Driving Bentley's $405,000 Luxury Super Car