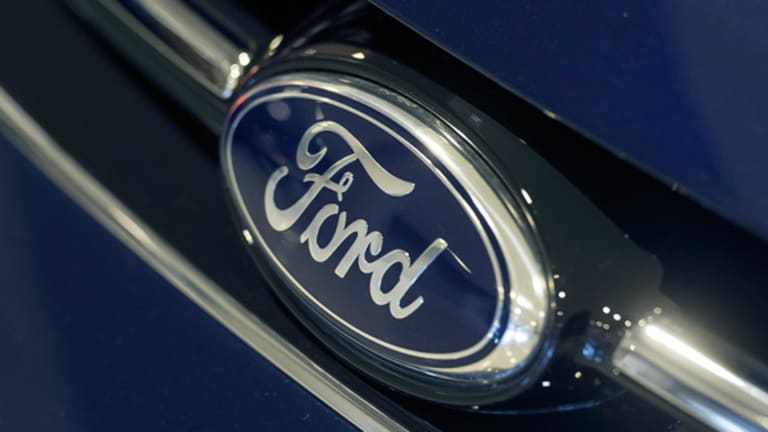 Ford Moves to Fix Europe
Ford says its 2011 European loss will total $1.5 billion, exceeding its guidance, but savings should total $450 million to $500 million annually.
Ford says its 2011 European loss will total $1.5 billion, exceeding its guidance, but savings should total $450 million to $500 million annually.
DETROIT -- (
) -- Moving to fix its lagging Europe operations,
Ford
(F) - Get Report
said Thursday it will close three European facilities employing 5,700 workers even as it accelerates new product development.
CEO Alan Mulally indicated that Ford has developed a comprehensive plan resembling the one that enabled a turnaround in its domestic operations, despite not seeking a government bailout, in the second half of the 2010s.
"Using the same One Ford plan that led to strong profitability in North America, we will address the crisis in Europe with a laser focus on new products, a stronger brand and increased cost efficiency," Mulally said, in a prepared statement.
"While we are facing near-term challenges in Europe, we are fully committed to transforming our European business by moving decisively to match production to demand, improve revenue through new products and a stronger brand, improve our cost efficiencies and take advantage of opportunities to profitably grow our business," he said.
Ford said it expects to be profitable in Europe by the middle of the decade and has targeted a long-term operating margin of 6% to 8%. But its European loss for 2012 is expected to exceed $1.5 billion, higher than previous guidance due to destocking actions being taken in the fourth quarter.
Ford will report third-quarter earnings on Oct. 30. It said pretax profit and earnings per share will exceed second-quarter results despite "a substantial loss in Europe." For the full year, Ford projects a strong pretax profit with positive automotive operational cash flow.
In premarket trading, Ford shares were up 26 cents to $10.43.
The shutdown of three facilities is expected to result in annual gross savings of $450 million to $500 million and to reduce installed vehicle assembly capacity, excluding Russia, by 18% or 355,000 units.
In 2013, Ford plans to close two UK facilities -- an assembly plant in Southampton, and stamping and tooling operations in Dagenham. By the end of 2014, Ford will close a major assembly plant in Genk, Belgium, assuming the successful completion of a consultation process with employee representatives.
The facilities currently employ about 5,700 hourly and salaried employees, including 4,300 in Genk and 1,400 in the U.K. Ford has already announced plans to reduce 500 salaried and agency employment positions in Europe, so the total reduction would total 6,200 positions or about 13% of the company's European work force.
Despite the cutbacks, Ford continues to plan to introduce 15 global vehicles in Europe in segments including large car, sport utility and commercial vehicles. The vehicles include a new Fiesta, a new Mondeo large car, a new Kuga SUV later this year, a redesign of its commercial vehicles including a new Transit, over the next two years and the introduction of the Mustang in Europe.
"The European market holds potential for profitable growth if we accelerate product development and move decisively to address our costs and overcapacity," said Stephen Odell, chairman and CEO, Ford of Europe. "Even in today's environment, we are increasing the introduction of new products, leveraging our One Ford global strengths."
New vehicle sales in Europe have reached a 20-year-low and are expected to remain flat or fall further next year, Ford said, as automotive demand in Western Europe has fallen more than 20% since 2007.
"The challenges facing the European car industry have become more structural than cyclical in nature and require decisive action," Odell said. "The actions we are proposing come after extensive review and consideration, and we fully recognize and accept Ford's social responsibilities in this necessary transformation of our business."
Production of the C-MAX and Grand C-MAX compact multi-purpose vehicles would move from Valencia to Saarlouis, Germany, in 2014 under the proposed plan. Also, Transit manufacturing will be consolidated in a Kocaeli, Turkey facility operated by Ford Otosan. If the Belgium plan is confirmed, Genk will cease all production by the end of 2014.
Ford also is moving to reduce vehicle inventory at its European dealerships, utilizing recent improvements in vehicle logistics and IT systems that have sped up the order-to-delivery process. Also, the company plans reduced marketing, including a halt to participation in the FIA World Rally Championship as a factory team after the 2012 season.
-- Written by Ted Reed in Charlotte, N.C.
>To contact the writer of this article, click here:
Ted Reed
+++++++