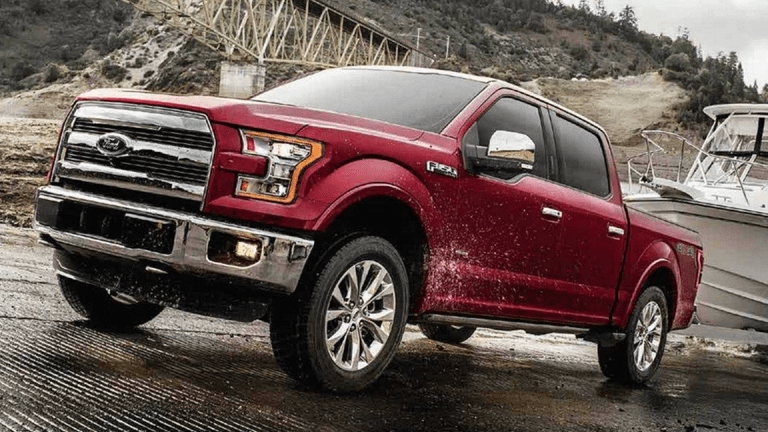 Ford's Fourth Quarter Reveals Company Only Running on Two Cylinders
The automaker said commodity and exchange rate costs cut into its bottom line in 2017, and the company continues to expect lower earnings in 2018 as it works to transform itself into a mobility enterprise of the future.
Ford Motor Co.'s (F) shares are getting run over after some weak earnings.
Shares fell as much as 2% in pre-market trading Thursday after Ford reported fourth quarter earnings of 39 cents per share, compared with the 43 cents a share expected by analysts surveyed by FactSet. Revenue beat estimates with $41.3 billion in reported sales, compared with expectations for $36.3 billion in sales for the fourth quarter. 
In all of 2017, Ford said it earned $1.77 a share on $156.8 billion in revenue. Analysts were calling for $1.79 a share in earnings on about $144 billion in sales for the year.
Ford's top-selling F-Series truck line totaled 896,764 pickups in sales for the year, up 9.3% over 2016, the automaker said. According to Ford, its 2017 F-Series sales marked the best annual performance since 2005.
Earlier this month, Dearborn, Michigan-based Ford said it would likely miss Wall Street's expectations for earnings for 2017, and the company reiterated its previously announced reasoning for that Wednesday, claiming its bottom line was hit by higher commodity prices and exchange rates. 
Ford has been on a mission to transform itself into something beyond a simple automobile manufacturer in recent months since former Steelcase Inc. (SCS) CEO Jim Hackett became chief executive of the company last May. 
As TheStreet has previously reported, Hackett has waxed poetic often in his first months as CEO of the country's second largest automaker over the future of transportation, mobility and the smart city, but provided few operational improvement details for analysts to crunch on. 
The CEO has said Ford will focus on "fitness" more going forward and will restructure to cut out billions in operational costs as a result. Still, analysts have sought more clarity on how Ford specifically plans to improve its business model, which in recent years has left it behind competitors including General Motors Co. (GM) Toyota Motor Co. (TM) and Honda Motor Co. (HMC) in numerous market segments, including the U.S. passenger car space. 
On Wednesday, the CEO said in Ford's prepared release that the company has "made tremendous progress in laying the foundation for our strategy -- smart vehicles for a smart world -- from accelerating our connected vehicles plans to expanding our AV and EV work.
"As we move into 2018, we are intensely focused on improving the operational fitness of our business to deliver strong results while continuing to build toward our vision of the future," Hackett said.
That future includes a decrease in focus on passenger cars like the Focus and Fiesta and about 40 new electric vehicles worldwide. To date, Ford has yet to release a single all-electric vehicle.
Ford's biggest competitor, GM, which also announced in 2017 plans to expand its electric vehicle presence in the coming years, particularly in China, is expected to report earnings Feb. 6. 
More of What's Trending on TheStreet: