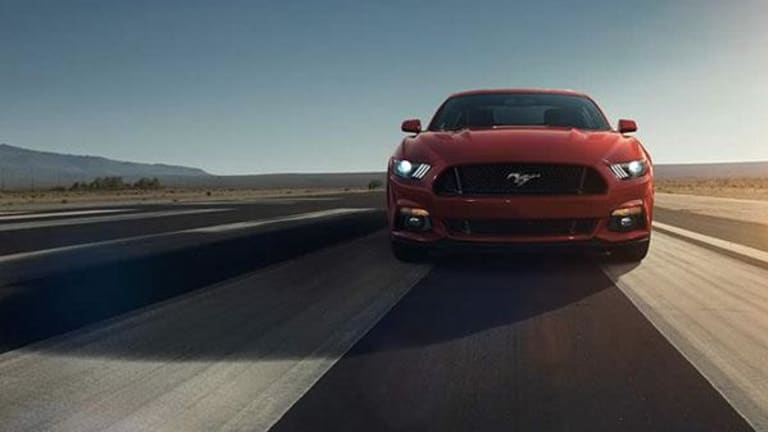 Ford Motor (F) - Get Ford Motor Company Report looks like the relative winner among autos if Donald Trump follows through on his promise to impose a tariff or takes other actions to punish companies importing manufactured goods into the U.S. But given the long-term risk of such a move, the whole industry would be better off sidestepping a trade war.
Barclays analyst Brian A. Johnson on Friday upgraded Ford to "overweight" on the political climate and potential for an overhaul of NAFTA, writing in a note that "any way you look at it, Ford looks better positioned than General Motors (GM) - Get General Motors Company (GM) Report and Fiat Chrysler (FCAU) - Get Fiat Chrysler Automobiles N.V. Report in a border adjustment scenario." Johnson says Ford has a higher mix of North American unit production in the U.S. than its key rivals.
Product mix also factors into Johnson's call. Ford is largely importing low-margin small and midsized cars from Mexico, while Fiat Chrysler and GM are building higher-value pickups in Mexico and minivans and small SUVs in Canada. For that reason, Barclays estimates the value of U.S. net imports for Ford is only $3.6 billion, compared to $10.4 billion for GM and $18 billion for Fiat Chrysler.
President Trump on the campaign trail promised to bring manufacturing jobs lost to Mexico and elsewhere back home, in part by setting up tariffs and other barriers to make importing from Mexico less profitable. Since the election he has doubled down on that promise on Twitter, while also suggesting at least reworking NAFTA.
The president so far has been short on specifics, though House Republicans as part of their broader tax reform effort have suggested exempting export revenue from taxation while removing the cost of goods tax deductibility of imports, effectively imposing a 20% tax on imports.
UBS analyst Colin Langan estimates a border tax would drive up costs by about 8%, or about $2,500 per vehicle, which in turn would likely pressure overall U.S. new vehicle sales by about 11%, or 2 million vehicles annually.
The new Ford Raptor is on its way to China
That scenario would create a temporary windfall not just to Ford, but its crosstown rivals as well. Langan wrote that at least initially the three U.S. automakers, along with Toyota (TM) - Get Toyota Motor Corp. Sponsored ADR Report and Honda (HMC) - Get Honda Motor Co., Ltd. Sponsored ADR Report , would have a $600 or so cost advantage compared to the rest of the industry due to their stronger U.S. manufacturing footprints.
Trump's oft-mentioned 35% tariff targeting Mexico, meanwhile, according to Langan would likely have a smaller overall impact to sales--perhaps a 6.2% annual decline--but would be more punitive on U.S. manufacturers due to their extensive use of a high-level of Mexican-made parts.
The tariff is seen by most in the industry as unlikely in part because economists say it could be a net job loser if it does shrink demand. Currently, about 1.9 million vehicles are manufactured in Mexico and imported to the U.S. With U.S. facilities now operating at about 94% of capacity and companies unlikely to invest billions to boost capacity in order to produce low-margin vehicles, any shift away from Mexico would likely be to other countries with cost advantages relative to the U.S.
Philippe Houchois of Jefferies says tariffs "almost look too crude to achieve anything besides undermining long-term competitiveness and alienating trading partners," but said the House's so-called destination-based cash flow tax is "as elegant as it is untested."
He agrees that under a tax proposal Ford would likely be the least at risk, saying that Fiat Chrysler would be vulnerable and GM neutral, but warns dramatic changes to U.S. policy could create only "relative or temporary winners and losers." Trump's strong dollar for example could cut into exports for companies like Ford and BMW, potentially causing them to scale back U.S. production.
More broadly, analysts say the unintended consequences of aggressively trying to alter automaker behavior could be severe. The push to build in the United States could accelerate the shift away from lower-margin small cars and toward SUVs and trucks, with negative ramifications for emissions.
A more insular industry would also be more exposed to the U.S. economic cycle, perhaps recreating a vulnerability to U.S. slumps that the industry has worked to eliminate via massive restructurings over the last decade.
Action Alerts PLUS, which Cramer co-manages as a charitable trust, has no positions in the stocks mentioned.