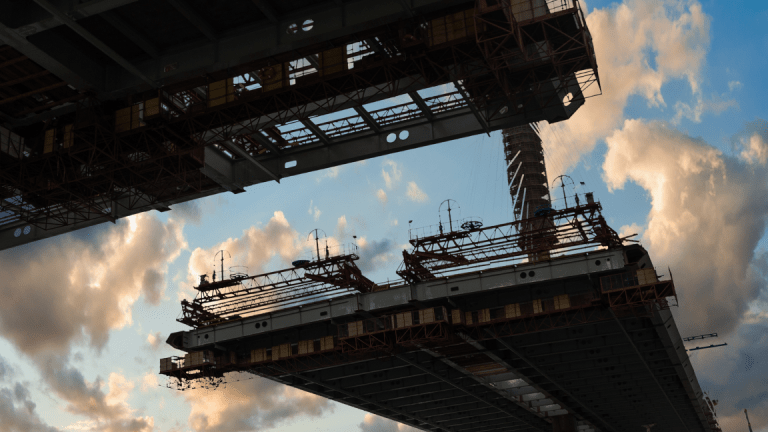 Are Ford, GM and Others in Favor of a Higher Gas Tax?
Should the federal government pass along a gas tax to help fund a massive infrastructure bill? Auto industry execs aren't saying no.
Should the federal government pass along a gas tax to help fund a massive infrastructure bill? Auto industry execs aren't saying no.
After the U.S. government passed along a massive tax cut, it left Washington short on tax revenue. That's got many wondering just how the nation plans to pay for a massive infrastructure plan.
One proposal is a federal gas tax on consumers. If one were to pass, it'd be the first one in 25 years.
For obvious reasons, most consumers would seemingly oppose a gas tax. Why would anyone want to pay more at the pump? Supporters say that those who use the roads should be the ones to pay for it, too. Opposers argue that many consumers already struggle to make ends meet and increasing their costs hurts more than it helps.
It doesn't help that energy prices have been surging in 2018, with crude oil prices already up more than 10%.
Some estimates have talked about an infrastructure bill running over $1 trillion -- a figure that, aside from the market cap of Apple Inc. (AAPL) - Get Report or Amazon.com, Inc. (AMZN) - Get Report , is hard to fathom. Both names are holdings in Action Alerts PLUS.
Of course, the plan would create plenty of jobs and in the sense of the automotive world, create a pent-up demand for trucks and vehicles that would be needed on the work site. So getting a green light on the infrastructure plan from the Big Three -- General Motors Co.  (GM) - Get Report , Ford Motor Co.  (F) - Get Report and Fiat Chrysler Automobiles (FCAU) - Get Report  -- comes as little surprise.
Even if that means supporting a gas tax.
A recent note from Morgan Stanley's Adam Jonas took a closer look at what the executives at each company had to say. These leaders weren't against a gas tax, but they certainly are thinking of the future from a technology standpoint.
Using the old cut-and-paste method from the past won't work for the future, Ford CEO Jim Hackett said. He added, "we definitely have to, in the future, think about a model where we're using this cloud structure and these smart vehicles to improve [congestion and capacity issues in big cities]."
GM's Marry Barra pointed out that our planners need to think about where the future of EVs fit into the picture, ranging from charging stations to funding the infrastructure bill via a gas tax as these vehicles become more prevalent.
Fiat's Sergio Marchionne is also in favor of a gas tax, saying a focus on infrastructure spending will boost jobs and auto sales.
Infrastructure Factors to Consider
All three automakers would benefit from a rise in blue-collar jobs in the U.S. Ford's F-150 showed strength in April amid a decline in car sales. But the country's most popular vehicle over the past four decades would surely be in demand with more workers out on the roads, factories and quarries.
Fiat's Dodge Ram pickup would see a boost and so would General Motors' truck lineup.
The trickle-down effect on jobs would have advantages, too. An infrastructure plan would trigger a hiring spur in Department of Transportation (DOT) jobs, but the contractors these organizations use would see an uptick as well. So would their suppliers, as demand suddenly heats up.
But as Ford, GM and Fiat all see more demand, more workers would be needed to keep up with higher vehicle demand. Their suppliers may need more hands, too. The trickle-down impact could be significant, if orchestrated correctly.
One other thing to take into consideration for consumers? Gas prices. Should North American oil suppliers continue to pump a considerable amount of oil, gas prices could remain stable and possibly even pressured. If that were the case, an added gas tax may not have as many negative implications at the pump as some may think.
Conversely, should oil prices continue to climb and a gas tax is added on top, many won't be so happy with the immediate impact. Hidden winners in this case? Don't forget about Visa Inc.  (V) - Get Report and MasterCard (MA) - Get Report , as credit card companies have a higher total at the pump to collect on their fee. 
These companies cited lower gas prices as a drag on business a few years ago when crude was plunging.
As for the auto stocks, Jonas has an outperform rating on GM, with a $48 price target. He has a $15 target on Ford and a ~$28 of Fiat, implying upside in all three stocks.
This article is commentary by an independent contributor. At the time of publication, the author had no positions in the stocks mentioned.