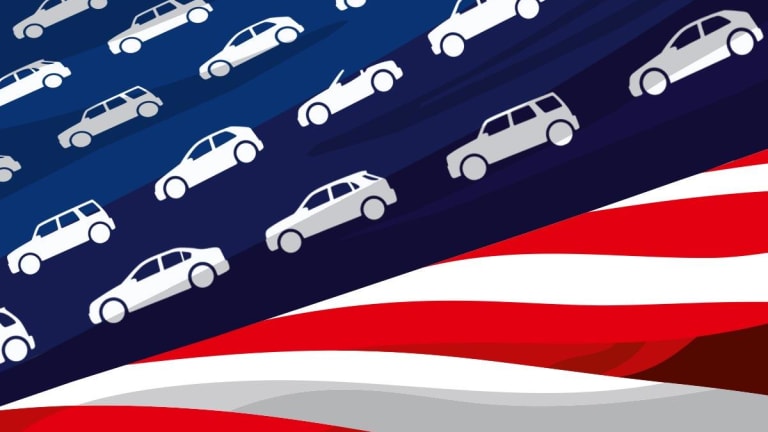 Ford, GM Rally as Goldman and China Warm Up to Autos
China may cut auto sales taxes in half from 10% to 5%. That's giving a much-needed boost to automakers Monday.
Shares of Ford Motor (F) - Get Free Report and General Motors (GM) - Get Free Report are off their morning highs, but still outperforming the major indices following some good news out of China and a research report from Goldman Sachs analysts.
According to reports, China said it is weighing the option of halving the sales tax on auto sales. This comes as the country's auto industry - the largest in the world - is slogging through big year-over-year declines in sales. The country is looking for a way to boost new vehicle purchases and by slashing the tax rate from 10% down to 5%, it hopes it will entice new buyers.
That has both GM and Ford moving higher Monday, each up 3.4% and 4.3%, respectively. It also has stocks like Daimler (DDAIF) higher by 2% and while off the highs, Fiat Chrysler (FCAU) - Get Free Report  is up 1.5%.
While China is now looking to give its overall auto market a boost, the country has also been quite friendly toward electric vehicles (EVs). Specifically, China has become the world's largest market for EVs and continues to push toward a cleaner, sustainable transportation industry.
This large market has allowed companies like Nio (NIO) - Get Free Report to recently IPO and it's a big reason why Tesla (TSLA) - Get Free Report is accelerating its timeline for building its Gigafactory 3 production plant in China.
For its part, shares of Tesla were up about 3% on the day. That move also comes as one of its largest investors is open to buying even more stock. Of the major automakers, though, it leaves Ford leading the way Monday. It's an interesting outperformer, particularly given how poorly the stock has done this year.
But that's not stopping analysts at Goldman Sachs from giving it an extra boost Monday, as they upgrade the stock from neutral to buy. They also upped their price target 33% from $9 to $12. From current levels, that implies about 28% upside.
More so, Ford has already reported earnings, which were viewed favorably by Wall Street given the reaction. Further, shares pay out a dividend yield of 6.7%, despite the stock rallying significantly from a 52-week low $8.17 just a few sessions ago.
Heading into 2019, Ford's earnings should remain under pressure thanks to its North American operations, analyst David Tamberrino said, but should bottom sometime next year.
Here's TheStreet's latest trade update on Ford stock. 
Want to Buy $1 Worth of Stock for 90 Cents or Less? You can with certain so-called "closed-end" mutual funds - an often overlooked investment class. Click here to register for a free online video in which TheStreet's retirement expert Robert Powell and an all-star panel tell you all you need to know.
This article is commentary by an independent contributor. At the time of publication, the author had no positions in the stocks mentioned.