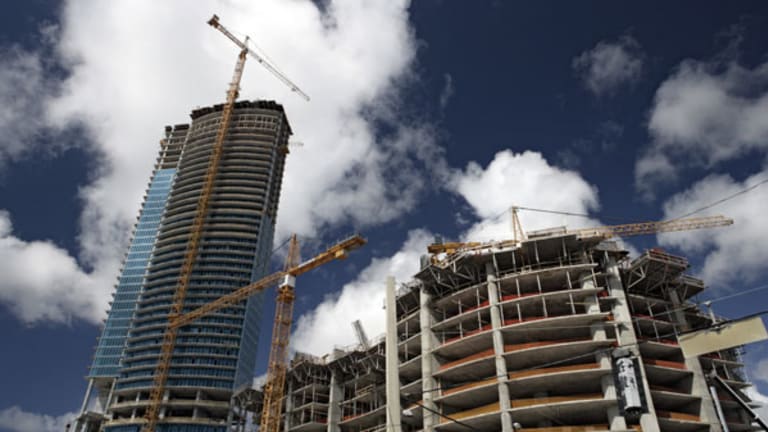 Ford Fusion Seeks Gains in the Auto Industry's Toughest Segment
Ford's 2013 Fusion targets Toyota and Honda in the hyper-competitive mid-sized sedan segment.
DETROIT. -- (
) -- The world awaits the new
Ford
(F) - Get Ford Motor Company Report
Fusion.
The 2013 Fusion was unveiled at the Detroit Auto Show in January and is scheduled to go on sale this fall. The car is important because it represents Ford's entry in the large and hyper-competitive midsized sedan segment, which includes three of the top 10 best-selling U.S. vehicles, and because it is a car with an unusually high design component in what is viewed as a functional segment.
Through July, four of the top 10 best-selling U.S. vehicles, and six of the top 15, were midsize sedans.
Toyota
(TM) - Get Toyota Motor Corp. Report
Camry was the country's second best-selling vehicle with 243,816 sales.
Honda
(HMC) - Get Honda Motor Co. Ltd. Report
Accord was fifth with 183,817. Nissan Altima was sixth with 183,703 and Fusion was 10th with 160,175.
GM's
(GM) - Get General Motors Company Report
Chevrolet Malibu was 11th with 153,782 and Hyundai Sonata was 15th with 138,390.
Fusion and Malibu are the best-selling cars made by the Detroit Three, which remain far more dependent on trucks than their competitors. Part of the reorganization of the U.S. auto industry is that all three are working towards the goal of being something more than just pickup truck companies that also making cars. This is another reason why Ford's fate is so closely tied to the Fusion, by far its best-selling car.
"Fusion is going to be a very big product introduction for us," said Ford analyst Erich Merkle. "We are looking to expand our product portfolio and we are looking directly at Camry and Accord. We want volume where they have it -- particularly as we look to California, the largest passenger car market."
Share gain is slow in the auto business, but in California Ford's market share has grown from about 7% in 2008 to about 9% today, driven largely by gains in sales of compact cars the Fiesta and Focus, as well as, the Edge and Explorer utility vehicles.
Camry and Accord are not exactly vehicles one would choose as rivals. A new Camry came to market in September 2011 and has been a major success, with year-to-date sales up 40% from a year earlier. Meanwhile, Honda rolled out its new Accord last week. While Accord volume has been falling in recent years, Accord still garners about 11% of the sales in the segment, with incentives that are 14% below the segment average, according to Edmunds.com.
Ford sees its advantage in
and design, after already establishing Fusion as a car with the segment's highest dependability, according to J.D. Power.
"The mid-sized sedan segment has been all about the pragmatic purchase, about getting from point A to point B, and we exceed on all of the pragmatic proof points," Merkle said. "But we really want to move the needle in terms of design, aspirational look and appearance. We don't think Camry and Accord have achieved that to this point."
Edmunds analyst Ivan Drury called the Fusion "one of the best-looking cars we've seen at the price in a long time," which should enable the Fusion to enhance its presence in the sector, as tough as it is.
Sizing up the competitors, Drury noted that Camry has been No. 1 for a decade and "people like the new one." He said Accord, like Camry, benefits from consumer brand loyalty. "These two brands still have the highest loyalty rate," he said. "They don't have to worry much about share being stolen. If you have a Camry, it might be your second or third one, so it's easy to buy another one." Altima also remains strong, with 2012 sales up 20%.
Sales of the 2013 Malibu, introduced this summer, were compromised in July, falling 37%. "GM overproduced the 2012s and didn't sell down effectively," Drury said. "Now there are so many discounts" that sales of the 2013 model are being impacted. GM has a 96-day supply of the Malibu, he said, while Ford has just a 43-day supply of the 2012 Fusion. "Give (Malibu) a couple more months," he said. "It's not getting a fair shot because it's too easy to buy a 2012."
As for Sonata, it had a strong year in 2011, as sales rose 15%, but 2012 sales are up less than 2%. "People loved it, but now they are saying 'I've already seen it,'" Drury said.
Last week, Total Car Score selected Ford Fusion as top new car for 2012. "The restyled and re-tooled 2013 Ford Fusion looks to be a compelling choice, (offering) extensive in-car technology and head-turning style," said CEO Karl Brauer. "It could be a game changer in the high-volume family sedan segment."
Meanwhile, Ford is beating the drums in anticipation. Two weeks ago, it unveiled a Fusion "gallery experience that unites fashion, music, photography, film and technology," that has opened in New York and will open Wednesday in Los Angeles. Last week, it revealed a 2013 Fusion production car at Bristol Motor Speedway and said a 2013 Fusion version will compete next year in NASCAR racing. And Tuesday, it published a survey that said nine out of 10 drivers "are interested in alert and assist technologies."
Guess what new car will have them all.
>To contact the writer of this article, click here:
Ted Reed