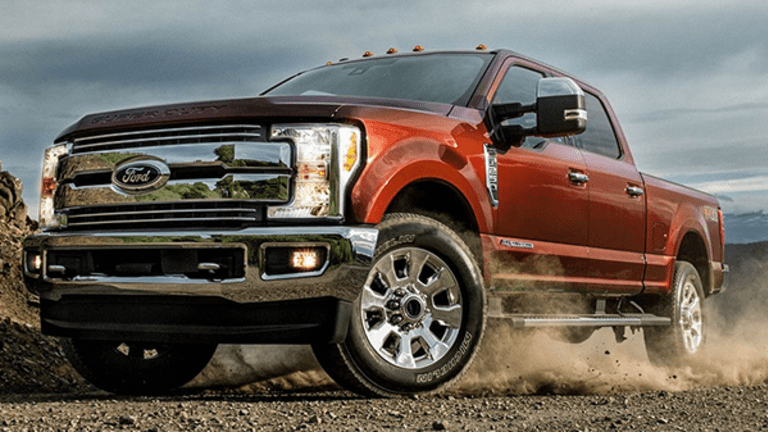 Ford Chart Shows Stock on Cusp of Upside Explosion as Investors Eye $100k Pickup
Ford's long-term downtrend isn't over yet, but this car giant is on the verge of showing investors whether it can change that bearish trajectory for the fourth quarter.
Hang on a second... Are we talking a Ford, or a Ferrari?
Want all the bells and whistles on Ford Motor Co.'s (F) - Get Free Reporttop-of-the-line pickup truck? Then you'd better be prepared to shell out more than $100,000 for the privilege. Ford's new 2018 F-450 Super Duty Limited 4X4 truck, unveiled Thursday in Texas, tops six figures out the door when totally optioned.
But it's no gimmick. Ford notes that more than half of the firm's Super Duty pickup sales are pricey, high-end models. The company is selling what consumers want -- and it's trying hard to convey that message to Wall Street.
That's likely to be a major theme next week on Ford's September sales call.
Problem is, that message hasn't synced up with Ford's share price year to date. From their January peak, shares of Ford have shed more than 9% of their market value, underperforming the S&P 500 in dramatic fashion this year.
The question now is whether Ford bulls can muster the strength to reverse the trend and finish 2017 positive. The good news is that a rally for Ford might just be closer than you think.
To figure out how to trade Ford, we're turning to a long-term chart for a technical look:
You don't need to be an expert technical analyst to figure out what's been happening in shares of Ford lately. This big stock has been stuck in a well-defined downtrend since early 2016. That's a big problem for anyone who's been long Ford for the long-run -- even though Ford's downtrend has been fairly shallow, this stock has gone nowhere during a stretch when the S&P is up more than 21%.
While the 13% rally from Ford's August lows has been very auspicious lately, it's brought us up to the same trendline level that's swatted shares lower each of the past five times it's been tested since early 2016.
So, simply put, Ford's stock price is in make-or-break mode right now.
If what we're witnessing really is a major change in trend, then we'll need to see shares materially break through trendline resistance as we head into the final quarter of 2017. Otherwise, if shares end up bouncing lower again, then Ford could plunge down toward the $10 level without violating its trend.
Relative strength isn't looking constructive for Ford bulls -- at least not yet. The recent charge higher in Ford brought our relative strength gauge up to its own trendline resistance level, signaling that Ford is still underperforming the broad market despite its recent rally.
If you're looking for a buying opportunity in Ford, patience is a major virtue. Buyers should wait for a meaningful breakout above trendline resistance at $12 before pulling the trigger on a new position in Ford.
So, it's good timing that the firm announced its $100,000 pickup this week. After all, that giant leather-trimmed truck is probably a pretty comfortable place for Ford fans to sit in as they wait for a clear-cut signal from this auto giant. It's too early to call it a buy this week.
Don't miss these top stories on TheStreet:
This article is commentary by an independent contributor. At the time of publication, the author held no positions in the stocks mentioned.