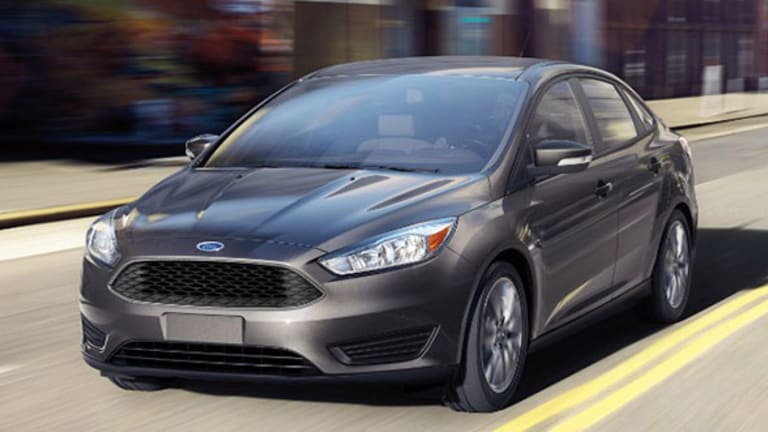 Ford Cancels $1.6 Billion Mexico Plant Amid Trump Pressure
The automaker is also investing $700 million in Michigan with plans to build hybrid versions of its F-150 pickup and Mustang muscle car, but will build Focus in Mexico.
Ford (F) - Get Ford Motor Company Report said Tuesday it was cancelling a planned $1.6 billion factory in Mexico and will instead invest $700 million in a Michigan facility to boost its electric offerings, moves that reflect both changing consumer tastes and the new political climate in Washington.
The automaker called off plans to build a new plant in San Luis Potosi, Mexico, but will move forward with its previously announced decision to build its next-generation Focus vehicle at its existing facility in Hermosillo, Mexico. U.S. automakers have increasingly moved production of smaller, lower-margin vehicles overseas, and the decision to cancel the new facility could be interpreted as a sign that the automaker anticipates demand for smaller vehicles to continue to decline in favor of SUVs.
The decision also should have positive political ramifications, as Ford has been the target of criticism from President-elect Donald Trump over its plans to move Focus production to Mexico. A Ford source said Trump's criticism had no impact on the moves announced Tuesday, but the commitment to investing in its Flat Rock Assembly Plant in Michigan and to scale back its Mexican expansion should counter some of the outsourcing criticism.
Ford rival General Motors (GM) - Get General Motors Company Report came under fire from Trump earlier on Tuesday, with the president-elect on Twitter criticizing GM for manufacturing the Chevy Cruze in Mexico and promising a "big border tax" to encourage automakers to build in the United States. GM responded that more than 97% of Cruze cars sold in the U.S. are made domestically.
While the cancellation of the Mexican project is sure to attract the most attention in Washington, Ford's bigger announcement on Tuesday might be its commitment to introducing a hybrid version of its top-selling F-150 pickup by 2020 for sale in North America and the Middle East. The automaker also plans a hybrid version of its Mustang muscle car, to be built at Flat Rock, to debut in 2020.
The announcements are part of a $4.5 billion Ford is investing in electrified vehicles through 2020, and is a further sign that the once-niche powertrain is gaining broad acceptance.
"As more and more consumers around the world become interested in electrified vehicles, Ford is committed to being a leader in providing consumers with a broad range of electrified vehicles, services and solutions that make people's lives better," CEO Mark Fields said in a statement. "Our investments and expanding lineup reflect our view that global offerings of electrified vehicles will exceed gasoline-powered vehicles within the next 15 years."