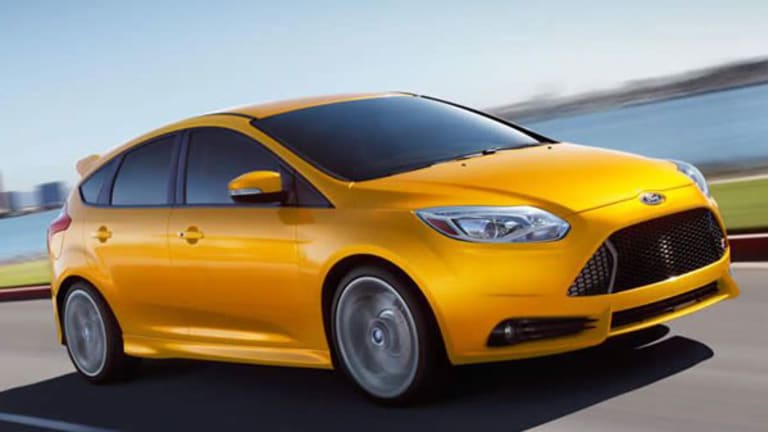 Ford Beats Wall Street Estimates, Sees 'Solid' 2014
Ford concludes one of its best years ever and said it anticipates a 'solid year' in 2014 despite lower margins.
DETROIT (TheStreet) -- Ford's (F) - Get Ford Motor Company Report earnings and sales beat Wall Street estimates and reiterated that 2014 margins will decline as it introduces new products led by the 2015 F-150 pickup truck. Ford was gaining 0.4% to $15.77 in morning trading.
Net income excluding special items was $1.3 billion, or 31 cents a share. Analysts surveyed by Thomson Reuters had estimated 28 cents. Revenue rose 3.5% to $37.6 billion. Analysts had estimated $35 billion.
With items including pretax special charges of $311 million and favorable tax special items of $2.1 billion, net income was $3 billion, or 74 cents a share.
"We had an outstanding year in 2013, demonstrating that our One Ford plan continues to drive solid results and profitable growth for all," said CEO Alan Mulally, in a prepared statement. "We are well positioned for another solid year in 2014."
During the quarter, automotive operating-related cash flow was $500 million.
The company said its outlook for 2014 is unchanged, with pretax profit between $7 billion and $8 billion. Automotive operating margin is expected to be lower, with automotive operating-related cash flow to be positive but substantially lower than in 2013
Ford said it will profit-sharing payments of approximately $8,800 to about 47,000 eligibly hourly employees. It said pension plans were underfunded by $9 billion at year-end 2013, an improvement of about $10 billion from a year earlier. Pension contributions in 2013 total $5 billion in cash, with cash contributions of $1.5 billion expected in 2014 due to improved funding levels.
For the full year, Ford reported pretax profit of $8.6 billion, up from $8 billion a year earlier, marking one of Ford's best years ever. Including items, full-year net income was $7.2 billion. Ford reported full-year market share growth in the U.S., South America and Asia Pacific Africa.
Written by Ted Reed in Charlotte, N.C.
To contact this writer, click here.