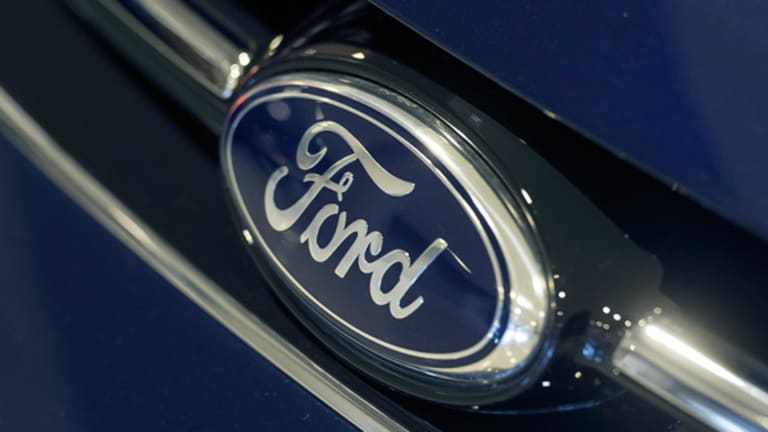 Ford Beats Estimates as International Segments Show Gains
Ford reports continued strong U.S. sales, narrower losses in Europe, and gains in Asia and South America.
DETROIT (
) --
Ford
(F)
reported a record third-quarter pretax profit with continued strong earnings in North America and improvement in every international sector.
The automaker said net income excluding items rose $426 million to $2.6 billion, or 45 cents a share. Analysts surveyed by Thomson Reuters had estimated 37 cents. Revenue rose 12% to $36 billion. Analysts had estimated $34.2 billion.
In premarket trading Thursday, Ford shares were up 66 cents to $18.18.
Including pretax special items of $498 million, net income was $1.3 billion, or 31 cents a share, down $359 million or 10 cents a share. Special items included $250 million for separation-related charges, primarily in Europe, and $145 million for a payment intended to de-risk pension payments associated with U.S. salaried retiree voluntary lump sum payouts.
The results included record pretax profit for Ford's automotive sector and a combined profit for regions outside North America for the first time since the second quarter of 2011.
"North America continues to achieve strong profits and we saw significantly improved results outside North America," said Chief Financial Officer Bob Shanks, in a prepared statement. "We substantially reduced our losses in Europe, set a record third-quarter profit in Asia Pacific Africa and saw a $150 million improvement in South America."
In North America, Ford produced a pretax profit of $2.3 billion, flat compared with the same period a year earlier. Operating margin fell 1.4 points to 10.6%, with revenue up $2.2 billion to $21.7 billion. Results were driven by a strong industry and robust pickup truck sales, but favorable market factors -- volume and mix and net pricing -- were largely offset by higher costs, including investment in new products, Ford said.
In South America, Ford reported a $159 million pretax profit, up from $9 million. Operating margin improved by 5.2 points to 5.6%. Ford now expects South America to be about break-even to profitable for the full year, an improvement from prior guidance of about break-even.
In Europe, Ford lost $228 million compared with a loss of $468 million a year earlier. The company said "all factors (were) favorable, except costs associated with restructuring" and noted that "Europe's results have improved sequentially in each quarter this year." The company now expects its full-year loss in Europe to be narrower than in 2012, representing an improvement from prior guidance.
In Asia Pacific Africa, Ford's pretax income was $126 million, up from $45 million a year earlier. Revenue rose to $2.9 billion from $2.6 billion; the operating margin rose 2.7 points to 4.4%. Results reflect favorable top-line factors, offset partially by higher costs, as the company continues to invest for further growth.
Ford Credit had pretax earnings of $427 million, up $24 million on higher volume.
Ford now assumes U.S. industry sales in 2013 of 15.9 million units, at the high end of its earlier estimate, and it expects pretax operating profit to be equal to or higher than its $8 billion profit in 2012.
During the quarter, Ford contributed $1.1 billion to its global funded pension plans, which included about $700 million of discretionary payments to its U.S. funded plans. The company settled about $700 million of pension obligations related to its U.S. salaried retiree voluntary lump sum Third quarter operating margin, at 7%, was seven-tenths of a percentage point better than a year ago.
-- Written by Ted Reed in Charlotte, N.C.
>To contact the writer of this article, click here: