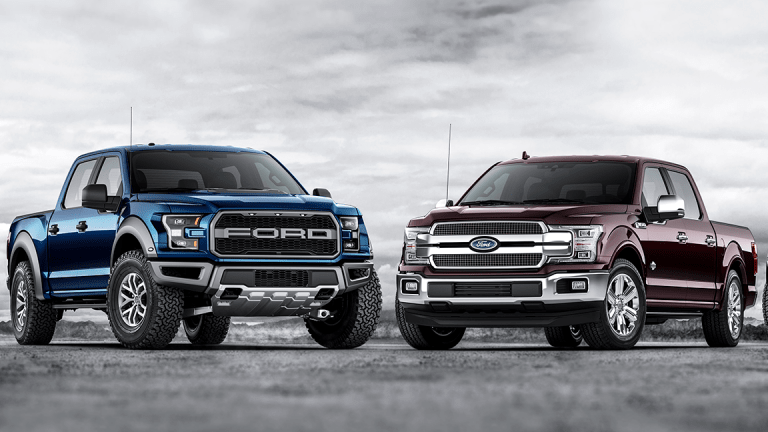 Publish date:
Ford's April Sales Results May Give Confidences to Car-Less Future
Ford sales fall 4.7% for the month of April, but it's decision to focus on trucks and SUVs isn't surprising.
Ford sales fall 4.7% for the month of April, but it's decision to focus on trucks and SUVs isn't surprising.
When Ford Motor Co.  (F) - Get Ford Motor Company Report reported earnings last month, it shocked Wall Street with its announcement:
With the exception of its Mustang and Focus models, it will phase out its portfolio of cars. Instead, the automaker will focus on SUV and truck sales. The F-150 is America's most popular vehicle, a mark it's held for more than four decades.
SUVs have become a far more popular option over the years as improvements in fuel efficiency and design have attracted more customers. Particularly for those who have children or need to navigate harsh winters. The added flexibility, capability and safety are too attractive for many drivers and without having to sacrifice much on the fuel economy side, SUVs are a no-brainer for many.
Luckily for automakers, SUVs and trucks typically provide higher profitability than sedans. For Ford, it plans to have about 90% of its portfolio consist of trucks, SUVs and commercial vehicles.
Its recent sales numbers reflect why the automaker is moving in that direction.
Total sales for April 2018 fell 4.7% year-over-year to 204,651. While SUV sales declined 4.6%, the segment did far better than passenger car sales, which tumbled 15% year over year.
Truck sales climbed almost 1%, led by the 3.5% gain in F-Series pickups, which tallied 73,104 units for the month. From the company's sales release:
"The industry continues operate at historically strong levels. We are seeing this with our F-Series trucks, which have now posted 12 consecutive months of year-over-year gains. The market continues to strongly favor well-equipped SUVs and trucks and our F-Series and new Expedition and Lincoln Navigator are capitalizing on this generational shift."
This comes after Ford announced it would increase production of its larger SUVs earlier this year, after seeing increasing customer demand for the Ford Expedition and Lincoln Navigator.
For those wondering about General Motors Co (GM) - Get General Motors Company (GM) Report , the automaker is no longer participating in monthly sales releases, opting for quarterly sales figures instead. It's not yet clear whether the rest of the industry will eventually follow suit.
This article is commentary by an independent contributor. At the time of publication, the author had no positions in the stocks mentioned.