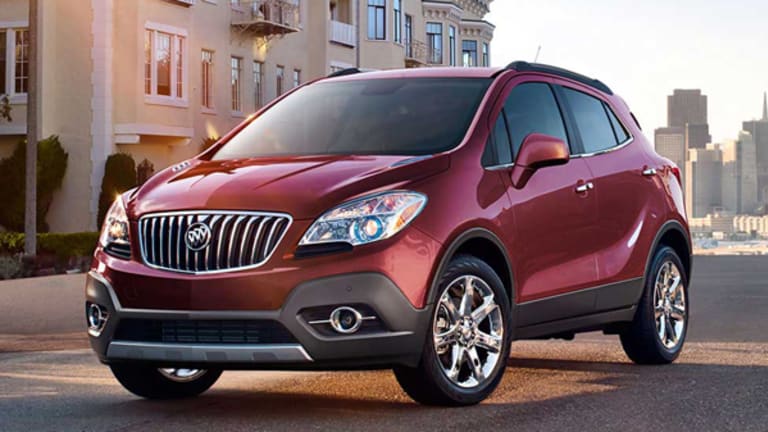 Ford and GM Attract Oldest Buyers but Buick Bucks Trend
GM's Cadillac and Buick and Ford's Lincoln all attract buyers who are over 59 years old, while the average age of the buyer of a new car in 2013 was 52 years.
DETROIT (TheStreet) -- For all the work that Ford (F) - Get Ford Motor Company Report and GM (GM) - Get General Motors Company (GM) Report have done to remake the Lincoln, Buick and Cadillac, they haven't solved a crucial problem: Buyers of the three historic car brands remain the oldest for any brand sold in the U.S.
According to a recent survey of the top 44 brands by IHS Automotive, in 2013 Ford's Lincoln had the oldest buyers, with an average age of 61. The next four were Buick at 60.3, Cadillac and Bugatti at 59.5, and Lexus at 56.9.
Nevertheless, over the past five years the trend is promising for GM's Buick. Since 2009, Buick has reduced its average buyer's age by 1.1 years, the most of any brand. In fact, since 2009, the average age of U.S. auto buyers has increased by nearly a full year and only four brands have reduced their buyers' average age.
Buick takes on the age issue head-on in a recent commercial that encourages buyers to "take a fresh look at Buick." One scene shows an elderly woman looking at a new stylish Buick and saying disbelievingly "I thought you bought a Buick." Later, she proclaims, "Sure doesn't look like a Buick."
The average age for a U.S. car buyer in 2013 was 51.8 years, according to IHS. Land Rover and Lamborghini had the youngest buyers, whose average age was 47.9 years. The next four were Dodge at 48.6 years, and Mazda, Mitsubishi and Scion, all at 49.1 years.
"Buick is the only non-luxury make with an average age of 60 or higher in both 2013 and 2011, and its mix of 75+ buyers in 2013 (19.2%) was the highest in the industry," wrote IHS analyst Tom Libby, in a recent blog. "Buick has been making a concerted effort to bring in young customers, but these data suggest more time is needed."
Libby used registration data for retail buyers to compute the average ages. "The industry-wide range of ages, from 47.9 to 61, is smaller than one might expect," he said. "One reason for this is that these data are based on the ages of the people who register the vehicles, and they are not always the same as the principal drivers. A father buying a car for his son will register the vehicle in the father's name, for example."
Buick sales are up 11% in the first four months of 2014 after rising 13% in 2013. At the New York Auto Show in April, Tony DiSalle, Buick's U.S. vice president of marketing, said the brand has changed. "This is a very different Buick today, essentially an all new product portfolio." Of the five Buick vehicles, the oldest model is just two years old.
Buick spokeswoman Katie Bjork said the recent commercial encouraging a fresh look shows that "Buick doesn't focus its outreach based on age, but persona." Years ago "people would buy a Buick because they knew the deal and could get a good deal," she said. Now, "the lineup is fresh and the vehicles perform very well against the competition."
At Cadillac, sales rose 19% in 2013 but have declined 4% through the first four months in 2014. "Buyer age is not really the goal," said spokesman David Caldwell. "The goal is attracting new buyers. We are doing that, as about 60% of our buyers today are new to Cadillac."

Caldwell noted that affluent buyers of luxury vehicles are often older buyers and said that highlighting buyer age can be a "misleading" statistic. "Bottom line, we don't really use age as a main measurement or target," he said. "The real question is whether or not the brand is growing, in terms of desirability."
As for Lincoln, spokesman Stephane Cesareo said the brand began its reinvention at the end of 2012 and launched the MKZ, the first model of the new generation of Lincolns, in April 2013.
"Since MKZ has been on sale, we have noticed a change by attracting new customers to the brand," he said. "For example, the average age of MKZ buyer is 60 but it falls to 58 when we consider the MKZ hybrid which represents now 40% of MKZ sales across the country."
The summer, Lincoln will introduce the MKC, a small premium utility vehicle, targeted to a younger audience in the fastest growing auto market segment. "We will expect to see the average buyer age for the brand moving down in the next coming years," Cesareo said.
-- Written by Ted Reed in Charlotte, N.C.

To contact this writer, click here.
>>Read More: GM Beats Estimates Despite 86% Drop in Net Income
>>Read More: Why Alan Mulally and Ford Is a Better Story Than Donald Sterling and the Clippers
>>Read More: GM's Proactive Recalls Are a 'Double-Edged Sword,' Analyst Says