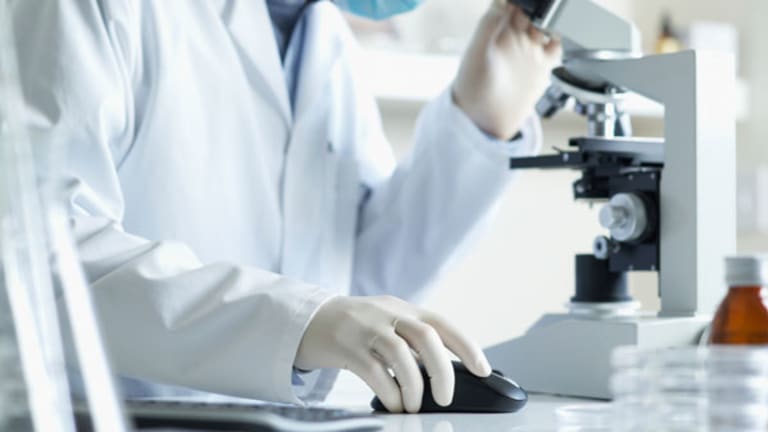 For ViroPharma, Acquisition Plan Is Paying Off
Lev Pharmaceuticals, a company ViroPharma is planning to buy, received news Friday that U.S. regulators cleared Cinryze to prevent painful attacks that occur in patients with HAE.
Thanks to the Food and Drug Administration's decision to approve the first U.S. treatment for hereditary angiodema,
ViroPharma
(VPHM)
has become the early leader in the race to sell a product for the rare genetic disorder to the domestic market.
That's because a company ViroPharma is planning to acquire -- Lev Pharmaceuticals -- received news Friday that U.S. regulators have cleared Cinryze to prevent painful attacks that occur in patients with the disease, which is also known as HAE.
Earlier this year, ViroPharma said it would spend at least $443 million to buy Lev, whose lead product is Cinryze. HAE treatments have been marketed in Europe for more than 30 years, but the U.S. has remained an untapped commercial opportunity.
HAE is caused by a defect in the gene C1 INH. The condition causes periodic acute episodes of painful swelling in a patient's extremities, gastrointestinal tract and, most dangerously, the air passages, which can lead to death by suffocation.
Treatments for rare diseases, such as HAE, can lead to big profits for their makers because they often carry high price tags. Cinryze could be launched at a price of $3,500 a dose, according to Rodman and Renshaw's Michael King and Stanford Research's Berin Amin.
An HAE drug approved in the preventive setting means substantially more revenue per patient -- $250,000 to $350,000 a year -- compared with an acute-treatment drug, which may cost about $25,000 a year per patient, said Susequehanna's Jason Kolbert earlier this year.
Cinryze's revenue potential will depend heavily on how many eligible patients actually exist in the U.S., and estimates regarding the number of cases of HAE vary. England's
Shire
( SHPGY), which gained access to a competing HAE treatment by way of the acquisition Germany's Jerini this year, believes North America has only 7,000 patients. Lev, meanwhile, suspects the U.S. alone has 10,000 cases.
Another disparity surrounds revenue estimates. Rodman and Renshaw's King, who upgraded ViroPharma to outperform from market perform on Monday, estimates that Cinryze will bring in $125 million in U.S. sales in 2009. Stanford's Amin, who has a buy rating on ViroPharma, expects the drug to deliver $46 million in sales next year.
Longer term, Susquehanna's Kolbert, who has a neutral rating for the stock, projects that Cinryze will generate roughly $127 million in peak annual sales. King is projecting that sales could reach $420 million in 2015.
Aside from the difficulty in accurately assessing the HAE population, there is the matter of competition. Lev and ViroPharma are the first in the U.S. market with an HAE drug, but they might not be alone for long.
Dyax
(DYAX)
and CSL Behring, part of Australia's CSL Ltd., could both have approved HAE drugs in the U.S. within the next year.
Because Cinryze has "orphan drug" status, ViroPharma is likely to get seven years of marketing exclusivity following the U.S. approval. Lev's original regulatory application sought clearance for both preventing HAE attacks and for treating them as they occur, but after holding talks with the FDA the company opted to pursue only the former indication. However, Lev plans to seek the additional use "as soon as possible" once it has further data from ongoing studies.
CSL Behring's drug, Berinert, is under review for acute attacks. The FDA was set to make a decision on Berinert in September, but the ruling was delayed until December. If Berinert is approved before Cinryze to treat the actual onset of HAE, then it could be granted the same seven-year exclusivity.
Even so, Cinryze and Berinert are both C1 inhibitors that are administered intravenously and are essentially the same, according to Kolbert. As a result, if both receive the nod from the FDA, some doctors may decide to use them interchangeably for preventing and treating HAE, regardless of their specified indications.
Meanwhile, Dyax and Shire are developing HAE drugs that can be given to patients with a simple injection under the skin, instead of intravenously, which may make them more convenient for patients and stronger competitors once they are available.
Dyax is expected to file for approval of DX-88 to treat HAE symptoms by the end of the year, meaning a decision could come in mid-2009. While the HAE market is the most important to Lev and now ViroPharma, analysts say the real profit potential for Dyax's DX-88 is in further indications, such as treating other angiodemas.
"There is also potential for DX-88 to address reperfusion injuries (post-stroke), post-operative swelling (brain, other organs), and even chemotherapeutic-induced edema," writes Susquehanna's Kolbert. "These opportunities are much more significant than the HAE marketplace, which is the first hurdle for DX-88 to pass."