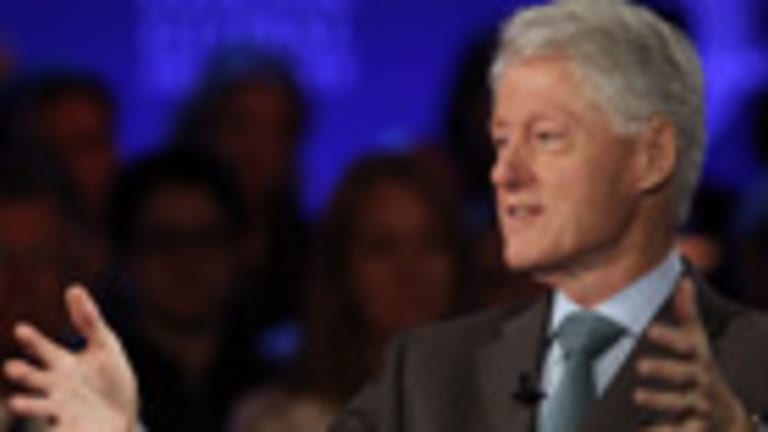 For Red Bushes and Blue Clintons, Wall Street's Green Is the Warmest Color
Feeling a threat, the Bushes, Clintons and Wall Street hug each other tighter than ever.
NEW YORK (
) -- If Wall Street's power is on the wane, you wouldn't know it from looking at the list of speakers for the two-day conference to be hosted by the Securities Industry and Financial Markets Association (SIFMA), Wall Street's main trade group, starting Monday in New York.
Former President Bill Clinton will speak Monday night, and former Florida Gov. Jeb Bush, now an adviser to
Barclays
(BCS) - Get Free Report
will speak on Tuesday, along with
Goldman Sachs
(GS) - Get Free Report
Chairman and CEO Lloyd Blankfein.
SIFMA always has big-name speakers for these events. Alan Greenspan was a headliner in 2012, along with Sens. Saxby Chambliss (R., Ga.) and Mark Warner (D.,Va.). Still, it is hard to match Bill Clinton and Jeb Bush for political star power.
The appearance of Bill Clinton is especially noteworthy since what are arguably the two most important pieces of financial industry deregulation of the modern era -- the Financial Services Modernization Act of 1999, better known as Gramm Leach Bliley, and the Commodity Futures Modernization Act of 2000, bear his signature.
President Obama's upset victory over Hillary Clinton in the 2008 Democratic presidential primary seemed like a fairly clear indication Democrats were tired of the Bush-Clinton years of cozying up to Wall Street. Nonetheless, President Obama has done his best to surround himself with the same clique of economic policymakers that advised Bill Clinton during his presidency.
Some on the left have argued that Hillary Clinton would have been more liberal than Obama. Note this
March 2008 editorial from Paul Krugman
, a hero among the disenchanted left wing of the Democratic party. He referred to Hillary Clinton's policy proposals as "bold and progressive," while portraying those of then-candidate Obama as "cautious and relatively orthodox."
Krugman turned out to be right about Obama. Now that Hillary Clinton is once again perceived as the Democratic front-runner for 2016, will she dump Wall Street? Of course she won't, and her husband's decision to collect what is undoubtedly a sizable paycheck to appear at the SIFMA conference is only the latest indication that, despite the subprime crisis, the Clintons have few compunctions about cozying up to Wall Street.
For Wall Street, though, you have to wonder what to make of the appearance of not only Clinton but Jeb Bush -- who is arguably the most powerful Republican in the country -- at its annual industry conference. Is it a sign Wall Street is still as powerful as ever -- or merely a sign of how desperately it longs for the good old Bush/Clinton days when it called all the shots?
I'd argue the answer is a little bit of both. Wall Street is vulnerable, as are the pro-business politics of the Bushes and the Clintons. Still, no real, credible alternatives have managed to gain enough momentum. The Tea Party and Occupy Wall Street have demonstrated the public's desire to free itself from the orbit of big business, but neither group is quite strong enough to topple the Bush-Clinton edifice.
Still, the Bushes, the Clintons and the Blankfeins clearly are aware they are under threat. And this threat, it seems, brings them closer than ever.
--
Written by Dan Freed in New York
.
Disclosure: TheStreet's editorial policy prohibits staff editors, reporters and analysts from holding positions in any individual stocks.