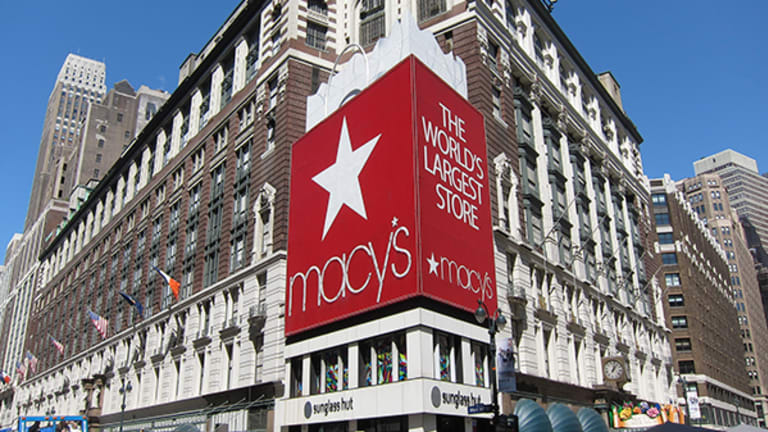 Publish date:
What Macy's CEO Has Planned for the Storied Retailer
Who's selling and buying what? And where?
Who's selling and buying what? And where?
Don't be surprised if you bump into Macy's Inc. (M) - Get Report CEO Jeff Gennette sifting through clothes at the 26th Street Flea Market in Manhattan or checking out shops on Fordham Road in the Bronx some weekend. Being always the shopper seems to be an occupational hazard for the career merchandiser who is on the lookout for what's selling and where it's happening, not only at the hundreds of stores he oversees, but from various sources of vendors.
Following Macy's second-quarter earnings call on Thursday, Aug. 10, Gennette talked with TheStreet about how he hones his fashion and selling senses and what's coming for Macy's. 
The department-store retailer reported second-quarter adjusted earnings of 48 cents a share, beating Wall Street's estimates for earnings of 46 cents a share. Macy's reported revenue of $5.55 billion, higher than the $5.52 billion analysts surveyed at Factset expected.
The interview has been edited for space and clarity and includes remarks from the earnings call.
Q. Do you really spend your "time off" shopping? 
A. I don't have a weekend house, so nearly every weekend, I'm at other stores and flea markets in the five boroughs to see what's new, with my 17-year-old daughter. She enjoys it too.
Q. Let's talk about your off-price Backstage initiative and what you've learned from that?
A. Two-thirds of our customers shop off-price, and Macy's can play there. Shopping at Backstage offers a treasure hunt experience, which is popular with our customers. By the end of this year, we'll decide how we're going to expand it to all Macy's stores.
Q. Macy's stores are big. Any plans to shrink them?
A. It's not inconceivable that stores will be smaller. There are a lots of opportunities to add content, which could be merchandise or services, and that would make the Macy's stores smaller. Adding Lenscrafters and what we did with we did with Apple [Inc.] (AAPL) - Get Report  are two examples of content we offer now. More content could be kids shoes. We don't really sell them, and that's a big area when you think about the many times parents need to buy shoes for their kids. Food and beverage is another, and that's high on my list. 
What's Trending on TheStreet: