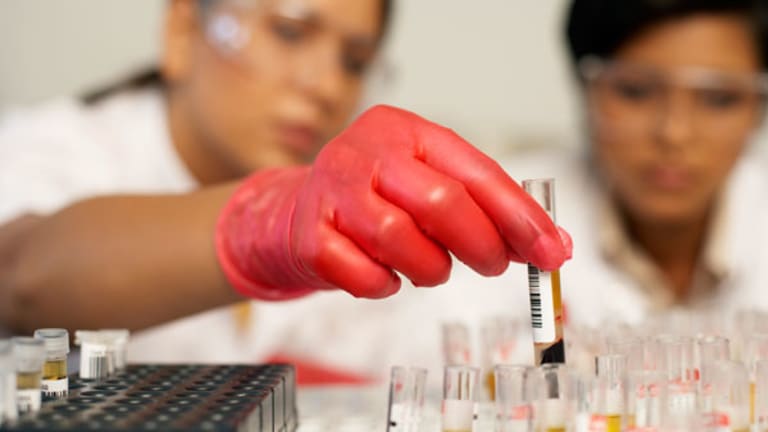 For Biotech Stocks, '09 May Be Touch and Go
Market and economic turmoil and a new president cloud the forecast for the biotech sector, but investors can make some educated guesses.
Market and economic turmoil and a new president cloud the forecast for the biotech sector, but investors can make some educated guesses.
The turmoil and uncertainty in the broader economy and financial markets coupled with big change coming to Washington, D.C., make it very difficult to predict the performance of biotech stocks in 2009.
Perhaps more than ever, the biotech sector is at the mercy of outside forces. President-elect Barack Obama has promised sweeping changes to the country's health-care system, but so far, details are lacking. The economy is in a recession, but we don't know how deep it will be or how long it will last. Wall Street continues to reel from crisis to crisis, leaving the credit markets in lockdown and many investors on the sidelines.
Gone are the days when biotech stocks could skate through turmoil like this untouched. Overall, the biotech sector is down about 15% for the year, based on the Nasdaq Biotechnology Index. That's a less sickly return than the broader markets, but nothing to shout about when you consider that stronger performance from the relatively few big-cap biotech stocks masked the decimation in market value dealt many small- and mid-size biotech stocks.
Through the middle of December, the group of large-cap biotech stocks --
Genentech
( DNA),
Gilead Sciences
(GILD) - Get Report
and
Amgen
(AMGN) - Get Report
, among others -- was down 5% for the year, while small-cap biotech stocks (those with markets caps between $100 million and $250 million) were down almost 60% for the year, according to Rodman & Renshaw.
But this column is supposed to be a preview of 2009, not a rehash of the pain biotech investors experienced in 2008, so let's take a brief look at some the macro issues that are likely to affect biotech stocks in the next 12 months.
Health-care reform
Investors will be watching closely for details of Obama's health-care reform agenda and how quickly any changes get enacted. Broader health-care coverage has the potential to increase prescription drug use, but higher volumes may be offset by government-negotiated (read: lower) drug pricing.
Biotech companies tend to focus on drugs that treat serious or fatal diseases, which may shelter them from some of the efforts to lower drug prices. However, the escalating cost of cancer medicines could render the companies that make them vulnerable.
Biogenerics, or low-priced copycat versions of biologic drugs, will also be coming to the U.S. market as soon as Congress and the Food and Drug Administration finalize a regulatory pathway.
The economy
There's already some evidence that American consumers are cutting back on prescription drug spending because of the recession. Clearly, that's not encouraging for drugmakers if the trend continues.
Again, biotech companies may be better positioned to weather a downturn in drug spending since many of the drugs they sell are designed to treat serious or fatal diseases. An HIV-positive person, for instance, is not likely to cut back on his HIV drugs from Gilead. Likewise, a multiple sclerosis patient will find a way to continue taking
Biogen Idec's
(BIIB) - Get Report
Avonex.
The FDA
Obama will appoint a new FDA commissioner early in his administration. Whoever he chooses will take over a regulatory agency in crisis. The issues facing the FDA are too numerous to detail here, but from Wall Street's perspective, the agency must improve on the response time for new drug reviews, and be more consistent with its approach to evaluating the risk-benefit equation that is at the heart of the drug approval process.
The capital markets
Cash is the lifeblood of the biotech industry, and right now, the tourniquet still appears to be drawn tight. The biotech sector has raised about $13 billion this year to date compared to $30 billion during the equivalent period in 2007, according to BioCentury.
With little or no money available to fund drug developmemt, biotech firms are being forced to cut costs, fire employees and shelve or delay research. Obviously, this predicament affects small, early-stage biotech firms much more than those with revenue-generating products on the market.
Likewise, frozen credit markets could put the kibosh on significant mergers and acquisition activity. Already, Swiss drug giant
Roche
hasn't been able to find lenders willing or able to fork over the $20 billion to $30 billion it needs to finance the takeover of Genentech.
Mergers and acquisitions
Deal-making is often the spark that gets investors excited enough to start buying stock again. The success or failure of the Roche-Genentech deal will be seen as a litmus test for the likelihood of other deals happening, which probably overstates its importance. Big Pharma needs new drugs to fill in the holes created by generic competition. That's not a new revelation for anyone, although we're still waiting to see the mega-mergers or titanic takeovers that have been long predicted.
Hedge funds
: It may seem odd to discuss hedge funds in the course of a biotech sector outlook but not so much when you consider that it's these unregulated (for now) investment pools which are the biggest holders of small- and mid-cap biotech stocks. In 2008, a lot of hedge funds got out of risky biotech investing, whether by choice or by force, which helped shatter stock prices and contribute to the dearth of cash available for drug development. Like them or not, the biotech sector needs hedge funds to get back into early-stage and unprofitable biotech stocks in 2009.
Risk
This became an ugly four-letter word in 2008, something to be avoided at all cost. It would be nice, if in 2009, risk were rewarded a bit more, which would help investors feel better about biotech investing.
Alright, enough of the macro stuff. Let's look at some of the more interesting storylines for individual stocks in 2009.
I already wrote a column listing
significant clinical trials
with results or data expected during the first half of 2009. Check it out for details, but the list totals 21 biotech stocks, including
InterMune
(ITMN)
, Genentech,
Poniard Pharmaceutials
(PARD)
,
Human Genome Sciences
( HGSI) and
Onyx Pharmaceuticals
(ONXX)
.
On the regulatory front, companies like
United Therapeutics
(UTHR) - Get Report
,
Discovery Labs
(DSCO)
,
AMAG Pharmaceuticls
(AMAG) - Get Report
and
Dyax Corp.
(DYAX)
all have drugs under review at the FDA with expected approval decisions in the next six months.
Adam Feuerstein writes regularly for TheStreet.com. In keeping with TSC's editorial policy, he doesn't own or short individual stocks, although he owns stock in TheStreet.com. He also doesn't invest in hedge funds or other private investment partnerships. Feuerstein appreciates your feedback;
to send him an email.