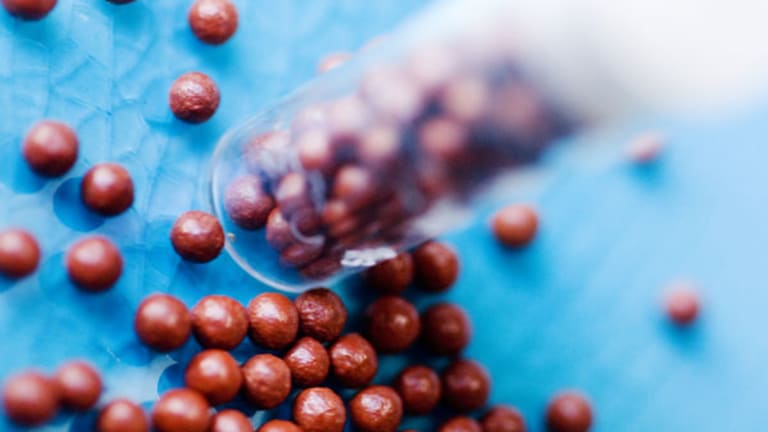 Publish date:
For Biotech Investors, ASCO's Now an Open Book
Responding to years of criticism, annual meeting abstracts will now be made available to all.
Responding to years of criticism, annual meeting abstracts will now be made available to all.
For the first time, the American Society of Clinical Oncology is opening its books to everyone.
Research abstracts for the ASCO annual meeting -- the largest and most important cancer research meeting of the year -- will be posted online and made accessible to everyone in advance of the meeting,
TheStreet.com
has learned.
ASCO decided to enact the new "open" policy for its annual meeting research abstracts after enduring
years of criticism that it was facilitating the selective disclosure of potentially market-moving information.
"We recognize that we needed to level the playing field," says Allen Lichter, ASCO's executive vice president and CEO, adding, "There were implications beyond the science of the meeting. This is clearly the right thing to do."
The organization has had a policy of mailing abstract books exclusively to its many thousands of members about two weeks in advance of the start of its annual meeting, which is held every spring.
These books are chock-full of research data from clinical trials scheduled for presentation at the meeting. Much of this is highly investable information, and that is why many investors went to great lengths to obtain early access to the books.
ASCO tried to prevent its members from discussing or sharing research abstracts, with little success. Inevitably, there were ASCO data leaks, which led to volatility in the trading of biotech cancer stocks. Prior to last year's meeting, for instance
trading in
Onyx Pharmaceuticals
(ONXX)
,
ImClone Systems
(IMCL)
and
Genentech
( DNA), among others, was affected.
ASCO's new abstract distribution policy will be put in place in time for the 2008 annual meeting, which runs May 30 to June 3 in Chicago. About two weeks prior to the start of the meeting, ASCO will mail research abstract books to its members, as it's always done.
But at the same time, the research abstracts will be posted on the ASCO Web site, fully accessible and searchable by everyone.
"Everyone will see the information at the same time. Members will still get their books in the mail but will also be able to search online. Their needs will be taken care of," says Lichter.
"At the same time," he adds, "investors will no longer have to worry that certain people are trading on information that isn't publicly available."
Cowen & Co. biotech analyst Eric Schmidt welcomes the change in ASCO policy.
"It's about time and makes logical sense," he says. "From a stock perspective, I still expect that we'll see some interesting trading, but as long as the abstracts are freely accessible to everyone, there will be no worries about trading on non-public information."
University of Chicago oncologist and ASCO member Dr. Mark Ratain says investors weren't the only ones who were fearful of running afoul of
Securities and Exchange Commission
rules. Ratain says that last year he refused to open his ASCO abstract book in advance of the meeting, because he didn't want to risk divulging information that could have been construed as insider information.
"It's refreshing that ASCO has made this change, because it's in everyone's best interest," says Ratain, who regularly presents clinical data at the ASCO annual meeting. "From a
cancer investigator's perspective, it will be nice not to worry about violating federal law on insider trading."
Not all ASCO abstracts will be publicly available prior to the annual meeting. ASCO intends to keep late-breaking abstracts and abstracts covering the meeting's plenary sessions under wraps until the weekend of the meeting.
These abstracts typically include the most important and significant clinical data presented at the meeting. As it's done in the past, ASCO will make these abstracts available to members and meeting attendees on the Saturday of the meeting. But at the same time, the abstracts will be posted online.
While working as a biotech stock analyst in 2000, Michael Becker coined the phrase the "ASCO effect" to describe, in his words, how certain biotech stocks would rise or fall sharply as those investors "in the know" acted upon the data, while those not privy to the abstracts were left wondering why the stocks were moving.
Today, Becker is CEO of the biotech firm
Cytogen
( CYTO), but he's happy to see that ASCO has finally changed it policy.
"Making the abstracts available to the general public two weeks prior to the meeting, as opposed to selectively disclosing them only to ASCO members, would level the playing field and be consistent with the spirit of Regulation FD. Such a relaxation of embargo policy is long overdue and a welcome change," he says.
Adam Feuerstein writes regularly for TheStreet.com. In keeping with TSC's editorial policy, he doesn't own or short individual stocks, although he owns stock in TheStreet.com. He also doesn't invest in hedge funds or other private investment partnerships. Feuerstein appreciates your feedback;
to send him an email.