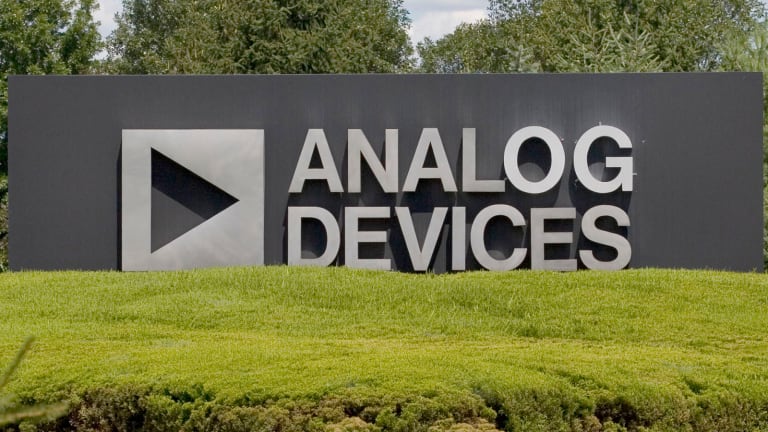 Publish date:
For Analog Devices, This Quarter Isn't Nearly as Important as the Future
Investors will need to be more patient until the chipmaker's $14.8-billion acquisition of rival Linear Technology is completed.
Investors will need to be more patient until the chipmaker's $14.8-billion acquisition of rival Linear Technology is completed.
Analog Devices (ADI) - Get Report is unlikely to report a blow-out quarter Wednesday, but the chipmaker should offer good things to investors who wait, analysts say.
The Norwood, Mass.-based company is expected to post fiscal third-quarter earnings in-line with estimates when it reports on Wednesday morning.
On average, Wall Street is anticipating revenue of $851.72 million and earnings per share of 76 cents. In announcing its $14.8 billion acquisition of Linear Technology (LLTC) last month, Analog Devices had forecast revenue of $865 million and EPS to be between 77 cents and 78 cents per share.
The chipmaker is likely to report numbers in line with its guidance, with results largely driven by an uptick in automotive and ramp-ups in the broad consumer market, wrote RBC Capital Markets analyst Amit Daryanani in a recent note.
Automotive production trends have varied recently, with Europe experiencing weakness and China demonstrating its power, but Analog Device's automotive revenues have been increasing thanks to incremental growth from Ford (F) - Get Report , an important customer.
The second half of the year will see particular growth in the consumer end market, including seasonal ramps at Apple (AAPL) - Get Report , as the new iPhone is released, as well as increased integration of content, such as the rumored dual-camera set-up in the iPhone 7. (A dual camera system refers to a pair of lenses and sensors that allows for enhanced photography.)
The upside to the quarter for Analog Devices might be better-than-expected content in the upcoming release of iPhone 7, agreed Credit Suisse analyst John Pitzer in a Monday note.
RBC's Daryanani added that Texas Instruments (TXN) - Get Report and Maxim Integrated (MXIM) - Get Report  both have modest upside, especially in the B2B markets, adding that the semi industry should be able to sustain low-single digit growth in the B2B end markets for the remainder of the year.
But Analog Devices' latest quarter won't necessarily be the most telling of its prospects since the company's latest acquisition, which could prove to be a gem, has yet to be completed. Analog Devices agreed in July to pay nearly $15 billion to purchase its smaller peer Linear Technology in cash and stock.
In an effort to emerge as an analog powerhouse, Analog Devices has sealed one of the largest deals of 2016 in the semi sector, which continues to undergo consolidation as the market matures. The combined entity will have $5 billion in annual revenues and an enterprise value of $30 billion.
Industry followers have suggested that the tie-up highlights plenty of acquisition targets in the analog segment of the semi universe, particularly Maxim Integrated. Once the Linear Technology acquisition is completed, Maxim will be the only player among the top 10 analog chipmakers that hasn't made a move on the M&A front. Other takeout candidates include Silicon Laboratories (SLAB) - Get Report , Semtech (SMTC) - Get Report and Intersil (ISIL) .