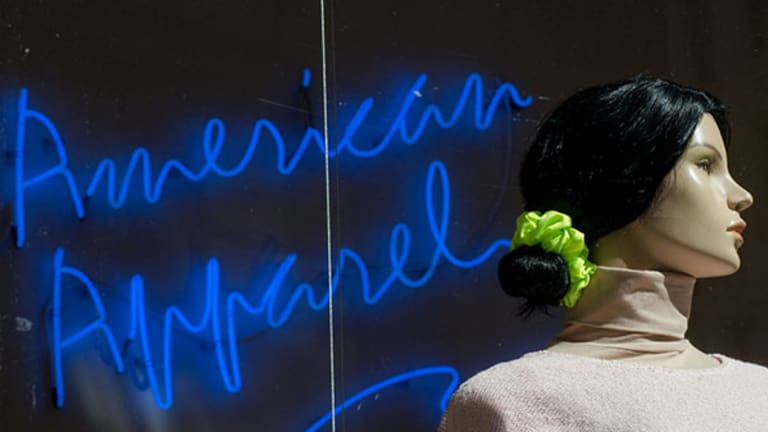 For American Apparel, There's No Turning Back
As the boardroom drama continues unfolding at troubled retailer American Apparel, corporate governance experts are saying that there is no way the company can reinstate fired CEO Dov Charney.
NEW YORK (TheStreet) -- As the boardroom drama continues unfolding at troubled retailer American Apparel (APP) - Get Free Report, corporate governance experts are saying that there is no way the company can reinstate fired CEO Dov Charney.
The New York Post is reporting that American Apparel may have to reinstate Charney in his position in order to avoid defaulting on its $10 million loan with Lion Capital. Media reports including the New York Post and Bloomberg have said that Lion Capital will not grant the waiver to keep its $10 million loan to American Apparel from defaulting.
But at least one expert says that is not an option. "The decision to terminate has been made," says Charles Elson, a professor at the University of Delaware and a corporate governance expert. "I believe it took a lot of courage to make this decision and you have to just stick with it in my opinion unless events prove otherwise. The question is how much is this going to cost the company?"
American Apparel, Is It Fit for a Buyer?
American Apparel In Talks With Lion Capital over $10 Million Loan
3 Lessons Lululemon and American Apparel Need to Learn
A spokeswoman for American Apparel declined to comment to TheStreet on Monday.
The Los Angeles-based manufacturer and retailer, known for its "Made in USA" mission, surprised Wall Street earlier this month when its board of directors put out a press release saying they had voted to replace Charney, 45, and notified him of their intent to terminate his employment with co-chairman Allan Mayer citing "an ongoing investigation into alleged misconduct" as the reason. Charney's termination is expected to be effective following a 30-day "cure period" as part of his employment agreement.
But the saga is far from over. Charney, who started the company in 1997 and owns roughly 27% of its shares, is not going down without a fight and has indicated that he intends to "contest it vigorously," he said as part of a Securities and Exchange Commission filing last week. According to a June 27 SEC filing Charney indicated "an intent to acquire control or influence over the company." The filing detailed an agreement between Charney and Standard General that would have allowed him to increase his stake in American Apparel.
Yet American Apparel retaliated on Saturday by adopting a one-year shareholder rights plan, or so-called poison pill, that is triggered if any one shareholder attempts to purchase more than 15% of the company's shares. The shareholder rights plan is "designed to strengthen the ability of the board of directors to protect the company's stockholders," American Apparel said in a press release.
American Apparel adopted the poison pill in response to "reports of rapid accumulations" of the Los Angeles-based retailer's outstanding common stock, the release said.
"The rights plan is designed to limit the ability of any person or group, including Dov Charney, to seize control of the Company without appropriately compensating all American Apparel stockholders," American Apparel said in the release.
The company, as of May 31, had approximately 10,000 employees and 249 retail stores.
"They don't appear to have a lot of time," says Gary Hewitt, head of research at GMI Ratings, a leading corporate governance ratings and data provider, referring to the July 4 deadline reported by the New York Post as the time in which American Apparel needs to repay the $10 million loan to Lion Capital. "They have to resolve the financing issue to give them room to act. They do not want the financial squeeze to put them in a position to act in a way they don't want to have to act."
"The painful piece of that is either it's going to be a debt financing which I can't imagine will have very attractive terms or equity financing, which would be severely dilutive to shareholders," Hewitt says. "The difficulty is that the board felt compelled to act given the information they had, so they're clearly in a tight spot."
Last week American Apparel hired Peter J. Solomon Company as its strategic and financial adviser. The company's chairman Allan Mayer has told The Deal, TheStreet's sister site, that it does not plan to sell. Mayer also said that the company has sufficient capital to pay off the Lion loan if it is called.
"The big thing for this company right now is regaining the confidence of its lenders, regaining the confidence of its [vendors] and increasing its profitability," says Jerry Reisman an expert in business and corporate law and a partner at Reisman Peirez, Reisman and Capobianco in Garden City, N.Y. Given that however, "no one cares if a company goes under. The only ones who care are the shareholders or the employees, but in terms of consumers, they don't care. Apparel companies come and go. And nobody misses them."
--Written by Laurie Kulikowski in New York.