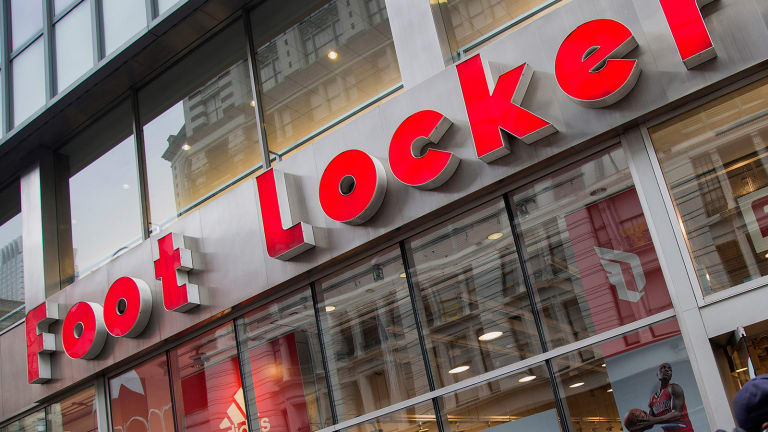 Foot Locker Reveals Adidas Is Seeing a Stunning Trend That Nike Should Love
The shoe retailer said sales for Stan Smiths and Superstars are declining.
As the rapper Nas once mused, "I thought Jordans and a gold chain was living it up."
Foot Locker, Inc. (FL) - Get Free Report was certainly living it up Friday, Nov. 17, with shares hiking nearly 24% after its earnings beat. Better yet, the shoe retailer's better-than-expected performance was at least in part driven by stronger sales of Nike Inc.'s (NKE) - Get Free Report Jordan Retros, Air Force 1s and running models.
Adidas AG undefined , on the other hand, isn't doing so well, according to Foot Locker executives. Sales are slowing for Superstars and Stan Smiths, two sneakers that excelled in Q2 and popular among the fashion crowd.
But the caveat is that all of shoe sales are in decline. Foot Locker posted a 3.7% drop in comp sales for the quarter — still better than analyst projections of 4.2%. Footwear was especially a challenge, according to CFO Lauren Peters. It posted declines in the mid-single digits, she said during the earnings call.
Despite Nike pulling back merchandise from Foot Locker to focus on its direct reach to consumers, it seems that Nike shoes are selling better than Adidas classics in the store.
The Superstars and Stan Smiths, are seeing "slow sell-throughs," according to Peters. These shoes are declining in sales in Europe and women's footwear overall. To make up for their dismal performance, Foot Locker will instead invest in marketing its running offerings.
"The core product [for] Adidas — Superstar and Stan Smiths — have slowed down but we have continued to invest in great running platforms," CEO Richard Johnson told analysts Friday. "While we have seen negative comps for a few quarters, I have a lot of confidence in our team there to turn it around and get positive."
Stan Smiths and Superstars rose to popularity in recent years, thanks to the explosive rise in street style. Even Foot Locker's second-quarter results highlighted strong performance in Adidas, driven by Stan Smiths, Superstars and the Originals — all fashion-friendly classics. 
"Right now, we're not in a performance trend," Macquarie analyst Laurent Vasilescu told TheStreet in August. Right now, it's all about retro fashion, which is Adidas' forte, or at least, it was.
If anything, Foot Locker's third-quarter earnings point to Nike's efforts in retaining its "sneaker king" crown. After months of losing stock value and slow sales, Nike is wooing investors once again. At its investor presentation last month, Nike's merchandising president Michael Spillane announced that the company wants to cut down production time and release new models for popular products, like the VaporMax.
Nike shares are up more than 2% Friday afternoon. In addition to beating sales forecasts, Foot Locker posted earnings of 87 cents per share, compared to predictions of 80 cents. It beat total sales revenue too, posting $1.87 billion as opposed to the $1.82 billion forecast.
Nike and Foot Locker announced a series of new partnerships on Friday morning, including a pop-up shop in New York City and a new crop of Foot Locker store associates that specialize in Nike products.
More of What's Trending on TheStreet: