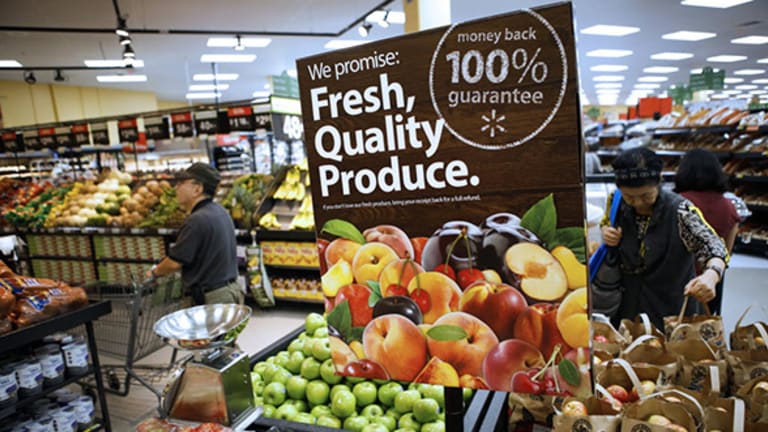 Food Retailers Don't Look Very Tasty
Walmart is gaining traction, putting additional pressure on rival food retailers just as deflationary pressures mount, Barclays analysts say.
(Editor's note: This story originally ran at 11:24 a.m. ET on Real Money, our premium site for active traders. To get articles like this from Jim Cramer and other great columnists earlier in the trading day, click here.)
U.S. food retailers are facing the most daunting challenges the industry has seen in more than two generations, as price deflation and the resurgence of Walmart Stores (WMT) - Get Walmart Inc. Report as an industry leader emerge as the dominant themes of the business, according to Barclays.
"This is the worst possible environment for a lot of retailers," Karen Short, a food-retailing analyst at Barclays, said in an interview.
Barclays is pessimistic about the prospects for the majority of food retailers. It has an "Equal Weight" rating on 14 stocks in the sector, and described as "in transition" companies from the dollar-store sector -- Dollar General (DG) - Get Dollar General Corporation Report and Dollar Tree (DLTR) - Get Dollar Tree, Inc. Report -- as well as higher-end food retailers such as Whole Foods (WFM) .
In a recent research note, the firm also described nutrition supplements retailers GNC (GNC) - Get GNC Holdings, Inc. Class A Report and Vitamin Shoppe (VSI) - Get Vitamin Shoppe, Inc. Report as companies that are "attempting to reinvent" themselves, facing "meaningful secular challenges, and in most cases, valuation reflects these challenges." GNC has lost 58% of its value since its $35 April high of $35, while Vitamin Shoppe has dropped 35% year to date.
Short noted in an interview that most food retailers haven't seen extensive deflationary prices in their principle products since the early 1960s, meaning that no one in management has faced such circumstances at any point in their careers. That means they don't have any playbook to resort to.
"The third quarter is set to be the most challenging for food retailers in well over a decade as they grapple with deflation on top of deflation year over year -- a phenomenon not experienced since 1960," the Barclays food-industry team said in its recent note.
"Total sales are not up, they're down," Short said in the interview, adding that there's no increased sales volume to offset price decreases. That makes sense, as consumers used to buying a dozen eggs and a gallon of milk each week aren't going to increase consumption just because prices are more attractive. In short, no one is hoarding eggs because they're cheap.
If there's an encouraging characteristic to the segment, it's that investors have already acknowledged the industry's troubled circumstances. The S&P food retailing index has already lost more than 18% from its highs of a year ago, indicating that much of the damage has already been inflicted.
However, Barclays doesn't think the pullback represents anything approaching a buying opportunity. "Now we're in the worst possible stage," Short noted, adding that the sector is still in the early stages of the deflationary period. Barclays said in its research note: "We believe many names will remain range-bound for the next several quarters."
Walmart's re-emergence as a formidable challenger is also compounding the sector's challenges. "It's clear to me [that Walmart] has gotten better," Short said. "The stores are better, the company's execution is better."
She added that WMT is very aware of the sector's current environment and functioning in ways that put rivals at a disadvantage. Barclays recently named Walmart as the bank's top pick in the sector and boosted WMT to "Overweight," which refers to stocks the firm expects to return 18% on average.
Barclays also named four food retailers as "growth stars": Casey's (CASY) - Get Casey's General Stores, Inc. Report , Sprouts (SMF) , Five Below (FIVE) - Get Five Below, Inc. Report and Smart & Final (SFS) - Get Smart & Final Stores, Inc. Report .