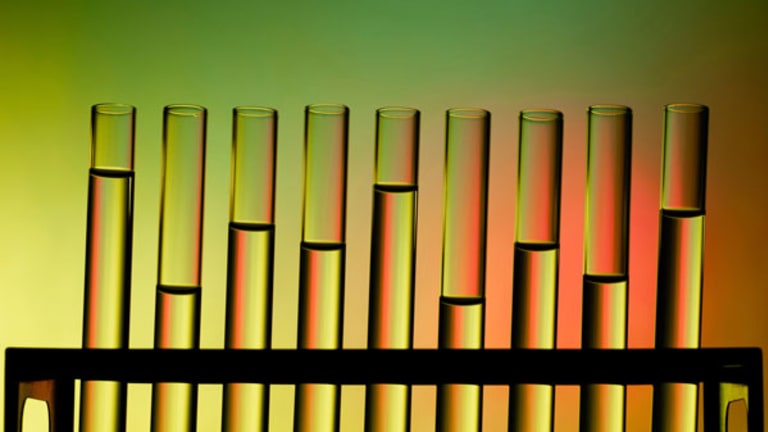 FLEX: Erbitux Boosts Survival Five Weeks
The much-anticipated lung cancer study shows ImClone's drug increases survival in lung cancer patients, but the results just meet statistical significance.
CHICAGO -- The combination of
ImClone Sytems'
(IMCL)
cancer drug Erbitux plus chemotherapy boosts patient survival by five weeks compared to chemotherapy alone, according to results from a closely watched lung cancer study that were released a day early at the American Society of Clinical Oncology (ASCO) annual meeting Saturday.
A five-week survival benefit for Erbitux from the so-called FLEX study straddles most investor expectations, which were generally in the four-to-six week range.
The Erbitux survival boost, however, came close to missing the threshold for statistical significance -- an indication that while positive overall, suggests some data from the FLEX study are not as strong as they could be.
Whether or not ImClone shares get an immediate lift from the new Erbitux lung cancer data remains to be seen, and will likely depend, first, on how doctors and other cancer experts gathered here at the ASCO meeting react to the presentation of the full FLEX data later this afternoon.
Regardless, ImClone executives feel strongly that FLEX is Erbitux's ticket into the lucrative front-line lung cancer treatment market.
"This is the first study in which an EGFR
epidermal growth factor receptor inhibitor has produced a survival benefit that is both statistically significant and clinically relevant," said ImClone's chief medical officer, Eric Rowinsky, in an interview Friday afternoon. "We succeeded where many others have failed," he added.
ImClone shares closed Friday at $43.50, down from a 52-week high of $49.18 reached just at the end of April.
The FLEX Study: Results, Statistics
The FLEX study was conducted by Germany-based
Merck KGaA
, which sells Erbitux in Europe. Patients with newly diagnosed non-small cell lung cancer were randomized to receive chemotherapy (cisplatin and vinorelbine) plus Erbitux or chemotherapy alone.
Overall survival in the Erbitux-chemo patients was 11.3 months compared to 10.1 months for the chemotherapy-only patients, a difference of five weeks. The result was statistically significant with a p value of 0.044, which means there was a 4.4% chance the result of the study were random chance.
The generally accepted threshold for statistical significance in a clinical trial is a p value of 0.05, or 5%, so the overall survival benefit for Erbitux isn't very robust from a statistical standpoint.
Measured another way, the FLEX study's hazard ratio was 0.87, which means that patients treated with Erbitux had a 13% reduction in the relative risk of death compared to patients treated with chemo alone. That's a relatively modest benefit.
A simple way to think about this would be to compare the FLEX survival benefit statistics to a grade of C-minus or D -- still passing but just barely.
ImClone and partner
Bristol-Myers Squibb
(BMY) - Get Bristol-Myers Squibb Company Report
previously announced plans to seek approval later this year from the U.S. Food and Drug Administration for Erbitux in lung cancer. The weak statistical power of the FLEX study does raise the risk that the FDA requests more data, perhaps even another clinical trial, before approving Erbitux.
ImClone's Rowinsky insists that Erbitux, right now, is an approvable lung cancer drug. "That p value will get us approved. The study was well designed and inclusive and we hit our primary endpoint."
Data on key secondary efficacy endpoints in the Erbitux FLEX study were also mixed. The response rate, or the percentage of patients whose tumors shrank significantly, was higher in the Erbitux-chemo patients (36.3%) compared to the chemo-only patients (29.2%). This was a statistically significant result.
There was no benefit recorded for Erbitux with median progression free survival, however, with both arms of the study reaching 4.8 months.
New, Larger Markets
U.S. sales of Erbitux rose 6% to $692 million in 2007, primarily coming from approved uses in colon cancer and head and neck cancer. As an approved drug, doctors are free to prescribe Erbitux to their lung cancer patients today. ImClone and Bristol-Myers hope that the FLEX data, presented with much fanfare at the ASCO meeting, convinces doctors to do just that.
Estimates vary, but lung cancer could be a $500 million-plus revenue opportunity in the U.S. for ImClone and Bristol-Myers Squibb.
Genentech's
( DNA) cancer drug Avastin is already a major player in the non-small cell lung cancer treatment market. The drug received FDA approval based on a study in which patients taking Avastin plus chemo reported overall survival of 12.3 months compared to survival of 10.3 months in patients given chemo alone.
As discussed previously,
Avastin and Erbitux won't necessarily compete
for lung cancer patients because Avastin cannot be used in about 50% of patients due to safety concerns.
ImClone CEO John Johnson, in an interview Friday, says that once Erbitux is approved in lung cancer, the company's sales force will focus on these "Avastin ineligible" lung cancer patients, as well as other patient groups within the FLEX study that derived the most benefit from the drug.
One of the largest and most difficult to treat subtypes of lung cancer is squamous cell carcinoma. Avastin isn't used in these patients, but Erbitux likely will based on data from the FLEX study.
Caucasian squamous cell patients treated with Erbitux reported a median overall survival of 10.2 months compared to a median survival of 8.9 months for similar patients treated with chemotherapy alone. That's a survival benefit of five and half weeks in favor of Erbitux.
For Caucasian patients with adenocarcinoma, another large lung cancer subtype, Erbitux survival was 12 months compared to 10.2 months for those patients not treated with the drug.
These patients are most like the patients treated in Avastin's pivotal lung cancer trial, Ronwinsky said, in fact, many had more advanced disease, which tells him that Erbitux can be competitive against Avastin.
Researchers from the FLEX study also found what they describe as a "remarkable difference" in overall survival between Asian and Caucasian patients.
While faring better than the entire study population, Asian lung cancer patients treated with Erbitux reported median overall survival of 17.6 months compared to 20.4 months for those Asian patients treated with chemotherapy alone.
This result is confounding because it was generally believed that drugs targeting the epidermal growth factor receptor of cancer cells, which Erbitux does, work better in Asian patients. For instance, Tarceva, another EFGR inhibiting drug marketed by
OSI Pharmaceuticals
( OSIP), is more effective in some Asians than Caucasians.
For Caucasians in the FLEX study, Erbitux patients reported a median overall survival of 10.5 months compared to a median overall survival of 9.1 months for patients treated with chemo alone.
Adam Feuerstein writes regularly for TheStreet.com. In keeping with TSC's editorial policy, he doesn't own or short individual stocks, although he owns stock in TheStreet.com. He also doesn't invest in hedge funds or other private investment partnerships. Feuerstein appreciates your feedback;
to send him an email.