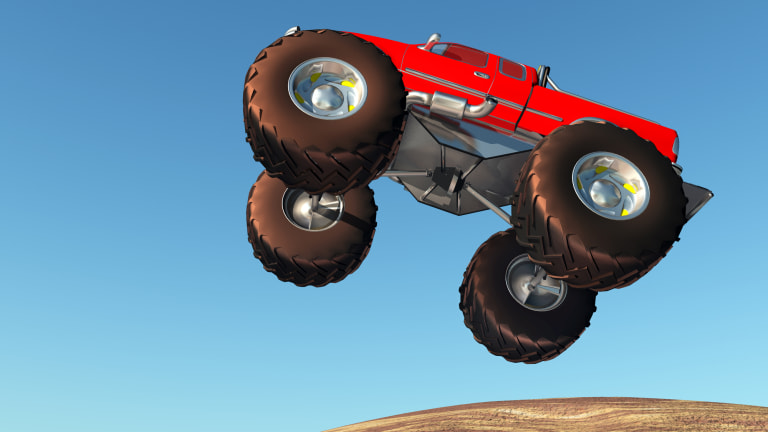 5 Top Monster Growth Stocks for 2018
These five stock picks have big support from Wall Street and a bright future ahead. Here's why.
So far in 2018, the markets are looking jittery.
From potential interest rate hikes to talk of tariffs, trade wars and global recession, volatility is going through the roof right now. But don't fret, there are still key stock picks that tick all the boxes and can seriously outperform the market. You just have to work a bit harder to find them.
We turned to TipRanks to find five of the best stocks with big growth potential combined with support from the Street's best analysts. We selected only stocks with a 'Strong Buy' consensus rating based on analyst recommendations from the last three months. Crucially, these stocks are also primed for big growth potential as reflected by the bullish analyst price targets. 
UnitedHealth Group Incorporated 
One of the largest U.S. insurance companies, UnitedHealth (UNH) - Get UnitedHealth Group Incorporated (DE) Report looks unstoppable right now. The company has just snapped up Chilean health insurance company Banmedica in a massive $2.8 billion deal. For five-star Oppenheimer analyst Michael Wiederhorn: "the opportunity from the International business should represent a new avenue of growth that could help drive impressive long-term returns."
He calls the stock his best idea for February to March as: "UNH is well positioned by virtue of its diversification, strong track record, elite management team and exposure to certain higher growth businesses." Meanwhile, its lucrative Optum tech business continues to account for a large share of earnings. Wiederhorn (one of Street's best-ranked analysts) has a $260 price target on UNH (14% upside potential).
Our data shows that UnitedHealth has 100% support from the Street. In the last three months, the company has received nine buy ratings from analysts. Meanwhile, the $269 average analyst price target suggests nearly 18% upside potential from the current share price.
Lam Research Corporation 
Semiconductor stock Lam Research (LRCX) - Get Lam Research Corporation Report has already rebounded from the sector pullback in early February. The stock is now ripe for big growth, according to the Street. With 12 back-to-back buy ratings in the last three months, analysts see Lam Research soaring 30% from current levels in the next 12 months.
B.Riley F.B.R analyst Craig Ellis is ranked #2 out of over 4,700 analysts for his precise stock picking ability. He calls Lam Research's execution on target financials 'stellar' and explains that "While above-expectations industry spending gets some credit, we believe new product, SAM expansion, service, fulfillment and cost optimization performance has also been top notch."
Looking forward, he spies four major catalysts for Lam Research that 'could unlock a valuation re-rating' namely: (1) further confidence that the industry is evolving from "peak cycle" to steadier growth; (2) increased investor conviction in 2018 and 2019 industry spending growth; (3) Lam Research revenue and earnings per share climbing toward to annualized $13.0 billion/$20.0 billion levels and (4) management's continued aggressive cash return. He is confident that dividends can rise to $0.60 per share from the current payout of $0.50.
Ellis concludes: "Lam Research shares remain attractive for accumulation."
MasTec Inc. 
Record backlogs mean that Florida-based specialty contractor engineer MasTec (MTZ) - Get MasTec Inc. Report is set up for strong growth in 2018 and beyond.
The company's work spans electric power infrastructure, oil and natural gas pipelines, renewable energy facilities and wireless networks. Strength across the board has resulted in 10 recent buy ratings vs. just one hold rating. These analysts spy 31% upside potential for MasTec.
Indeed, MasTec has just released killer fourth quarter results. Backlog for the next 18 months set a record high for the company at $7.1 billion, up over 40% in just three months. Bear in mind that this figure doesn't include the company's sizable multi-year projects. Meanwhile, strong cash flow and liquidity give MasTec flexibility for both organic and acquisitive growth.
Five-star B.Riley FBR analyst Alex Rygiel has a very bullish $71 price tag (44% upside) on MasTec. He sets out a bullish thesis on the stock as follows: "Guidance for 2018 was solid and suggests another record year for the company, with strong market trends across all of its segments. We believe MasTec is well positioned across all of its end markets to benefit from multiple opportunities for long-term growth."
Booking Holdings Inc. 
If you haven't heard of Booking Holdings (BKNG) - Get Booking Holdings Inc. Report , maybe that's because this 'Strong Buy' online travel giant used to be called Priceline Group. According to CEO Glenn Fogel, the recent name change "gives people a good sense that Booking.com is the biggest in the group."
That being said, the company's impressive growth prospects remain fully intact. Top RBC Capital analyst Mark Mahaney has just ramped up his price target from $2,100 to $2,500 (21% upside potential). This falls way above consensus of $2,181.
He says that while the outcome of the company's marketing shift strategy from performance based towards brand advertising is uncertain, "marketing has clearly been one of Booking's core competencies over the last dozen years."
Plus, Mahaney points to the "material growth opportunities Booking has been investing in for years: China Outbound, Alternative Accommodations, LatAm, & Business Travel. And now Booking is focusing on the local attractions market, which should be a very robust addition to its platform."
Kratos Defense 
Defense contractor and drone manufacturer Kratos (KTOS) - Get Kratos Defense & Security Solutions Inc. Report has made a flying start in 2018. Just one example: Kratos has just been awarded an aerial drone contract worth $23 million, most of which will be realized in the next 12 months and could potentially be renewed. And the signs are promising that this impressive momentum will continue throughout the rest of the year.
"We believe Kratos has maneuvered into an enviable strategic position as a proprietary products supplier addressing critical-threat profiles," states B.Riley FBR analyst Mike Crawford. He calls development of the low-cost Valkyrie unmanned drone an 'unqualified success' and envisages a ramp up in production at its new Oklahoma City production facilities.
The rest of the Kratos story is also worthy of mention. Crawford highlights satellite command and control "as a cash-generating crown jewel on a growth trajectory." Unsurprisingly, he sees big upside potential ahead of 46% for Kratos with a confident $16 price target.
Overall, the Street has recorded four buy ratings on Kratos vs. just one hold rating in the last three months. Given the current share price of $10.95, analysts are projecting upside potential of 32% for Kratos in the coming months.
Now On Jolt
General Electric's (GE) - Get General Electric Company Report stock is secretly telling investors something, says TheStreet's Executive Editor Brian Sozzi. Watch below. And receive the free Jolt newsletter here.
This piece is brought to you by Harriet Lefton of TipRanks.
investors the latest insight into eight different sectors by tracking the activity of over 4,750 analysts, 5,000 financial bloggers and even 37,000 corporate insiders.