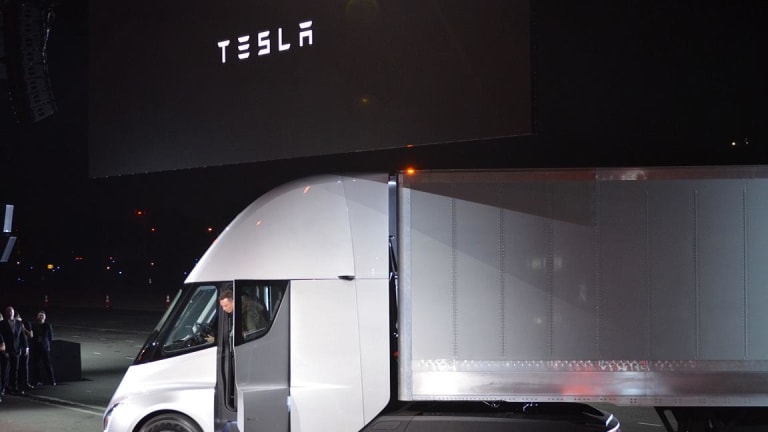 5 Biggest Takeaways From Tesla's Semi Truck and Roadster Event
What Tesla revealed shined a light on many of its traditional strengths, but it also left several important questions unanswered.
What Tesla revealed shined a light on many of its traditional strengths, but it also left several important questions unanswered.
It's safe to say that Tesla Inc.'s (TSLA) - Get Reportsemi truck event lived up to the hype -- particularly given the surprise unveiling of a next-gen Tesla Roadster at its end. Here are some major takeaways from what was revealed.
1. Tesla's engineering strengths were on full display.
In August, Reuters reported Tesla's semi truck would have a range of 200-to-300 miles. And there was speculation that battery weight would prevent Tesla from launching a truck able to handle long-distance payloads.
So much for all that. Tesla asserts that its truck, due out in 2019, can do 500 miles on a charge at highway speeds, and at a maximum legally-allowed weight of 80,000 pounds (40 tons). That doesn't match the thousand-plus miles long-haul diesel trucks can achieve without refueling, but is more than twice the 217-mile range of Daimler's recently-unveiled electric truck. And it means that Tesla, which estimates 80% of trucking jobs involve trips of less than 250 miles, can address a large portion of industry demand.
Tesla also states the truck can go from 0-60 mph in 20 seconds at the maximum weight (faster than diesels), and in just five seconds when there's no trailer attached. And as expected, the new vehicle comes with Enhanced Autopilot features such as emergency braking, lane-keeping and forward collision warning.
The new Tesla Roadster, meanwhile, is promised to go from 0-60 in 1.9 seconds and do a quarter-mile in 8.9 seconds with the help of three motors. And thanks to a massive 200 kWh battery pack, the $200,000 supercar is said to deliver a 620-mile highway range when it begins shipping in 2020.
Though Tesla is hardly the only company able to produce high-performance electric vehicles in volume, hardware and software engineering both remain core competitive advantages for Elon Musk's company as auto industry incumbents get EV religion.
2. Tesla continues to think outside the box.
Just like the Model 3, S and X, the interior for Tesla's semi truck differs markedly from that of its main rivals. The cab has full standing room, and the driver's seat is placed in the middle. There are touchscreens on either side of the seat, and an "armor glass" windshield declared to be able to withstand a thermonuclear explosion (should a trucker be worried about this).
Tesla also designed the truck to have a supercar-like drag coefficient, and says its diagnostics features can detect when maintenance is needed long before something goes wrong. Much like Apple Inc. (AAPL) - Get Report, Tesla remains comfortable throwing out "conventional wisdom" for hardware and UI design when it sees fit.
Jim Cramer and the AAP team hold a position in Apple for their Action Alerts PLUS Charitable Trust Portfolio. Want to be alerted before Cramer buys or sells AAPL? Learn more now.
3 As usual, Tesla left some important questions unanswered.
Though Tesla gave a price for its new Roadster, it didn't do so for its truck. Musk would only say the truck's total operating cost on a 100-mile route would be 20% less than a diesel truck's, assuming variables such as a 60mph average speed, a diesel fuel price of $2.50 per gallon and an electricity price of 7 cents per kWh. Musk did add the truck's all-in cost would be only half that of a diesel if used in a "convoy mode" in which two driverless trucks follow a lead truck containing a driver, but it remains to be seen just when trucking firms and regulators sign off on something like that.
We also still don't know what the truck's exact payload is. Though Tesla says a 40-ton maximum weight is supported, that includes the truck and trailer bodies, the motors and a presumably massive battery pack. And though Tesla claims upcoming "Megachargers" will allow the trucks to get a 400-mile charge in 30 minutes, no details were given about when they'll arrive, or how many will be available when the truck deliveries start. Details are also needed about what charging times will look like when a less powerful charger is used.
4. Tesla has an interesting sales pitch for truck fleet owners, but large-scale success will take time.
At various points during Tesla's event, Musk declared that Tesla's truck is faster, safer, more reliable, more productive (due to its top speed in challenging situations) and has a lower long-term cost than competing diesels. That makes for quite the pitch, and it has already led three companies -- J.B. Hunt Transport Services (JBHT) - Get Report, Walmart Stores Inc. (WMT) - Get Reportand grocery chain Meijer -- to place initial orders.
But it's worth noting that the first orders are modest: Walmart is ordering 15 trucks, Meijer is ordering 4 and J.B. only says it's buying "multiple" trucks. Just as enterprise IT departments tend to be more cautious than consumers about adopting brand-new technologies, truck fleet owners will probably take their time to place large bets on Tesla's trucks. Particularly when much remains to be learned about their production ramp, total cost, productivity gains, charging infrastructure and non-Megacharger charging times.
5. Depending on volumes, the truck launch could make an already-tough production ramp even more challenging.
Tesla is less than three weeks removed from pushing out a goal of hitting a Model 3 production rate of 5,000 cars per week from the end of the fourth quarter to "late Q1." And the company didn't exactly reiterate a prior goal of reaching a 10,000-vehicle production rate by late 2018.
All of that suggests it's going to take quite a while for Tesla to work through a Model 3 net reservation backlog that stood at 455,000 as of late July. Building large numbers of trucks relying on the same motors as the Model 3 and featuring giant battery packs could further complicate matters. And that's especially true since Musk has indicated battery module assembly has been "the primary production constraint" for the Model 3 to date.
TheStreet's Eric Jhonsa previously covered Tesla's event through a live blog.
More of What's Trending on TheStreet:
Editors' pick: Originally published Nov. 17.