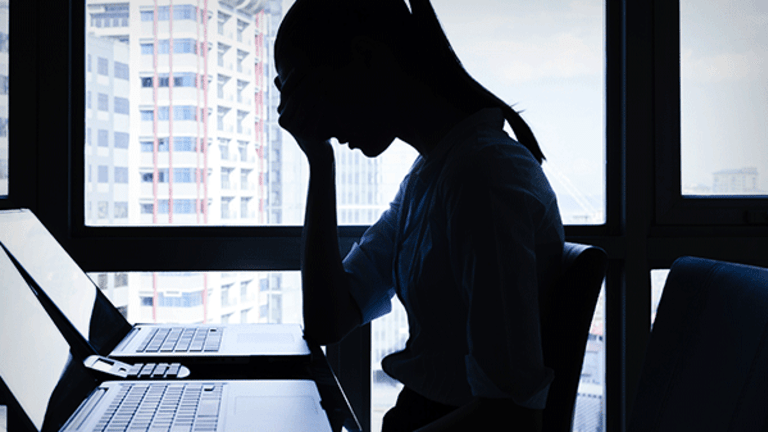 Five S&P 500 Boards Have No Women as Gender Balance Growth Stalls
American Water Works leads the S&P 500 for the most female representation on its board. But, there are still a handful of companies without any female directors.
This is part of a series of stories that comprise TheStreet's Blue Chip Studio, which will illuminate issues related to corporate board performance, activism, dealmakers and personalities revealed by analysis of data generated by BoardEx, a business unit of TheStreet.
Gender equality in the boardroom hit a speed bump in 2016, halting a seven-year run of gains for women getting a seat at the table, according to new research. Of the 421 vacant or newly created board seats at Fortune 500 companies, the share of seats that went to women in 2016 fell to 27.8% from 29.8% a year prior, a study by executive search firm Heidrick & Struggles revealed.
"Now, given the decline in the growth rate in 2016, parity will not arrive until 2032," said Heidrick & Struggles, meaning women will fill vacant or newly created board seats at a slower pace.
According to BoardEx, a relationship mapping service of TheStreet, women make up approximately 22.2% of S&P 500 boards, which is an increase from 20.5% as of September 2016. The S&P 500 is an index composed of 500 large-cap stocks whereas the Fortune 500 is a list of the 500 largest public and private companies in the U.S. ranked by total revenue.
Still, fresh data reveals there are five S&P 500 companies with no women on the board, including chip maker Broadcom Ltd. (AVGO) , which has a market capitalization of about $105.2 billion, according to BoardEx. There are 87 companies, or 17.4%, with only one woman on the board, including Chiptole Mexican Grill Inc. (CMG)  and insurance giant Humana Inc.  (HUM) .
A growing number of institutional investors are pushing for more gender-diverse boards. At least two asset management firms, State Street Corp (STT) and BlackRock Inc. (BLK) , announced their intent to pressure companies they invest in to push for gender balance in the boardroom.
Aside from the optics, having a gender-balanced board can have significant financial implications for a company. A February 2017 study by PricewaterhouseCoopers found that 91% of directors say diversity enhances board effectiveness and 84% of directors said diversity leads to enhanced company performance.
"We strongly believe in the business case that, intuitively, greater diversity leads to more perspective, less group think, better decision making and better financial outcomes," Lynn Blake, chief investment officer of global data equity solutions at State Street Global Advisors (SSGA), the investment management business of Boston-based asset manager State Street, said in a statement.
LEADING THE WAY
When analyzing S&P 500 boards in terms of the gender balance, Voorhees, N.J.-based American Water Works Company Inc. (AWK) leads the pack with the highest female representation on its board of directors.
"A company, its employees, its leaders and its board should reflect the shareholder and customer base," American Water Works CEO Susan Story said in an interview. "For us, it's just good business."
Generally, the broader Media & Entertainment sector is the most gender diverse, led by Viacom Inc. (VIAB) , with women making up approximately 28% of the boards. Retail is not far behind at roughly 27%; Macy's Inc. (M) tops the retailers. On the other end of the spectrum, however, is Paper and Packaging. Of the six companies in the sector, women comprise slightly under 18% of the boards; packaging company Sealed Air Corp.  (SEE) is the worst among the sector with only one woman on its 10-member board.
Interestingly, only one of the top six firms with the most women representation on boards is from the Media & Entertainment sector. Utility company American Water Works sits at the top of the list with five of its eight directors being women, which represents 62.5% of the board. Rounding out the six firms with at least 50% female representation on its board are credit services firm Navient Corp (NAVI) , public utility holding company Alliant Energy Corp (LNT) medical equipment maker Hologic Inc (HOLX) , the struggling retailer Macy's and media conglomerate Viacom.
While these companies have significant female representation in the boardroom, American Water Works' Story said that "every board is different and has a life of its own."
Hologic Chairman and CEO Steve MacMillan considers the board a "mosaic" that pulls from many different ideas and backgrounds. The diversity of thought, experience and, by extension, gender diversity are "key components" of a diverse board, said MacMillan.
When determining a board's composition, American Water Works Chairman George MacKenzie said that it is important to look at what the board needs from a business standpoint, as opposed to the person.
MacKenzie said that in the past the company used a search firm to find director candidates. More recently, the board uses the connections of the directors. "They have incredible contacts and experience in other areas," MacKenzie said.
"When you start getting diverse people on the board it propagates itself," Story said. "The best way to bring in people with different thoughts is to establish a culture that embraces that, then you are naturally incentivized to find diverse people."
Notably, neither MacMillan, MacKenzie, nor Story believes that quotas are an effective way to advance gender diversity.
"We don't need a quota," said MacKenzie.
"We have objectively found the best people, and over half are women," Story said. "True gender blindness means you look at candidates' skills and experience."
Hologic's MacMillan thinks about whether his daughters would have the same chances to rise to the top. He said that if you make quotas a mission, the next woman hired may not be given the full credibility she deserves. But, whenever the Marlborough, Mass.-based Hologic is hiring, there is at least one diverse candidate, MacMillan said.
"It forces you to look deeper," said the Hologic CEO. "Find a diamond in the rough."
While American Water Works' Story said the board may not have 62.5% female representation in the future, American Water Works will "always be looking for balance going forward" in order to reflect the consumer base.
The average tenure for all female directors is approximately seven years, while the average tenure for men is 8.8 years. Overall, the average tenure of S&P 500 boards is 8.3 years, according to Spencer Stuart. The average age of female board members is 61, compared to 64 years for male board members.
WITHOUT WOMEN
Despite the ongoing advancements for women in the workplace, there are still companies that do not have a single woman as a director. Currently, there are five S&P 500 companies without a female director: Broadcom, healthcare company Centene Corp.  (CNC) , dental equipment maker Dentsply Sirona Inc (XRAY) , payroll services company Paychex Inc. (PAYX) and aerospace manufacturer TransDigm Group Inc (TDG) . This is relatively in-line with recent years; during 2014, 2015 and 2016, there were 16, five and five companies, respectively, without any women on the board.
"At present, we do not have a woman on our newly combined board post-merger, but we continue to value diversity and see it as a priority in future board member selection," Marion Par-Weixlberger, director of corporate communications for Dentsply Sirona, said via email. Par-Weixlberger noted that over the past 15 years, pre-merger Dentsply had four women on the board for various tenures.
Broadcom, Centene and Paychex only joined this list a couple of months ago, after the lone female director left the board at each respective company.
Centene said by email that it "lost two outstanding female board members as a result of other business opportunities that they decided to pursue." The company with a market capitalization of $14.4 billion said it plans to add one or two members to the board this year, "and the new members will reflect our commitment to diversity."
At Paychex, Pamela Joseph, who had been the only female board member, resigned on March 23 after a decade of service. "We are close to concluding the search for her successor and anticipate maintaining a female presence on the board," Paychex said via email.
Broadcom declined to comment. TransDigm did not respond to multiple requests for comment.
And, beauty products manufacturer Coty Inc (COTY) was on this list until they appointed Sabine Chalmers to the board on April 18.
For comparison, the number of companies without a woman on the board increases when looking at components of the Russell 3000. A fourth of Russell 3000 companies have no women on their boards, and almost 60% of these companies have boards with women representing fewer than 15% of members, State Street said in a March statement.
TheStreet's coverage of diversity, specifically women in the workplace, will be expanding. Get ready for Alpha Rising, a new video series highlighting the women who are redefining business, which is set to launch July 5.
Employees of TheStreet are restricted from trading individual securities.