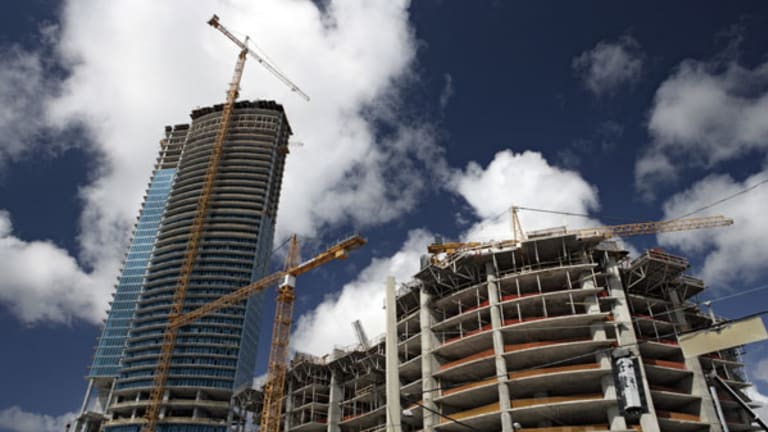 Five Gold Bull Stocks
Here are the top 5 gold stocks to own if you think gold prices will head higher, according to L.A. Little, chartist and TheStreet contributor.
NEW YORK (TheStreet) -- Here are the top 5 gold stocks to own if you think prices will head higher according to L.A. Little, chartist and TheStreet contributor.
5. Great Basin Gold (GBG) , GBG
, a small cap gold and silver explorer.
Little is very bullish on gold and says the market is halfway through a long term bull run heading to $2,000. In the short term, Little thinks prices might correct anywhere from $1,000 to $1,100.
Little
: I really like Great Basin a lot. They have an excellent chart and very nice volume characteristics. They've been in a long consolidation now for about six months. This is a stock I don't think you are going to see retrace that far probably the $1.40-$1.50 area would be the low end and they're only trading at $1.70 so maybe a 10% pullback.
#4
4. Gammon Gold ( GRS), GRS
, a mining company that develops gold and silver deposits in Mexico.
Little
: I probably would go with GRS
for my fourth stock pick, which is both a silver play and a gold play. They do their mining mostly in Mexico
and are a Canadian company. They have an excellent chart also. I look at them as a nice buy in the $9.50-$10.50 area. I think you'll see that kind of price target in the next 2-3 months at the outset.
#3
3. Rubicon Minerals (RBY) , RBY
, a gold exploration company.
Little
: Third I would probably look at something more speculative. I really like Rubicon Minerals. Rubicon is more of an exploration play. Something's going on with this stock and I don't know what it is, but there is huge volume vying interest. Someone has taken a large position in it and they continue to add to that position on pullbacks. If you look at the $3.25 range, maybe $3 at the low end, that looks like a great place to buy. It's trading at $4.13 so I don't know if it's going to come back that far. You would have to start nibbling at around $3.75.
#2
2. Taseko Mines (TGB) - Get Taseko Mines Limited Report, TGB
, a mining and mineral exploration company.
Little
: That particular
company is both a gold play and a copper play and I really like copper. I think copper is in a long term up-trend also and it's confirmed. I would like to hedge in something that is smaller and a little more speculative but has a great chart. If you look at it, the$ 3-$3.25 level is a great place. You had a huge spike in volume on a weekly chart starting at about $3 and it has been in a nice up trend all the way since its March lows.
#1
1. Randgold Resources (GOLD) - Get Barrick Gold Corporation Report, GOLD
, a large cap gold miner.
Little
: I think if you're going to go with the number one you are going to go with something that's solid and not more speculative than gold itself....Randgold... is the strongest stock out there right now. If you look at the targets on it, it's trading at about $81. First buy range is probably about $70-$75 It could easily get back to the $60 level. GOLD has a habit of retracing very fast and very hard when it does. You want to pick at it as it comes back. At $70-$75 range there's some good support there. Probably should bounce from there at least and then you can evaluate how it comes into that in terms of how the volume expands.
What is your short and long term outlook for gold prices
?
Little
: I think $2,000 is a good target, potentially it could be $3,000. Usually the way these things end is you get some sort of hyperbolic move and if you get that who knows what the target is.... Long term you got to be bullish. Short term you need to be a little careful.
How do you trade
?
Little
: We have a core position
in gold that we trade around, but mostly we try to hold the gold stocks and we hedge them with GDX (
Market Vectors Gold Miners
(GDX) - Get VanEck Vectors Gold Miners ETF Report
) and GDXJ (
Market Vectors Juniors
(GDXJ) - Get VanEck Vectors Junior Gold Miners ETF Report
)....We use
them to trade back and forth to try to capture some extra profits...while the market consolidates.
What is your core position versus what you trade around
?
Little
: The core percentage is 80% and we only trade around about 20%. We mostly use the GDX as our trading vehicle. The core holdings are probably about 14% of our overall investment portfolio right now. That's heavily shorted right now about 70% on GDX.
Why not just go long with one of the mining ETFs instead of picking stocks
?
Little
: The ETF is broadly based and you have to look at what's stocks are inside that in terms of largest holdings. The GDX is mostly the larger stocks like maybe
Newmont
(NEM) - Get Newmont Goldcorp Corporation (NEM) Report
...it's just a nice vehicle because of the liquidity. When you get a nice popup in gold...and the miners get pulled up it's an easy way to short against your long holdings and you simply play the spread that takes place. The GDX is not a long term core short position anything but that. What is it is an attempt to simply use the ebb and flow of the market to capture some gains.
>>Slideshow: How to Invest in Gold
>>More stories on gold investing
--
Written by Alix Steel in New York
.