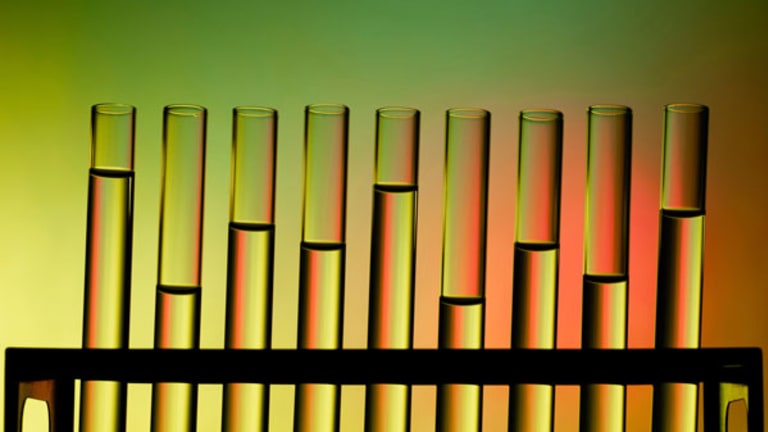 BOSTON (TheStreet) --Biotech is one of the few investing sectors in which good news can literally double a company's stock price overnight. (Conversely, bad news can send a stock plummeting.) This extreme volatility underscores the need for all biotech investors to stay alert to upcoming news. With that in mind, here are my picks for the five biggest stock-moving events in biotech for 2010.
1. Phase III Studies in Alzheimer's Disease
Healthcare investors will turn their focus to Alzheimer's disease in 2010.
Any new drug that could potentially stop or even reverse the loss of memory and cognitive decline that makes Alzheimer's such a devastating disease would be a mega-blockbuster. Actual sales estimates vary and are conditional on the efficacy and safety profile of the drug, but it's not out of bounds to forecast a groundbreaking Alzheimer's drug achieving peak sales of well over $10 billion, perhaps even $20 billion a year.
With stakes this high, pay attention to two high-profile phase III studies in Alzheimer's scheduled to announce results next year:
Medivation
(MDVN)
and its global development partner
Pfizer
(PFE) - Get Pfizer Inc. Report
are putting the experimental Alzheimer's drug Dimebon through a series of phase III clinical trials. The first of these pivotal studies, dubbed CONNECTION, in patients with mild to moderate Alzheimer's should be ready to release top-line data in the second quarter.
Towards the end of 2010,
Elan
(ELN)
is expected to have data ready from a phase III study of its experimental Alzheimer's drug bapineuzumab in patients who carry a gene, APoE4, thought to increase the risk of developing early, more aggressive disease.
Pfizer also co-owns rights to bapineuzumab due to its takeover over of Wyeth. More recently,
Johnson & Johnson
(JNJ) - Get Johnson & Johnson (JNJ) Report
acquired a stake in Elan, including its Alzheimer's drug research program, which gives it an important stake in the outcome of the bapineuzumab study.
2. The Approval and Launch of Dendreon's (DNDN) Provenge
May Day might also be Provenge Day if the Food and Drug Administration sticks to its schedule and approves Dendreon's groundbreaking prostate cancer immunotherapy Provenge on May 1.
After that, investors will watch closely as Dendreon launches Provenge in the U.S. Demand for the prostate cancer "vaccine" is expected to be high -- an enviable but tricky situation for Dendreon since its ability to make enough Provenge will be limited until the company expands its manufacturing facilities.
Investors will also be waiting to see if Dendreon finally signs a lucrative partnership with a Big Pharma partner to seek regulatory approval and sell Provenge in Europe and the rest of the world.
3. A New Way to Treat Hepatitis C
It's not every day that a company can say it is fundamentally changing the way a disease is treated (for the better), but that's precisely what
Vertex Pharmaceuticals
(VRTX) - Get Vertex Pharmaceuticals Incorporated Report
is expected to do when it announces results from a phase III study of its hepatitis C drug, telaprevir, in the middle of the year.
Telaprevir is the first -- and so far, most potent -- in a new class of drugs that works directly against the virus that causes hepatitis C. In previous phase II studies, treatment with a regimen that includes telaprevir led to significantly more patients being cured of hepatitis C, and in only six months instead of a year.
Vertex and partner Johnson & Johnson are running a series of phase III studies of telaprevir in newly diagnosed and treatment-resistant Hep C patients, with the goal of filing for the drug's approval in the second half of 2010.
Among the big-cap biotechs, Amgen's dance card looks the busiest for 2010. The FDA's decision to delay approval of the osteoporosis drug denosumab (brand name Prolia) last fall has investors expecting the drug to be approved and launched before the middle of the year.
With its core business mature and earnings relatively flat, Amgen needs big things from denosumab to re-ignite the company's growth engine. Perhaps even more than the looming osteoporosis launch, investors will be watching closely for results from two key phase III studies set up to determine whether denosumab can delay and/or prevent prostate cancer from spreading into bones. Positive results from these studies, especially the bone metastases prevention study, could generate another $1 billion in denosumab sales on their own.
5. InterMune (ITMN) Makes the Case for Perfinidone
InterMune's next and perhaps best shot at producing a billion-dollar drug comes this year when the FDA is expected to decide whether or not to approve pirfenidone as a treatment for idiopathic pulmonary fibrosis, a fatal lung disease.
Standing in the company's way are muddled results from two phase III studies of pirenidone in IPF -- one study positive, the other negative -- which have created a good bit of uncertainty about the drug's future. An early indicator for how the FDA feels about pirfenidone is likely to come in the first half of 2010 when regulators convene an advisory panel to discuss and review the drug's late-stage data. Ultimately, the approval decision for pirfenidone rests with the FDA. An approval decision date has not yet been set.
-- Reported by Adam Feuerstein in Boston
Related Stories
>>Biotech Calendar: Upcoming FDA Dates
>>The Year's Worst Biotech CEO
>>See our new stock quote page
Adam Feuerstein writes regularly for TheStreet.com. In keeping with TSC's editorial policy, he doesn't own or short individual stocks, although he owns stock in TheStreet.com. He also doesn't invest in hedge funds or other private investment partnerships. Feuerstein appreciates your feedback;
to send him an email.