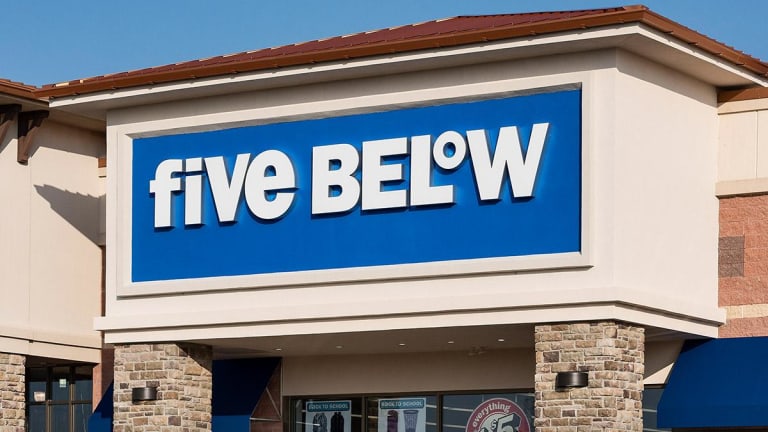 Five Below Is a Stellar Discount Retailer but One With a Steep Price Tag
Given its financial and operational success, Five Below deserves to be valued more richly than its competitors. But the market is pricing the company for perfect execution over the next several years.
The success of the discount retailer Five Below contrasts (FIVE) with the challenges in the U.S. retail industry.
For instance, a report from Coreseight Research indicates retailers announced 4,000+ net store closures in the U.S. since the beginning of the year, while Five Below continues to grow its brick- and-mortar footprint. But the stock price corresponds to a flawless execution over the next several years.
Room for Growth
Five Below has been growing its sales at a compounded annual growth rate (CAGR) of about 24% over the last five years. And management expects the number of stores to increase from 750 at the end of 2018 to approximately 900 by the end of this year. Over the long term, there's still plenty of room to grow revenues, with the potential for more than 2,500 U.S. stores.
With scale, management has been successful at realizing logistic and marketing efficiencies, and Five Below has been growing its bottom line more quickly than its revenue. Since 2013, adjusted EPS has been growing by a CAGR of 31%. And during Q1, management raised its 2019 EPS forecast.
Besides stores expansion, the company has many more possibilities to keep on growing. Management is trying to ramp up the online business it launched in 2016. Also, last year, the company started testing the sales of products with prices between $5 and $10 in a few stores. If successful, this pricing change will provide the potential for higher gross margins and greater market opportunities.
The Threat of Tariffs
Despite its success, the company isn't immune to important threats. The tariffs war with China may impact its business model. With duties of up to 25% on the products it sells, management announced testing prices increases that will involve items exceeding the psychological and marketing threshold of $5. If this initiative impacts sales volume or blurs the marketing message, the tariffs with China will affect gross margins.
The Price of Success
Since the beginning of the year, Five Below's stock price increased by about 23%. And, compared to other retailers, Five Below looks expensive. The Enterprise Value (EV) to Sales ratio exceeds 4.4x, even as the market values some other discount retailers at an EV/Sales ratio below 1.8x (legacy department stores like Macy's (M) and Kohl's Corporation (KSS) are even valued at EV/Sales ratios below 1x).
Revenue growth at higher margins justifies Five Below's higher valuation, though, at least in part. Despite being smaller than Dollar General (DG) and Dollar Tree (DLTR) , Five Below generates a higher EBIT margin. I expect this advantage to become more and more important as the company keeps on growing its top line faster than its competitors.
Also, Five Below is less risky. With $288 million of cash on the balance sheet and no debt at the end of fiscal Q1, access to financial markets won't be necessary, meaning the company can fund its infrastructure growth and store count growth with its cash and its profits.
Another way to value the company consists of estimating its profits when it realizes its brick-and-mortar potential. Based on the current results, I assume each store will generate about $2.2 million in annual sales and the company will realize an operating margin of about 12%. Taking into account 2,500 stores, Five Below has the potential to generate $660 million in operating income. But it will take many years before Five Below reaches this store count.
At a current share price of $125.88, Five Below's $6.84 billion market capitalization corresponds to more than 10x these future profits estimates without applying any discount rate. Considering the remaining important uncertainties related to the Chinese tariffs and the execution of the growth initiatives, the valuation doesn't provide any margin of safety.
Conclusion
Based on its operating results and capital structure, Five Below's valuation deserves a premium compared to many other retailers. But the market prices the company for perfect execution over the next several years. Thus, I prefer to stay on the sidelines at these levels.
Save 57% with our July 4th Sale. Join Jim Cramer's Action Alerts PLUS investment club to become a smarter investor! Click here to sign up!
Five Below and Kohl's are holdings in Jim Cramer'sAction Alerts PLUS Charitable Trust Portfolio. Want to be alerted before Cramer buys or sells these stocks? Learn more now.
The author doesn't own any of the stocks discussed.