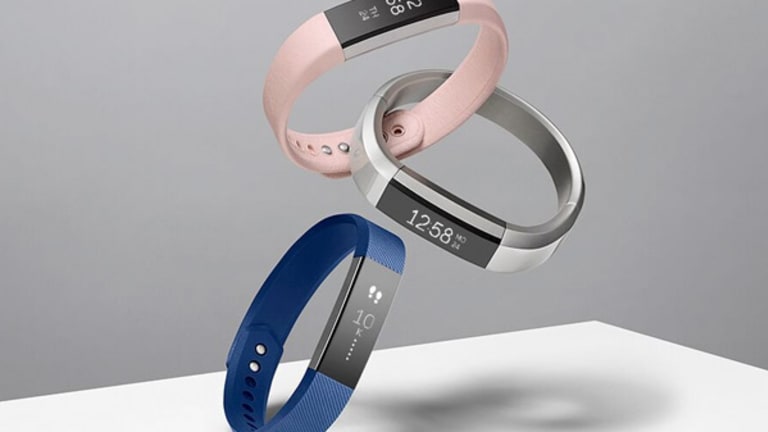 Fitbit's Latest Strategy Is Straight Out of Apple's Playbook
The company is betting its hardware, software, services and brand will let it charge a premium in an extremely competitive market.
The latest updates to Fitbit's (FIT) - Get Free Report fitness tracker lineup gives more evidence the company is positioning its brand and product line in much the same way Apple (AAPL) - Get Free Reportpositioned the iPod in the music player market. It's a strategy that's likely to continue paying off for Fitbit...just as long as smartwatches don't disrupt the tracker market the way smartphones disrupted the music player market.
Apple is a holding in Jim Cramer's Action Alerts PLUS Charitable Trust Portfolio. Want to be alerted before Cramer buys or sells AAPL? Learn more now.
Fitbit refreshed its Flex and Charge tracker lines, which were respectively launched in 2013 and 2014, with the $100 Flex 2 and $150 Charge 2. The former is 30% smaller than the original Flex, capable of receiving call and text alerts, promised to be "swim-proof," and features optional accessories from brands such as Vera Wang and Tony Burch. The latter has a much larger display than its predecessor, supports constant heart-rate tracking and quickly provides stats related to a user's workout and cardio fitness level.
Fitbit also announced a software update for its $200 Blaze smartwatch, which has performed well since launching earlier this year. The update adds support for "smart notifications" from apps such as Facebook, Gmail, Instagram and Snapchat, as well as reminders to move and Apple Watch-like clock faces. In addition, new premium accessories and slightly costlier "Gold Series" models have been launched for both the Blaze and the $130 fashion-oriented Alta fitness band, which also launched in early 2016.
It's worth noting Fitbit is doubling down on its premium pricing strategy with these moves. The Flex 2 costs as much as the Flex did when it launched, and $20 more than what it has been recently selling for. The Charge 2 costs $20 more than what the Charge originally sold for, and $40 more than its recent retail pricing. Moreover, Gold Series Alta and Blaze models respectively cost $20 and $30 more than regular models, and many of Fitbit's new accessories, such as a "luxe metal bangle" for the Alta, sell for $80 to $100.
Put it all together, and Fitbit is clearly trying to position itself as the BMW, Ray-Ban, or yes, Apple of fitness tracker brands -- i.e., a firm that justifies charging a premium in a hotly competitive tracker market thanks to the end-to-end experience provided by its on-device software, smartphone apps, subscription services (Fitbit Premium and FitStar), and stylish designs and accessories. With many rivals selling trackers for less than $50 -- Xiaomi's Mi Wrist Band can be bought on Amazon for just $24 -- it's hard to fault Fitbit's strategy.
This is an approach that Apple used for years to dominate the music player market. SanDisk, Creative and many other rivals deeply undercut the iPod's pricing. But Apple's brand, sleek designs, user-friendly interfaces and complementary software and services (i.e. the iTunes app and music store) allowed the iPod to maintain a U.S. share well north of 50% for years.
It didn't hurt here that in the grand scheme of things, iPods were still pretty cheap. It's a lot easier to convince consumers to pay a 50% premium for a gadget they'll be frequently using when it still costs less than $200. The same holds for fitness trackers.
Fitbit's second-quarter numbers suggest its strategy is working well for now. Device shipments rose 27% annually to 5.7 million, and revenue 46% to $586.5 million. The latter figure was boosted by subscription and accessory sales, as well as a 12% increase in average selling price (ASP) to $99.
Of course, the fact that smartwatches, forecast by many pundits to spell the doom of the standalone tracker market, haven't quite taken the world by storm has made life easier for Fitbit. Research firm IDC estimates global smartwatch shipments fell 32% in Q2 to just 3.5 million. The Apple Watch, which launched to much fanfare in Q2 2015, was estimated to have just 1.5 million shipments, down 55% from a year earlier.
Relatively high prices and weak battery lives -- the latter can get in the way of fitness-tracking activities such as sleep-monitoring -- have weighed on smartwatch sales. So has the fact that many consumers see limited value in a lot of the non-fitness features of smartwatches, which often amount to just a slightly more convenient way of getting information that can be pulled up via one's phone.
The story could be different in a year or two. Apple is expected to launch a second-generation Apple Watch this fall that (among other things) provides better battery life. And watchOS 3, Apple's third-generation smartwatch operating system, will provide a slew of user interface improvements when it rolls out in September.
But for now, Fitbit appears to be in the sweet spot of the fitness wearables market, keeping Apple, Xiaomi and others at bay by providing -- for a moderate premium -- what's arguably the best end-to-end user experience for fitness and health enthusiasts.