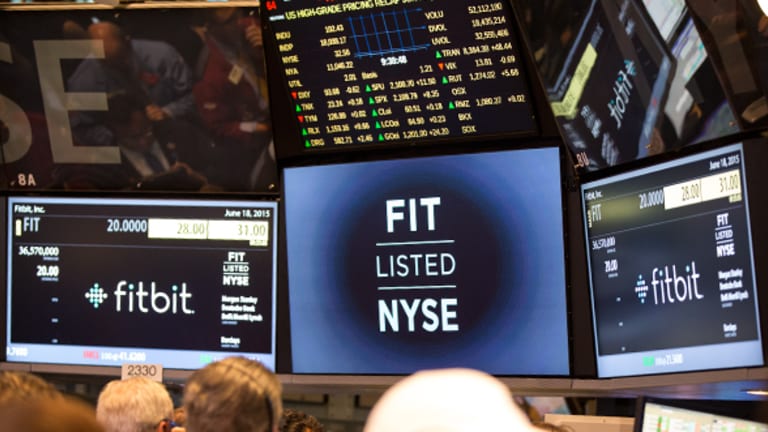 Fitbit Holiday Inventory Levels Need to Slim Down: Pacific Crest
Fitbit's (FIT) Charge 2 inventory is 'particularly bloated' in certain parts of the U.S. and Flex 2 demand is disappointing, says Pacific Crest.
Fitbit's (FIT) days of inventory have continued to increase exiting the fourth quarter, which introduces risk to Wall Street's first-quarter estimates, according to U.S. checks by Pacific Crest Securities analysts. 
Channel checks in mid-December indicate that the company's days of inventory are very high at nearly 18 days. The analysts believe levels between five and 10 days would be healthier and signal that significant restocking would need to occur to fulfill first-quarter demand.
"Blaze and Alta sales volumes held up a bit better than we would have thought, but we believe Charge 2 inventory is particularly bloated in certain parts of the country and Flex 2 demand has proven disappointing throughout the holiday period," analysts Brad Erickson and Elliot Arnson wrote in a note today.
As a result of its checks, the firm is lowering its 2017 first quarter expectations. It now models units to be down 45% quarter-over-quarter vs. its prior estimate for a decline of 41%. The analysts also now expect units to drop next year by 15% compared to its previous projection for a decrease of 7%.
Acquisitions of assets from Pebble Technology and Coin in the past year signify the company is evaluating other opportunities, specifically other possible applications for a fitness tracker such as payments, according to Pacific Crest. But the firm believes opportunities are fairly limited.
Earlier this month, Fitbit bought assets from smartwatch company Pebble for a reported $40 million. In May, the company acquired assets from financial technology company Coin. The price was not disclosed.
"We continue to believe Fitbit's best prospects for turning around are in health care through new sensor development or insurance/provider partnerships. However, we need more visibility of that before getting more constructive," Erickson and Arnson noted. The firm rates Fitbit "sector perform."
Last month, the San Francisco-based health and fitness device maker reported third-quarter revenue that missed analysts' projections and gave disappointing guidance.
Shares of Fitbit were higher by 0.81% to $7.50 in pre-market trading today. The stock is down about 75% year-to-date.