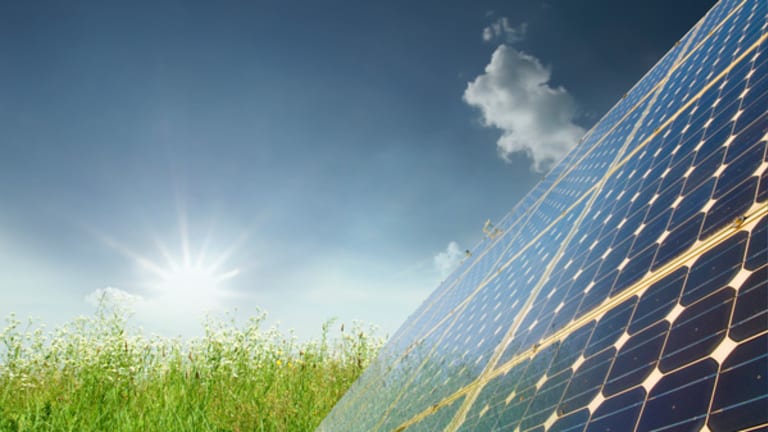 First U.S. Offshore Wind Project Gets Nod
The first U.S. offshore wind power project receives approval from the state of Massachusetts to sell 50% of its output.
NEW YORK (
) -- The first offshore wind power project in the U.S. received a key approval from the state of Massachusetts on Monday.
Cape Wind
received approval from the Massachusetts Department of Public Utilities to sign a 15-year Power Purchase Agreement with U.K.-based
National Grid
. National Grid will be buying Cape Wind's energy, capacity and renewable energy credits under the terms of the PPA.
It's been a nine-year battle for Cape Wind against the political establishment in Massachusetts and elite elements of Martha' Vineyard, including the Kennedy clan. Cape Wind president Jim Gordon said in a statement on Monday afternoon, "Today's approval validates that Cape Wind is a good value delivering clean energy without all of the associated costs of fossil fuels. This long-term contract not only secures an abundant, inexhaustible clean energy resource but protects consumers from rising fossil fuel and environmental compliance costs."
Cape Wind and National Grid announced their intention to sign the PPA in May.
The U.S. terrestrial wind market has had one of its worst years on record in 2010, with companies like
Broadwind Energy
(BWEN)
seeing their stock value dive and once-heralded initial public offering candidates like
First Wind
find the market conditions to be choppy. Meanwhile, U.S. companies with a focus on selling into overseas wind power markets, have fared better, such as
American Superconductor
(AMSC)
, which sells wind equipment to Asian wind market companies.
>>Broadwind Energy: Worst Clean Energy Stock of 2010
Rate-payer organizations concerned about the costs being passed on to the customers of electricity, and environmental lobbies, have made it difficult for wind power projects to secure the necessary approvals.
Meanwhile, the European offshore wind market has become a focus for sellers of wind turbines and other wind power equipment, including big industrial players like
General Electric
(GE)
setting their sights on the U.K. opportunity.
>>GE Earnings Show Wind, Solar Weakness
The European wind market is not without issues overall, though. On Monday, European wind market giant
Vestas
announced guidance for 2011 that expects no profit growth year over year. It was a surprise as Vestas announced in October it was laying off 3,000 workers and closing factories in Denmark and Sweden. Declining demand, tight credit, and the Euro zone debt crisis providing a weak macroeconomic backdrop for its business are all factors in the Vestas outlook.
Siemens
(SI)
has opened its North American Offshore Wind office in Boston because of Cape Wind, the company said in its statement announcing the regulatory approval. Earlier this fall,
Google
(GOOG)
announced an ambitious plan to fund the development of an offshore wind power electricity transmission system.
>>Google Backing Offshore Wind Power
Last month,GE and Siemens were among the companies saying they would invest $629 million in the U.K.'s offshore wind sector after the British government assured the companies of threatened port funding that deals directly with the issue of wind power infrastructure.
Cape Wind has recently announced projects that will create 1,000 new manufacturing, staging, assembly, construction and operations jobs in Massachusetts.
In announcing the decision, the Massachusetts Department of Public Utilities stated, "
It is abundantly clear that the Cape Wind facility offers significant benefits that are not currently available from any other renewable resources. We find that these benefits outweigh the costs of the project.... The evidence in this proceeding makes it clear that the Cape Wind project offers unique benefits relative to the other renewable resources available."
The contract, which is for 50% of the output of the Cape Wind offshore wind facility, sets the initial price -- for electricity, capacity and renewable-energy attributes - at 18.7 cents per kilowatt-hour in 2013, rising 3.5 percent annually for 15 years. An earlier PPA application made by the companies had set the price at 20.7 cents. National Grid would have the right to a one-time extension of the contract for another 10 years on terms that could be below market rates.
The contract allows for revisions that could benefit rate payers. The decision stated that if debt financing costs are reduced as a result of a U.S. Department of Energy loan guarantee, 75% of the savings would be passed along to customers in lower rates. If actual project costs fall to such an extent that the rate of return on debt and equity exceeds 10.75%, the contract price of electricity will be reduced to give ratepayers 60% of the benefit of the lower costs. "This mechanism in the contract assures that the developers of the project will not reap windfall profits," the Massachusetts utility regulator stated.
-- Written by Eric Rosenbaum from New York.
RELATED STORIES:
>>Google Backing Offshore Wind Power
>>Broadwind Energy: Worst Clean Energy Stock of 2010
>>GE Earnings Show Wind, Solar Weakness
>To contact the writer of this article, click here:
Eric Rosenbaum
.
>To follow the writer on Twitter, go to
.