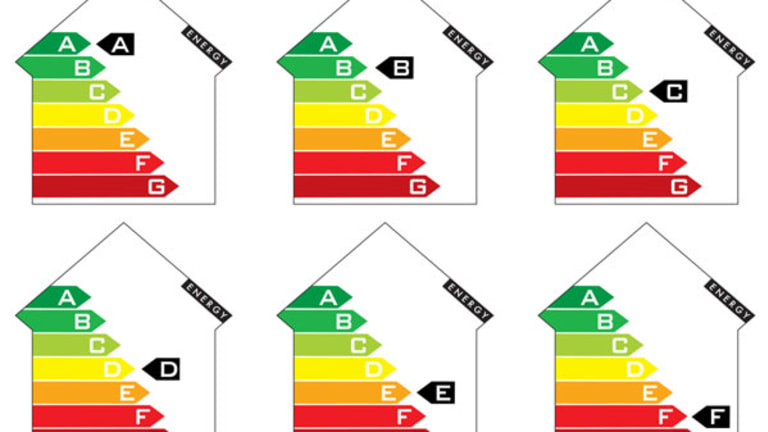 First Solar Won't Get One Big Energy Loan
First Solar says it won't be getting one of three loan guarantees offered by the federal government, and it's not because of Solyndra.
NEW YORK (
) -- Shares of U.S. solar company
First Solar
(FSLR) - Get First Solar, Inc. Report
slid by 7% on Wednesday, and due to a reason many in the market were not aware of: the company was telling some investors and analysts that one of its three large-scale solar projects would not receive a loan guarantee from the Department of Energy.
Pressure was exerted on First Solar shares by the political fallout from the bankruptcy of White House-backed solar company Solyndra, with the House Energy committee saying late on Tuesday that it wanted to review all of the loans still in the conditional commitment phase -- those not closed. This led to speculation, including
here
, that First Solar's three federal loan guarantees faced unquantifiable political risk.
The First Solar loans do still face this political risk, but only two of the three, as First Solar told a group of analysts and investors that one would not be ready to break ground by the Sept. 30 deadline for DOE loan funding. To qualify for the federal loan, projects would have to start construction by Sept. 30.
First Solar shares finished trading Wednesday at their lowest level since 2007, though it's a slide that started well before the federal loan news and the Solyndra bankruptcy, as the solar sector is experiencing overcapacity and a pricing freefall.
The investigative subcommittee of the House Energy committee is requesting that Energy Secretary Steven Chu provide details by next Monday about 14 loans that are expected to close in the next 9 days as part of the same Department of Energy program that provided $528 million to Solyndra.
Emails related to the Solyndra loan suggest the loan review was rushed, and Congressional leaders want Chu to prove that the DOE is not accelerating more loan approvals before the stimulus-package program expires on Sept. 30.
The risk to First Solar shareholders from the Solyndra debacle still exists, and can't be quantified, but the news from First Solar that one of its biggest projects will have to seek capital markets debt financing is quantifiable, and according to most analysts, means the solar company's earnings over the next two years will be weaker. The company's earnings power has become more reliant on large-scale solar projects for which it has received DOE loans.
The project that First Solar will not seek a federal loan for is its Topaz project, a $1.9 billion loan for a 550 megawatt project, one of the largest solar projects ever to be constructed. It still has conditional commitments for its Desert Sunlight (500 MW, $1.8 billion loan), and Antelope project (350MW, $680 million loan), and already closed a loan for its Agua Caliente project.
First Solar did not respond to an email from
TheStreet
asking for confirmation of the Topaz report, but on Thursday morning the company issued a press release saying what some in the market had already known for at least a day: Topaz would not receive a loan guarantee from then DOE.
Aaron Chew, an analyst at Maxim Group who spoke directly with First Solar, confirmed the news, as did several other analysts briefed by the solar company.
Chew said First Solar explained that they simply weren't going to get one of the projects done on time because of other projects they are focused on, but the company says it is in final negotiations for selling Topaz to a buyer with such a low cost of capital it only should affect the project sale price by a small amount. "I have a hard time swallowing that," the analyst added, referring specifically to the sale price only being slightly lower without the federal loan guarantee.
No one has doubted that First Solar would be able to find debt financing for its projects -- the company said as much at a conference earlier this year when investors were concerned it might not get the DOE loans in the first place. However, any capital markets debt will be more expensive than the DOE loan, and suggests that First Solar cannot sell its projects to equity buyers at as high a price, reducing its earnings, and leading to a reduction in Wall Street estimates for its earnings power.
Rival
SunPower
(SPWRA)
also has a $1.2 billion loan with the DOE in the conditional commitment phase. However, the sale of a 60% interest in the company to French oil giant Total provided the company with $1 billion in debt financing that would likely allow its projects to proceed without the DOE loan guarantee.
An Obama administration official told
TheStreet
on Wednesday that it didn't expect that all 14 loans in the conditional commitment phase would be closed by the Sept. 30 deadline. Congress has no formal oversight of the DOE loan guarantee program, something the program's critics on House Energy have recently lamented. The political risk could be limited for projects that are ready to move ahead and meet all of the DOE conditions, since any delay of the Sept. 30 deadline could require a change in legislation and it seems unlikely that the federal and legislative branch would agree on something like this in 9 days time.
Collins Stewart analyst Dan Ries wrote on Wednesday, before he was made aware of the project loan cancellation, "The three FSLR projects that have outstanding 1705 loan applications (with conditional approval) are essential to our CY12 and CY13 EPS forecast for FSLR. These projects being rejected would have a material negative impact on EPS forecast, though FSLR would likely be able to financing these projects without a loan guarantee at a higher cost of capital (less profitable). The risks to our forecast have increased as the 1705 DoE loan guarantee program has come under fire due to the Solyndra bankruptcy. We know of no means by which the company can mitigate this risk, as this risk centers on the DoE and its reporting to Congress."
-- Written by Eric Rosenbaum from New York
RELATED STORIES:
>>Why You Should Be Alarmed by Solyndra
>>Solyndra Strikes: in Jobs Speech, Obama Quiet on Green Energy