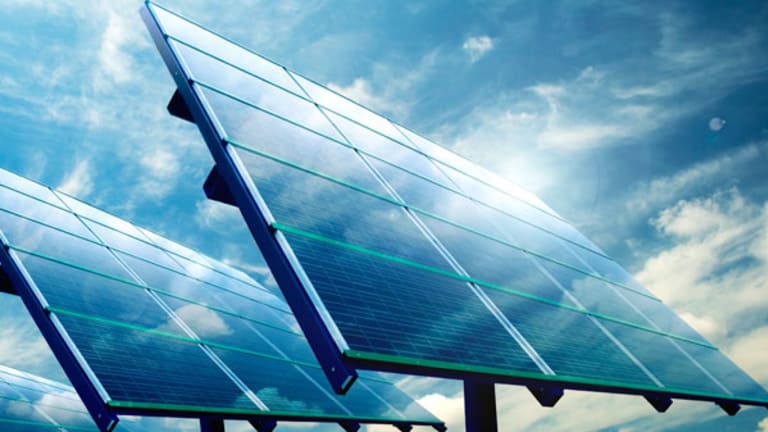 First Solar Takeover Chatter Is Overdone
The First Solar takeover chatter won't stop, but it should.
NEW YORK (
) -- Not a day passes without more rumors -- mostly baseless, if at least logical -- about the impending takeover of U.S. solar company
First Solar
(FSLR) - Get First Solar, Inc. Report
.
It's getting a tad ridiculous. Let's get one thing clear: First Solar probably will be taken over one day, but whether that day comes tomorrow, the day after tomorrow, a year or two years from now is anybody's guess. The recent
balance sheet problems that First Solar has run into -- as a result of the
larger woes of the solar sector -- and the fact that it's market cap has cratered, are not a priori proof that a deal is imminent.
The bulls on Wall Street and the traders who need to move a First Solar position drop some anonymous rumor about
GE
(GE) - Get General Electric Company Report
getting ready to acquire the solar company. Certain outlets do a great job of printing these anonymous rumors and allowing traders to execute on their needs. Conversely, a short will put out a rumor that First Solar is headed for bankruptcy.
First Solar takeover chatter is logical, but a bit overdone.
I wouldn't bet on any of it. The First Solar takeover rumors are part and parcel of the games people play in this market. A year ago it was
Siemens
(SI) - Get Silvergate Capital Corp. Class A Report
getting ready to make a bid on First Solar. Now it's GE, which on Friday will be ribbon-cutting its Colorado-based thin film solar manufacturing plant, with Secretary of Energy Steven Chu in attendance fresh off his congressional grilling over Solyndra.
Might GE acquire First Solar now that it's planning its entrance into the thin film market where First Solar dominated? Yes, no doubt, I'm sure the idea has crossed the mind of GE executives. Does that mean it is going to happen tomorrow? Not likely. Or maybe. Who knows? The point is there are as many reasons to doubt a First Solar deal happens any time soon as to think one will occur.
Consider this: The Wall Street analyst report that is being quoted this week as a sign of the impending takeover, by Aaron Chew of Maxim Group, is anything
but
a conviction call on a First Solar deal. On the morning that Chew released his report earlier this week,
TheStreet
spoke with the analyst, who was somewhat perplexed by the attention. In fact, Chew told us that he would bet the odds are 85% against a First Solar deal happening any time soon.
So why did he write the report? Given the recent balance sheet woes of First Solar and the huge decline in its share price, it's a logical question to ponder. No more, no less, that's an analyst doing his work -- even if some of the shorts who hadn't closed their First Solar books probably didn't like it. Shortly after Chew's report there were claims of a First Solar bankruptcy on the horizon -- maybe those remaining FSLR shorts kick back into action, and then the unvirtuous cycle of Wall Street shenanigans and double speak is complete
at least for a day or two when some First Solar shill like Lazard Capital et al appears on
CNBC
another of this week's solar rumor-mongering moments to sing First Solar's praises.
Of course, the fact that
CNBC
didn't bother to ask Maxim's Chew to elaborate on his First Solar report didn't stop
CNBC
from adding to the inane chatter about First Solar on Thursday afternoon, highlighting a quote from Chew's report after the close
by the way
CNBC
, his name is Aaron, not Andrew. First Solar shares rose 3.5% on Thursday, while the markets tanked, something that "tipped off"
CNBC
to the impending deal. One might also want to consider that First Solar spiked all of 3.5% to $45.61, bringing its year-to-date decline to an even 65%. There was also a report out on Wednesday that First Solar might be in the running for a deal to supply panels to SolarHybrid, which is building solar projects out west and recently decided to ditch solar thermal power for photovoltaics. Maybe it's good news for First Solar, if it doesn't have to sell the panels at a loss.
As for GE acquiring First Solar, here are a few point and counter-points to consider:
Chew made all of the logical points in favor of a First Solar deal in his report, though he didn't intend it to imply a deal is likely:
Prospects more likely at $5 billion market cap today than $15+ billion in 2010
GE's entry into First Solar's cadmium telluride solar module market production merges interests
Low cost of capital for a GE offers incomparable strategic advantage to FSLR's project business
FSLR likely more willing seller after turbulent year, including the ousting of its CEO, and the return of former CEO Michael Ahearn as interim CEO who has no "skin in the game," having already unloaded his entire insider stake in First Solar to the tune of a personal fortune in the range of $500 million
Now here's the counter-point argument:
Why would a company known to be arrogant (maybe that's overstating it, a little) accept a deal based on its current $45 share price when just months ago it was $180 and why would GE buy at $50 knowing that Total (TOT) - Get Total SA Report bought SunPower( SPWRA) at $23.35 and shortly thereafter open market shares of SunPower were trading at $6 as the solar sector fundamentals worsened, especially since the market upheaval is not yet finished? In fact, some solar analysts believe when all is said and done and the shakeout in solar finished, First Solar shares could be worth much less than they are now.
I've a few times heard the quip, "GE likes to buy companies out of bankruptcy" so why not wait even longer, even if it is interested?
With GE investing in Primestar, why not just take First Solar down in competition beginning in 2014 as opposed to buying now when the market is a mess? It seems that GE's timed introduction for 2014 allows it by happy coincidence to avoid the massacre of today's market.
The low cost of capital makes sense, as well as access to GE's global footprint where it is one of the dominant nat gas turbine sellers, and that's the SPWRA story with Total, isn't it? But is FSLR as bad off as SPWRA and really has to make a deal and see its once momo shares of $180 sold at $50?
One thing is certain: The situation in solar
is
pretty dire, and it may have reached its
dire tipping point this week when Wells Fargo analyst Sam Dubinsky put out a note on
LDK Solar
(LDK)
dropping coverage because he was no longer sure it "was a viable investment." In an
era of solar bankruptcy and rampant manufacturing overcapacity, more deals are coming.
A person involved in the sale of PrimeStar to GE told
TheStreet
that he did think the PrimeStar acquisition by GE and its evolving plans in solar did make it more likely to consider a First Solar acquisition, as opposed to precluding a deal. But the official involved in the PrimeStar deal also noted that GE is entering the solar business for the long term, and has infinite patience, and also seeks maximum return on capital for shareholders.
"There are lots of opportunities for GE to generate a return on capital for shareholders, and they will be a big player for decades to come in solar with or without First Solar," the official said.
The bottom line was provided from Maxim Group's Chew himself: "This could be one of the most un-insightful reports I have ever written and yet it gets more play than any other. I was targeting this for the bears just to alert them to the fact that it's more doable now than in the past, so don't get caught." And here's the big difference from the past to now, courtesy of Chew: "I used to say 'it's hogwash' and now I say 'yeah, it could happen.' I wouldn't have written a note if there wasn't some logic to it."
Some logic -- logic that's been really overplayed at this point.
-- Written by Eric Rosenbaum in New York.
RELATED STORIES:
>>LDK Solar Gets Kiss of Death from Wells Fargo
>>In Bankruptcy Era, Solar Innovation Goes on Auction
>To contact the writer of this article, click here:
Eric Rosenbaum
.
>To follow the writer on Twitter, go to
.
Follow
TheStreet
on
and become a fan on
To submit a news tip, send an email to:
.