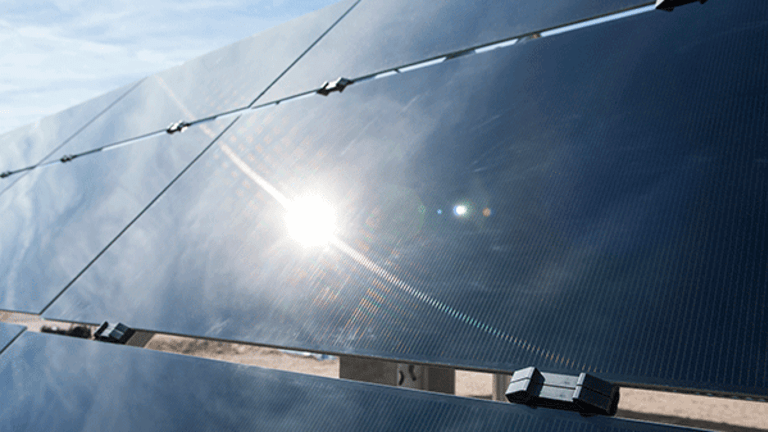 First Solar's Journey Through the Desert Is Just Beginning
The solar company has a strong cash position, but revenue may suffer at the expense of its retrenchment.
First Solar (FSLR) - Get Free Report has had a tough week. Shares of the solar panel manufacturer have plunged 7.3% over the course of the last five days and were sitting at $32.19 in Friday morning trading.
The solar industry has been particularly pressured across the board this week: Vivint Solar (VSLR) - Get Free Report and SunRun (RUN) - Get Free Report have also fallen. Part of that stems from regulatory uncertainty about the future of the solar industry in President Trump's administration and part is due to the sheer oversupply of global solar capacity.
Those regulatory fears may be a tad overblown: Secretary of Energy-Designate Rick Perry hails from Texas, a state heavily reliant on the federal government's investment tax credit for solar and wind energy development.
"The challenge [for First Solar] is that you're competing with people willing to do projects at prices that don't make much sense," said JMP Securities analyst Joe Osha. He downgraded the stock to "market underperform" Tuesday.
First Solar has made it quite clear that tough times are ahead. It set full-year guidance for 2017 in November of earnings per share of breakeven to 50 cents on $2.5 to $2.6 billion in net sales and is expected to cut some 1600 jobs.
The company is also accelerating production of its large-area Series 6 solar panels, scrapping the intermediary Series 5 panels in the process.
"This management team has done as good a job as they possibly could have done, given the situation," Osha said. "It's hard to imagine anyone having handled this situation better."
The issue, he explained, is that investors' expectations don't accurately reflect just how long First Solar's journey through this solar pricing valley will be.
"At a high level, I think people generally understand that 2017, especially the latter part of the year, is likely going to be tough for this company," Osha said. "There appears to be an expectation that 2018 will in aggregate be better. I don't think there's any basis for believing that."
First Solar, Osha explained, has a strong cash position. The company said in its full-year guidance that it expects to have between $1.4 billion and $1.6 billion in cash on hand. That gives it the ability to conserve money in 2017 and 2018 and devote more attention to the Series 6 ramp-up, albeit at the expense of its revenue figures.
"I don't think people quite understand how much this company is going to be in the bunker through the end of 2018," Osha said.