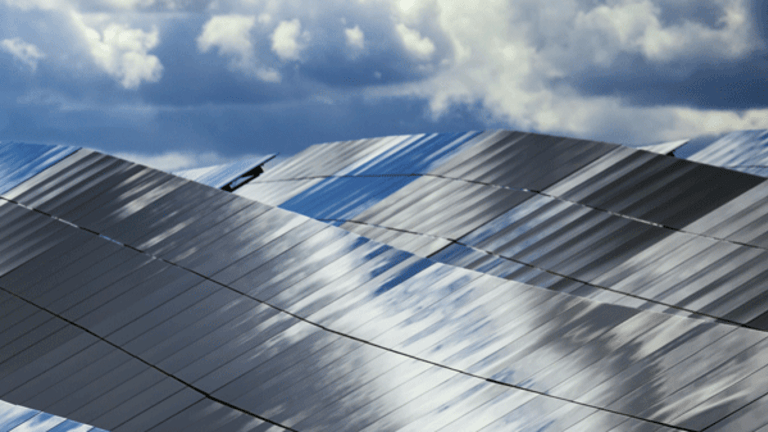 First Solar (FSLR) Shares Tumble as Firm Provides Stormy Forecast
The Tempe, Ariz. company is hoping that accelerated development of its newest panel design will soften the blow of its restructuring.
First Solar's (FSLR) - Get Report gloomy Wednesday announcement of impending job cuts and ugly 2017 fiscal year estimates had investors scurrying away in Thursday trading and driving the shares down more than 5%.
In early afternoon trading ths shares changed hands at $31.14, down 5.1%, but off its opening low of $29.03.
The estimated $500 million-$700 million cost of restructuring and scrapping production of First Solar's Series 5 solar panels will hurt. The expected loss of about 1600 jobs, doubly so. First Solar's initial guidance for 2017 indicates expected earnings per share of breakeven to 50 cents on $2.5 to $2. 6 billion in net sales.
Why the sudden cuts?
"Too much capacity," JMP Securities analyst Joe Osha said succinctly in a phone interview. As he explained, uncertainty over whether or not the U.S. government would extend its 30% solar investment tax credit at the end of 2015 forced solar providers to pull their large projects forward.
[Disclosure: JMP makes a market in First Solar stock and expects to receive or intends to seek compensation for investment banking services from First Solar in the next three months]
The credit was extended, but the damage to the marketplace was done. A cut by the Chinese government to its solar tariff isn't helping matters either. Solar companies like Sunrun (RUN) - Get Report , SolarEdge Technologies (SEDG) - Get Report and Vivint Solar (VSLR) - Get Report have all trended downwards this year.
First Solar's saving grace may be its large cash stockpile. The company said in its guidance that it expects to have a net cash balance between $1.4 billion and $1.6 billion at the end of the 2017 fiscal year.
Osha wouldn't be surprised if the company closes 2017's first quarter with a net cash balance between $2.5 billion and $2 billion.
"In a business like this where you have depressed, bottom-of-the-cycle earnings, [price alone] is not how you value the stock," he said. "People look at the cash and ask: 'What is the value of this enterprise?'"
For now, First Solar is making an all-in bet on its large-area Series 6 panels, which will have an output greater than 400W. It said in its Tuesday statement that it is ramping up development of the Series 6 with the goal of achieving three gigawatts of production in 2019.
What that means is that First Solar will begin to phase out its smaller-than-industry-standard Series 4 panels, which have an output of 117W. As for the cancelled Series 5? Perhaps customers aren't missing out on all that much.
"All the Series 5 really was," Osha said. "Was three Series 4 panels on a rack."
The Series 6 ramp-up has its share of risks.
J.P. Morgan analyst Paul Coster warned in a research note that the capex investment it will take to achieve three gigawatts of production from the Series 6 will likely exceed $1 billion and that the long wait period could lead to customer defections.
There's also the possibility of the solar industry entering a downturn much like the one that plagues oil and gas companies now, as the oversupply of providers leads to a domino line of Chinese competitors that flooded the market in easier times going bankrupt.
"I think there's some things you can control and some you can't. These guys, to their credit, have executed well," Osha said of First Solar. "What they can't control is what everyone else does."